Isabel LaRosa took the stage and made her sonically angsty, personally pop mark on the Big Apple. Then Nessa Barrett came out and did the same, further driving home the well-deserved praise and female agenda that girls can rock and do rock.
---
When Nessa Barrett began putting out music with her single "Pain" in 2020, she became one of the first on a list of TikTok influencers that would start a musical journey. While many content creators have been known to move into music, only a small group of them have dared to venture into the alternative and emo subgenres.
However, attention quickly moved off of her music and toward her personal life. TikTok drama can't be kept a secret for long in Los Angeles. Rather than people talking about her music, they talked about her relationships. Nessa joined the ranks of talented female artists whose careers would begin to be reduced to their dating history.
It was clear from the beginning that her music was going to be filled with genuine and deep emotion – not boy problems. She poured herself into the work, opening up about her experiences with mental illness including Borderline Personality Disorder and an eating disorder. Her honest approach to songwriting gave her an edge over her competition. She wasn't letting the industry decide her next move… instead she was driven by authenticity in her life.
.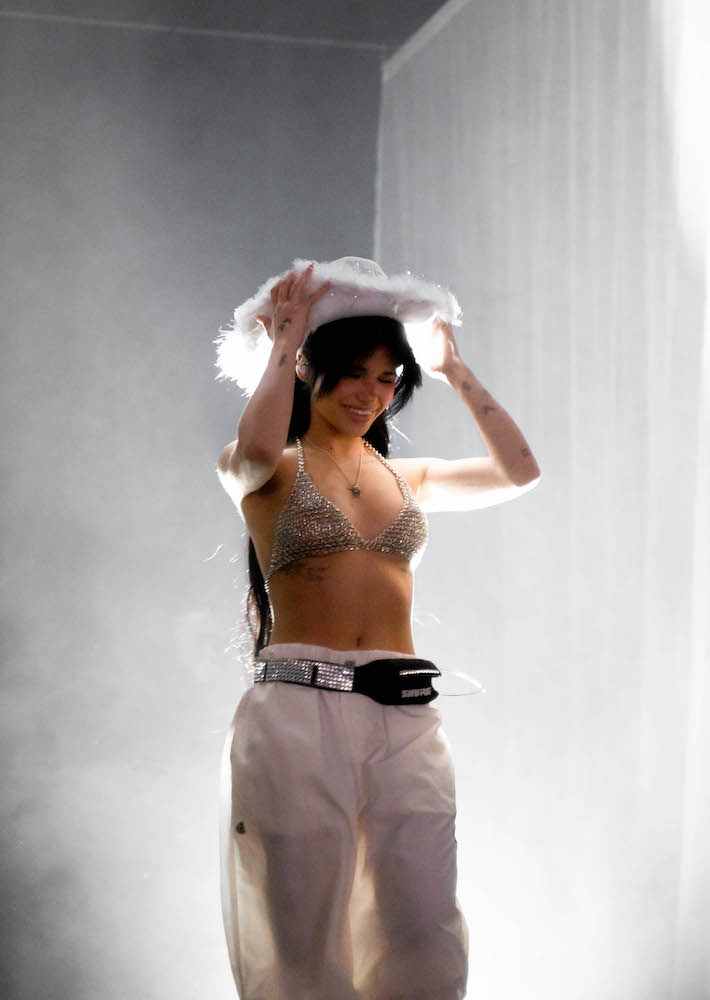 .
That ability to tap into her feelings became incredibly evident with her release of the hit single "die first" in 2022. Nessa dedicated the track to her best friend, another social media personality named Cooper Noriega, who had passed away just before the song's release, but we'll come back to that.
It is Nessa Barrett's Young Forever Tour that showcased her strength as both a rising star and woman, and what you really need to know is that the singer-songwriter took over the stage at Terminal 5 in New York City on March 5 with unstoppable confidence. She is a force and her road to success has been turbulent, media-twisted, and full of setbacks. However, she's also proven that she can overcome anything and still deliver a strong performance.
Her fanbase filled the venue and it was full of excitement, truly buzzing. If there's one thing that is certain at a concert, it is that the fans and crowd set the tone for the show. After entering a venue, it's almost instantly clear whether or not the artist will have energy that actually translates beyond the stage. In the case of Nessa's crowd, their radiant sparks of bubbly joy made it obvious immediately that this show was going to be something special.
Now, several months ago, Nessa also performed at the infamous, iconic When We Were Young Festival in Las Vegas. The difference between that set and the Terminal 5 show was striking. Nessa, along with Huddy and her ex-boyfriend jxdn, were the obvious outsiders on the lineup. They weren't throwback bands or pop-punk legends but instead represented what's up next for the alternative scene.
While WWWY was fabulous exposure for Nessa, it was more of a battle to prove herself rather than an opportunity to connect with a crowd she trusted fully. At Terminal 5, it was clear that her fans had her back in the same way she had theirs. It made for a performance that was not only more confident but also gave off intoxicating energy. It was impossible to not be caught up in her performance because it was so raw and relatable.
Nessa wasn't holding back this time. Her setlist was stacked with fan favorites and storytelling. It's not easy to expose your heart on stage as this young performer did. Her ability to sing about her darkest moments just proves her maturity and strength. She didn't miss a beat and her voice never wavered. Her sweet, yet strong vocals remained true throughout the entire night.
On stage, Nessa truly looked like an angel. Between her gorgeous outfit, dreamy lighting, and calming voice, she embodied what it is to be the next up-and-coming star in alternative pop music.
During her set, she honored Cooper's legacy by performing "die first" with sincerity and reflection obvious in her voice. When the song had been released, Nessa wrote in an Instagram caption:
"Coop said this was his favorite song off the album and im so happy i got to tell him that this song was for him and my mom before he passed. this is ur song cooper. i feel u with me every time i listen."
This month at Terminal 5, Cooper was certainly watching over her. Despite how hard that performance may have been for her emotionally, it was perfectly delivered and perfectly received by the crowd. (Nessa has been known to change the lyric "i hope i die first" to "i wish i died first" in a clear connection to losing Cooper.) The vulnerability that she is able to show to her fans in moments like this speaks volumes about who she is as a person and an artist.
Two other particular songs were of interest that night: one that was excluded and one that was included. Firstly, the obvious exclusion of "la di die" was an absolutely powerful decision. The chart-topping track originally features jxdn, who obviously wasn't there to sing the track… but it's also not uncommon for artists to still perform a song without their featured counterpart. While this song is incredibly popular, it is one that represents that relationship and era of her life – both of which are over. Excluding the song gave the message that Nessa has moved forward and shifted her focus on herself as an artist. As a woman in the industry, she deserves to be able to take up space like that. We're so glad she did.
Secondly, her electric ending to the night with "i hope ur miserable until ur dead" was unforgettable. A fan favorite, but also just a genius track, was just so fun. There's no other way to put it – everyone has that ex who they don't wish well, not even a little bit. It left the concert with a feeling of being seen, being validated, and being able to relate.
As the confetti fell and covered the Terminal 5 floor and fans funneled out the doors, what was left behind was a feeling of certainty. Nessa Barrett has found her sound and is ready to grow in this scene… no matter what challenge may be thrown her way.
Photos by Ali Fitzgerald