Say Anything is one of the shining achievements of early 2000's emo. They created the perfect blend of sarcastic pessimism and lightheartedness. Something about it was strikingly real yet didn't take itself too seriously. The band made commentary about the world around them but continued to do it with a smirk; they are the musical definition of the phrase "laughing through the pain." Albums like …Is A Real Boy (2005) and In Defense of the Genre (2007) helped define what the emo community was capable of during its peak. However, the band has had an interesting history in recent years. They broke up, playing their last show in 2018, and dropped their final album, Oliver Appropriate, in 2019. Fans were positive the band had reached their conclusion. We're thrilled to be proven wrong.
Four shows at the Bowery Ballroom this weekend were the official return of Say Anything. This was their comeback and the start of something huge. We had the privilege to attend the second show on Saturday, April 29. The band played their brand new song, "Psyche!," and teased new music on the way. This new track felt at home in the band's setlist and really got fans excited for the new era. The hiatus really helped them find their roots and core sound again, and so far what we are hearing is everything fans can expect from the band… but done better. The lyrics are extremely blunt and the delivery is fierce, "Psyche!" even has their signature speak-singing outro. Yes, Say Anything has truly returned and are sure to be bigger than ever.
Before the first band even entered the venue, a bunch of former scene kids had started to shuffle in. I overheard a couple talking about how they'd be amazed to find anyone under the age of 30 at this show; to which I immediately turned my head around and said I was 23 and had yet to see the band live. They were shocked and even asked if my parents "had gotten me into this kind of music." I chuckled but looked around to see a packed room full of people that were all touched by this band. It's honestly a testament to the band's impact that they can be completely inactive for four years, not play a show in five, and still fill a room and create the excitement that their reunion warranted. This wasn't just a phase for those who went out to one (or more) of these four shows – it had become who they were. It made me proud of the scene in more ways than I can vocalize. The entire night felt like a rejoice of the genre that made all of us.
The night opened with Circus Trees. By far the most memorable aspect of their set was their emotion – every track they delivered felt like it was coming from the most pure part of their soul. Despite being a smaller band they completely owned the stage and made their presence known. Even when the lead vocalist's guitar straps came off, she caught it and continued to thunderous applause. The band may be up-and-coming, but they set the bar for the rest of the night.
Say Anything followed and performed an entirely different setlist than the previous night. The band acknowledged their six year hiatus, but performed on that stage as if they never left. They played tracks from almost every era and gave the audience the ultimate fan experience. When the band played tracks off of …Is A Real Boy, the room erupted into complete punk rock chaos. People were dancing, moshing, head-banging, and screaming along. It's exactly how fans want a reunion show to feel: like a celebration of the band and the incredible legacy they've built for themselves.
Frontman Max Bemis even brought his wife Sherri on stage with him, along with his kids, to sing beautiful acoustic ballads "Little Light" by Perma and "A Walk Through Hell." Once again, the whole experience felt like a family reunion in the purest way possible. It made fans really feel like we were part of the band's history, not just observing it.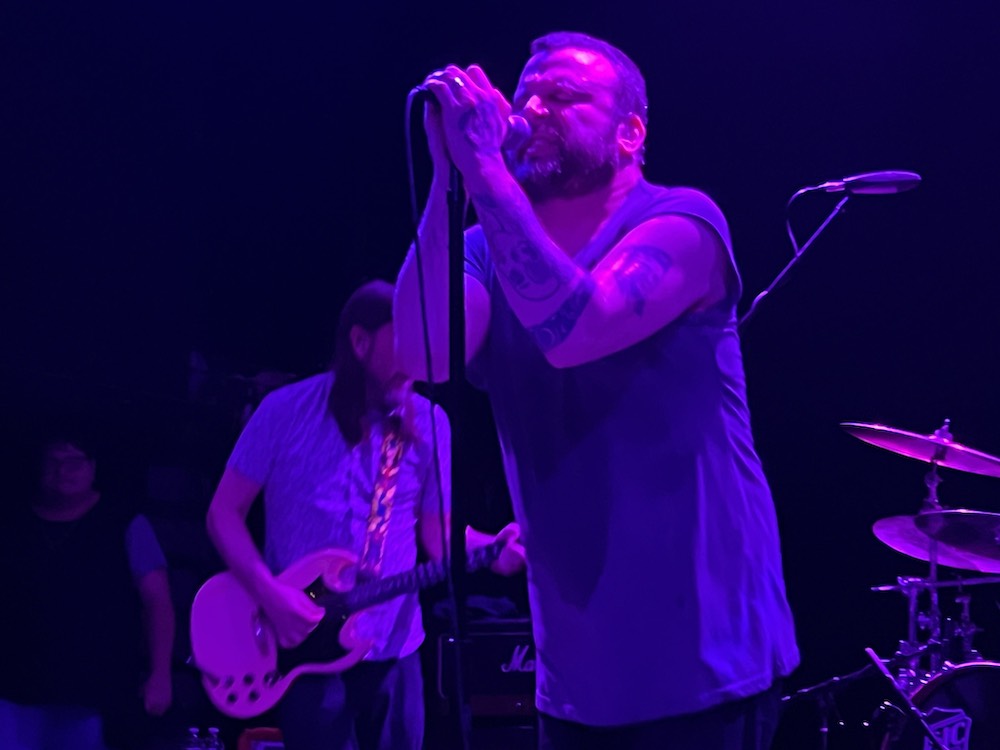 Setlist
Spidersong
Psyche!
Woe
Burn A Miracle
Wow, I Can Get Sexual Too
Daze
Eloise
Yellow Cat (Slash) Red Cat
So Numb
Cemetery
Do Better
Six Six Six
The Church Channel
Every Man has a Molly
Little Light (acoustic Perma cover)
A Walk Through Hell (acoustic)
Alive With the Glory of Love