The concert at Asbury Park's Stone Pony Summer Stage on Friday, June 2? Sold out. The concert at New York's Rooftop at Pier 17 on June 3 and 4? Sold out.
Optimistic, serialized artistry has made up much of Young the Giant's career, and whether on the stage or in the studio, it has always paid off.
---
Young the Giant's fifth album, American Bollywood, was released late last year, and it showed that the band still wears their heart on their sleeve. Sameer Gadhia (lead vocals), Jacob Tilley (guitar), Eric Cannata (guitar), Payam Doostzadeh (bass), and Francois Comtois (drums) come together to create an art that highlights what matters to them the most and reflects what is going on in the world at the moment. Some of these important conversations are had through music, and it is things like immigration and feeling a sense of belonging that are major themes throughout each of their albums.
I was lucky enough to sit down with frontman Sameer Gadhia, who is also the host and voice of Alt Nation's Point of Origin on Sirius XM, to talk about carrying these strong themes through yet another album and how belonging somewhere is a common theme for a reason close to the band, but notable for the world.
You continue the conversation of immigration from 2016's Home of the Strange to the current American Bollywood. How do you implement that and what are your thoughts?
It's been most definitely impacting the way we feel since we are a band of immigrants. Home of the Strange was kind of this fantastical story of an immigrant living outside in a different universe, almost. Bollywood is really grounding that story and adding specificity to the nature of travel and exodus of movement, but it is also telling a larger story about finding a place to belong. Throughout Young the Giant's career, if you even look at songs from the first record, there is always this theme of [searching] for belonging. I think that is the core of the immigration debate is: finding a place to call home and thinking you deserve to be there.
Do you think American Bollywood is a sequel to Home of the Strange?
In some ways, yes. It took a lot of the physical, external world from our third album. Mirror Master, our fourth album, is kind a of internal musing, philosophical stuff. I think it's kind of melding of all those things. When we look at the fifth album, it's a culmination of a decade of music.
To you, what are standout tracks from the album?
I think those shift and change. I like "Dollar $tore" and "Cult of Personality." "American Bollywood" is the first song I wrote for this record. I think they change as you go on the road as you start playing these songs. You miss playing certain songs, but when you get the immediate fan response… that will evolve as the summer tour goes on.
What different instruments and recording techniques have you used on Bollywood?
We try to do a mix of getting in a room and performing. There's a live sound. We use the traditional studio spaces, but, at the same time, we marry that with bedroom sounds and recordings. We have our own little house as a band and we record a lot of it there. We take certain Indian instruments and play them without any Eastern training. We just take our intuition and ethos of a DIY mentality and see what happens.
The larger effect is that as you move on towards the record, you hear less and less of those conscious choices. You are kind of sinking into the general influence of South Asian music on melody, structure, and lyrical content. The whole psychedelic phase of the sixties and seventies are so informed by eastern spiritualism. We [were] trying to take some of those elements and not be so overtly different with instruments. We did limit ourselves to how we wanted things to be with the whole meshing of different sounds. There is some Spaghetti Western themes you hear in the beginning of forties and fifties of Bollywood while passing that torch to even the grunge era. We try to go all over the place while providing some limitation.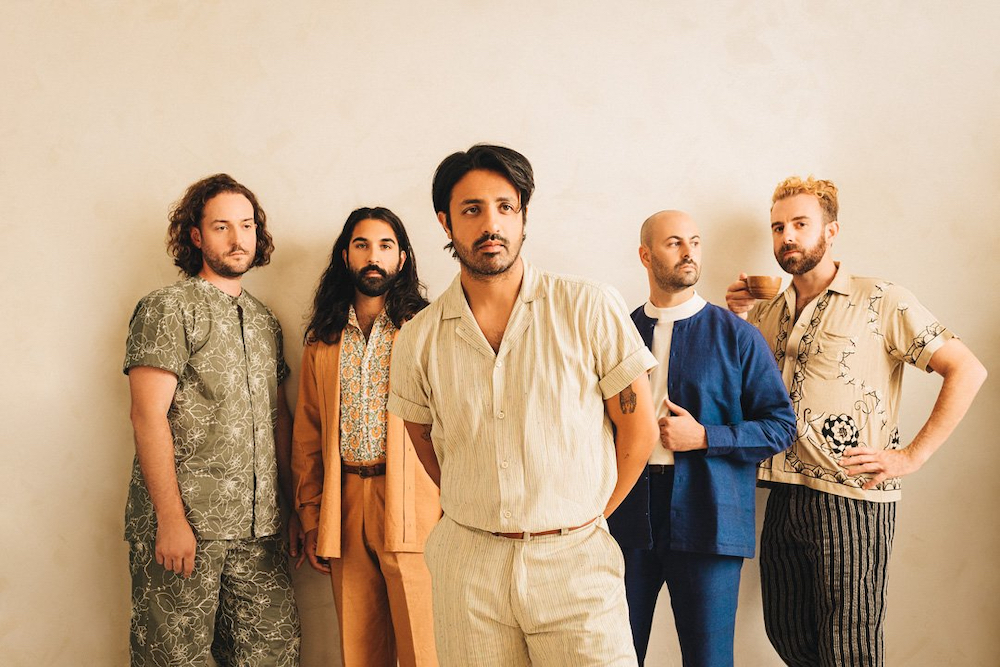 You were once quoted for saying that Young the Giant doesn't fit into the structure of American pop music. Do you still feel that way?
I don't think we will ever fit in. I think that gives us edge and we feel like the underdogs. In some ways we don't. I think everyone is questioning, though, now in this new generation of music listening, "What is genre?" Is it something that segregating artists? Is it something that we even need anymore without having everything sound the same? I think a lot of people don't fit into the poles of what music is right now.
Where do you think alternative music is going?
I think alternative music exists to a certain degree. Alternative necessarily doesn't matter what it exactly it should sound like. It should be alternate in perspective or structure from tradition. It came from different places in the beginning and there definitely is a place for it. I think over the years, we've been forgetting the roots of what alternative music is.
Are you in rehearsals for the tour? What can we expect from the tour?
Not yet. [I am] just getting my stuff together before I'm out for the whole summer.
We, as a band, feel really rehearsed and really tight. We want to bring the old songs and new songs and bring them into the set under a theatrical structure of American Bollywood. We want to bring in the entire catalog tell the whole story that we've been telling our whole career. I am excited to take this to a larger audience. I am excited to breathe life into the touring world again.
Any last thoughts?
AI [Artificial Intelligence] is being talked about right now. I will always be a firm believer in the arts. Art is expressed through human form and the human condition. Artificial Intelligence is able to replicate what musicians can do. I will always be on the side of human condition and expression, and doubling down on that.
FOR ALL THINGS YOUNG THE GIANT, AMERICAN BOLLYWOOD (THE ALBUM & TOUR), AS WELL AS WHAT'S TO COME, VISIT THEIR WEBSITE!