As a member of a Rock and Roll Hall of Fame inducted and six-time Grammy-winning band, it can be difficult to break away and try new things from time to time. Not for Philip Selway, though, who has become an accomplished solo artist (one who is a week away from dropping his third album), as well as a father, charity man, and musician in a 'wizarding rock band' via Harry Potter and the Goblet of Fire.
---
Drummer Philip Selway has once again stepped back from Radiohead – momentarily – to create a vivid, lush, and seemingly cinematic experience. Following 2010's acoustic Familial and 2014's experimental Weatherhouse, Selway is ready to introduce to the world his third album, Strange Dance. This addition to his personal catalog of music comes out on February 24.
Selway entices listeners with songs "Check For Signs Of Life" and "Picking Up Pieces," both very different and each on varying ends of the spectrum musically and emotionally. Another album leaning toward the folk rock genre, Strange Dance has the drummer taking over vocals and adding his own artistic flair to a style we know – especially on this project.
The Aquarian's Robert Frezza sat down (virtually) with the established Radiohead rocker and solo creative to talk 40 years in the music industry, taking breaks from one of the biggest alternative rock bands in the world, and the amazing record that is Strange Dance.
What can we expect from Strange Dance, musically speaking?
Coming into this record, I kind of wanted to make this big soundscape for it, so it was as tall as it was broad… something that would accommodate all these musical relationships that I built up in my solo work over this past decade. I had in my head who I wanted to work with and they all agreed to it: Adrian Utley, Laura Moody, Valentina Magaletti. I wanted this big soundscape which would then wrap around this quite intimate vocal. I wanted it to be an album you can live in – a refuge space. I wanted an album that you can listen to, that you can project yourself into, with songs that reveal something of yourself in the meantime.
It's very cinematic.
That is the response to the kind of work that I've been doing. It's soundtrack work, how my musical ideas can work with the textures. I found that to be really exciting. That's what I wanted to explore more with this record.
In some ways, when I started my solo work, I wanted to do three albums and see where I [could] go in that time. In that time it's taken me off to some unexpected places in that soundtrack work, even working with dance companies. It led to all of these musical relationships that I've built up in that time, as well. Strange Dance felt like a culmination of all those experiences channeling everything in the past decade into this record.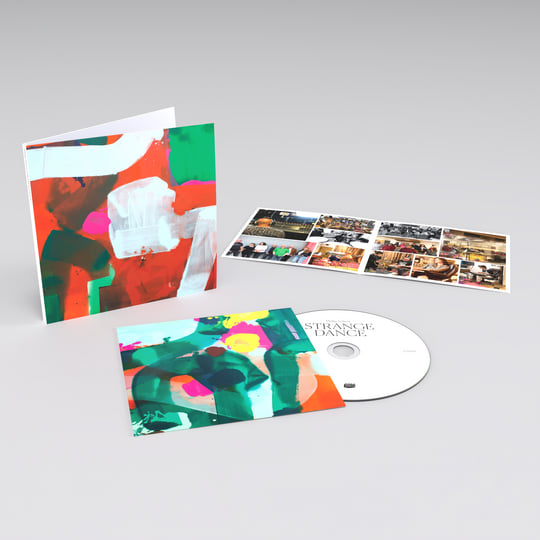 How does each record add to the next experience?
You are always building off of what went on before. You've applied the lessons from the previous project. I see it as an arc in my songwriting and singing voice. You want to make the most of your results of your personal resources at that time. There's a certain validity of what you do. 
What have you learned from Radiohead that you implement into your own solo work?
I think in Radiohead we all developed a very identifiable musical voice. I wanted to apply that same philosophy to my solo work. I want to develop an identifiable voice in my singing and in my songwriting as I have in my drums. 
I think the context I like working in is in my collaboration. I don't think I ever work 'alone' in my solo work. I have collaborated with other musicians in my solo project where we bounce ideas off each other. The whole recording process is a very collaborative time, so I don't feel on my own there.
What are your thoughts on the alternative rock scene right now?
I'm probably not immersed in it as I have been. When I was making Strange Dance, I was very immersed in the music of my collaborators. 
Where did you look to for the lyrical inspiration on Strange Dance?
At the core of it, there's that concept of 'the strange dance' – that process that we try to weigh up all these seemingly irreconcilable aspects of our lives in. We put ourselves through lots of contortions to try to balance it out. There's an elegant choreography that comes out of it, as well. The subject matter looks at all those opposing demands and how you balance them. I didn't want to write lyrics not necessarily about myself, but I wanted to take myself out of it, as well, so it sets up a framework where people who listen to the record can relate to it, then hang their own narratives on it and flesh it out with their own stories.
Your influence within Radiohead is undeniable, but what are your goals for this particular project? Will there be a tour in the works?
I think all the projects fall under the umbrella of Radiohead. It explains us in greater detail as musicians. It makes us tick creatively. We were signed as a band in 1991 – that's three decades of making music. It has taken me into experiences and places that I could have never imagined. With each project, we are unearthing a different aspect of your musicality.
I went on tour with this in the UK. We have this nationwide festival called Independent Venue Week and it's gaining traction in the States, as well. It is celebrating those small venues where Radiohead first got started. Then we have more shows coming up in the course of the year. 
How important is to take breaks from Radiohead?
It's very important. We are coming up to nearly 40 years of a being a band together. [Exploring] other things musically is important. Then when we do come back together, all those other experiences fade into what we do together. It makes sure that we then get back together for all the right reasons. Ed [O'Brien] is making a new solo record, and I saw the Smile [Thom Yorke, Jonny Greenwood] last year. It was interesting seeing them all play in another dynamic, and seeing everyone in these different contexts broadens my understanding of what everyone can do musically. 
STRANGE DANCE, THE NEW SOLO LP FROM PHILIP SELWAY, IS OUT ON FRIDAY, FEBRUARY 24 WHEREVER YOU LISTEN TO MUSIC!