17 years of making music has led to this exact moment. Maybe not this exact moment, but that's what it felt like for me and the other 72,801 people as the graphics on the screen faded away and the clock counted down to when Taylor Swift would take the stage.
At some point over the past two months, you must have come across a post on social media about this tour – the coveted Eras Tour. You probably tried to get tickets and felt a pang, or two, of jealousy if you knew someone who went. Sunday was Swift's third and final night at MetLife Stadium, marking the halfway point in the Eras Tour. I was 'The Lucky One' who got to attend and cover this long-awaited show. 
Walking into the stadium surrounded by awestruck faces and friendship bracelet swaps started the night and added to the excitement. I have never had the opportunity to see Taylor Swift before, so I may have been one of those faces looking around the stadium in suspense. I was quite literally on the edge of my seat down on the crowded floor. 
One of my favorite things about this show on May 28 was how interactive and supportive the audience was – not only to the beloved headliner, but to the openers, as well. Owenn, who used to be Swift's backup dancer and starred in the "Lover" music video, kicked the evening off and immediately had people out of their seats bopping along to songs. Shortly after he left the stage, the crowd only grew in size for Phoebe Bridgers' intimate set.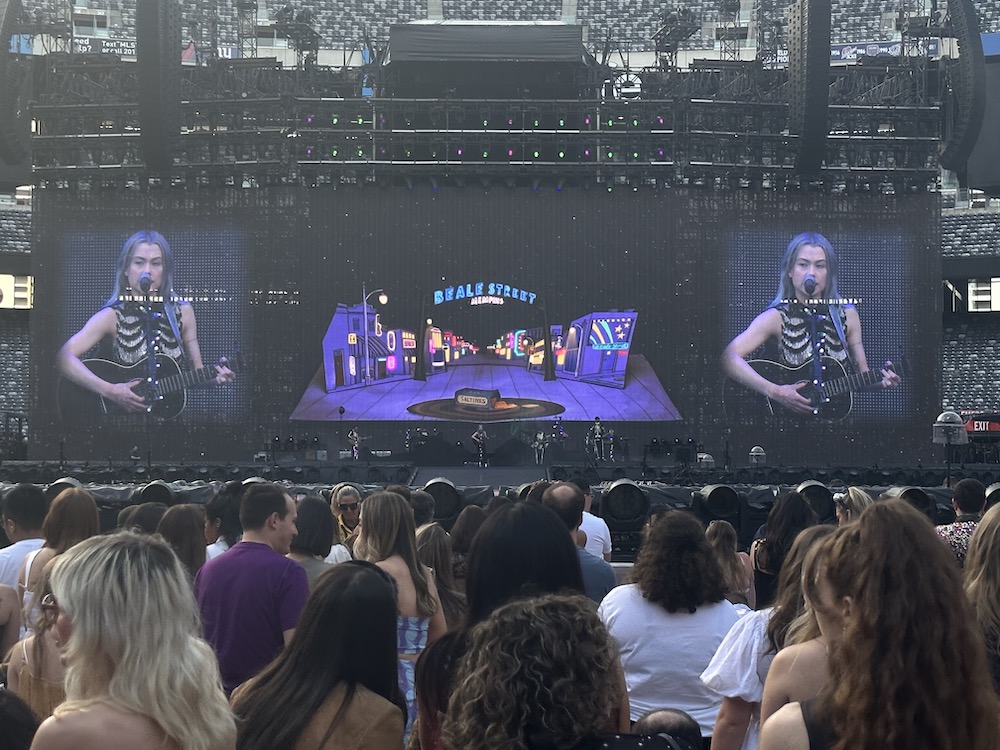 True panic took over the stadium when Lesley Gore's "You Don't Own Me" started playing, a signal on this tour that Swift would be taking the stage in just minutes. (The song choice has not gone unnoticed by fans, it's a powerful statement… Taylor's Version.) People ran from their spots in merch lines to get to their seats before the show began and flooded the stadium even more.
After the clock on the big screen counted down (at a speed that felt simultaneously fast and slow), the singer-songwriter opened the show in the middle of "Miss Americana & The Heartbreak Prince" with these perfectly-timed lyrics: "It's been a long time coming." I've been to plenty of concerts before, but the visceral reaction from the crowd of seeing her take the stage was something new. You could mark it as anticipation or pure excitement, but I think it goes beyond that. The impact Swift has on everyone's lives – mine included – is something that very, very few musicians have achieved. She is an artist that I have grown up with and her music has become a part of my memories, adding to the soundtrack that plays in my head. 
It's more than just a concert, it's home for many people. As Swift goes through each era, you are brought back in time and reminded of the first time you heard songs like "22" or "Lover." You aren't worried about singing too loud or dancing with the people around you – it's just you and your friend Taylor. Everything about this tour is all encompassing and everything you want to feel at a concert.
After fans were robbed of Lover Fest, which was canceled as a result of the pandemic, Swift and her team put their all into her return with the Eras Tour. No matter where you sit in the jam-packed stadium, it's a great view. Between the choreography, stage visuals, outfit changes, and what seemed like millions of pieces of confetti, no stone was left unturned. It makes you wonder why more artists aren't putting in the effort that Swift and her team have for this tour.
You can hear the sound in videos, and if you live close enough to the stadium, of how loud the crowd was every night. I can attest to the power of it by the fact that days later my throat is still sore and I'm considering calling a doctor. The crowd, and clearly myself included, wailed the lyrics of the bridge in "champagne problems," as well as the choruses of "Fearless" and "You Belong With Me." These are just a few examples of many cathartic moments; everyone in the stadium sang each of her songs like they wrote it themselves. 
Hearing "Enchanted" felt different from the rest of the songs and made me feel like I did when I heard it for the first time at 11 years old. Almost 13 years later, it was a moment of disbelief that was soon replaced with a sense of freedom as I sang louder than I knew possible.
Photos by Leigha Stuiso
The energy of the crowd for "…Ready for It?" somehow made the song better than the studio version, which was something that I didn't know I needed to experience. That same energy remained during the Reputation era, much like a loyal army ready to defend their leader. And I can't forget to mention everyone's favorite chant between the intro and first verse for "Delicate" of "1,2,3 – Let's go, bitch," which Swift seemed to be waiting to hear in the pause. 
About halfway through the set, the superstar brought opener and boygenius member Phoebe Bridgers out to perform their collaboration of "Nothing New" off of Red (Taylor's Version). Their strong bond was clear as the two exchanged sentiments about it being Bridgers' last performance on the tour. This was not Swift's only guest of the night, though, as Ice Spice joined her on stage to close the show with the new version of "Karma" that features the 23-year-old rapper. 
I heard many whispers and prayers that Swift would be performing "Cornelia Street" as Night Three's surprise song, but all was forgiven when she said, "This is a song that I felt like just based on what I've seen from you guys that you might want to hear, it's called 'Clean.'" This was her first repeat surprise song on the tour since she thought she could've sung it in a higher key, and people in (and around) MetLife burst into screams and tears. What a magical and ironically intimate thing to experience – to connect with the song and the other 70,000+ people around you. These are some of the songs we cry to in the shower, but can openly feel in a stadium of strangers. It is something only music, and Taylor Swift, can do for us. 
Although I was silently hoping that she would surprise us all and sing one of my favorites that hasn't made it to the setlist yet or was sent to the surprise song graveyard (R.I.P. "Treacherous"), I think this makes it into one of the top five best concert experiences I've seen.
By the time we reached the Midnights era, her most recent, there was a bittersweet feeling in my gut. I found myself looking around at the lights and jumping fans trying to remember the feeling. I wondered if Taylor has done the same thing, too. Long after the fans left the stadium, the last piece of confetti fell, and the trucks pulled away to head to Chigaco, Taylor Swift will still remain in the hearts of the 217,625 fans who attended this weekend.
Thank you to Taylor for being one of the best artists of our generation and for putting on one hell of a show. It was everything I 'Would've, Could've, Should've' wished for.
Setlist
Miss Americana & the Heartbreak Prince

Cruel Summer

The Man

You Need to Calm Down

Lover

The Archer
.
Fearless

You Belong With Me

Love Story
.
tis the damn season

willow

marjorie

champagne problems

tolerate it
.
…Ready for It?

Delicate

Don't Blame Me

Look What You Made Me Do
.
.
22

We Are Never Ever Getting Back Together

I Know You Were Trouble

Nothing New

(feat. Phoebe Bridgers)

All Too Well (10 Minute Version)
.
the 1

betty

the last great american dynasty

august

illicit affairs

my tears ricochet

cardigan
.
Style

Blank Space

Shake It Off

Wildest Dreams

Bad Blood
.
.
Lavender Haze

Anti-Hero

Midnight Rain

Vigilante Shit

Bejeweled

Mastermind

Karma

(feat. Ice Spice)