The star power in this new off-Broadway show is off-the-charts, so the fact that it is based off a true story (and features the spirit of Little Richard and Chuck Berry) only furthers its otherworldliness.
---
We've been in Constantine Maroulis' corner since day one, so when a deer has a baby in the backyard of his New Jersey home and he has to tend to that and his dog before calling us back, we have no problem complying. The actor, singer-songwriter, and #GirlDad is someone you can trust. You can trust that he'll call your publication's editor back. You can trust that he'll vouch for the talented people around him. You can trust that he will always put on one hell of a show.
Whether touring with his solo material ("Daydream" is out now and more is on the way!), taking on the eighties alongside Foreigners Journey, or stepping into someone else's shoes on a big city stage, Maroulis shines. He plays to his strengths consistently and is garnering new fans year after year by doing so. The generation who rooted for him on American Idol (Carrie Underwood's season) are coming out to support Rock & Roll Man: The Musical in the same way that those who discovered him in Rock of Ages are, as well as those who simply gravitated toward his musical persona via his exuberant social media presence. Alongside Joey Pantoliano of Sopranos fame and a variety of other stellar Broadway stars/budding legends, Rock & Roll Man is off to a fiery start. It opened at New World Stages one week ago today, and thanks to both praise and demand, it has already been extended to run well into the fall. (Tickets can be purchased here.)
We attended the show during previews and were alight with joy, compassion, and music as much as we were educated about the reality of what a trailblazer was (and could even be) in the late 1950s and early 1960s. Although history, business, and race prevail, it is family and friends, trust and truth, that string the narrative along. One cannot help but feel for Alan Freed; real man, radio pioneer, and music lover. Authentic appreciation for the arts and a glorious amount of respect intertwine the segregated sounds of the time period's youth – a story not always told in a way that proves the impact of rock music for decades to come. Maroulis leads the show with an understated grit, a careful balance of that appreciation and respect for people of color, yet with a consciousness of his own place, privilege, success, and talent. (Not to mention his voice – Maroulis' voice, that is – which is quite possibly at its peak.)
Photos courtesy of Boneau/Bryan-Brown
The show comes at a perfect time. There is a lull in the star-studded shows of Theatre Row this summer season, we are socially aware of the world around us – who to celebrate, when to celebrate, how to celebrate our similarities and differences. Whenever The Aquarian catches up with the tri-state native at the helm of this show, there is always so much ground to cover and so much spirit being thrown back-and-forth. From plugging excellent North Jersey schools to sharing soundtrack hopes for this new production to full circle experiences, the following conversation proves how this passionate man and his worldly career make him one of the rock and roll men of our time.
What are you and the cast hoping for people to take away from seeing this show and immersing themselves in the world of the Rock & Roll Man?
My hope is that people gravitate towards the piece because it's a new musical that tells an important story about a disruptor. Alan Freed really laid his life on the line for the artistry of Black artists at the time. He was a flawed man, but definitely someone that championed the sound that created rock and roll. It's interesting, with [this interview] being on Juneteenth, that not even a lifetime ago we were dealing with segregation in this country. It's a story that needs to be told – especially now. We need to be reminded of that ugliness, but we also celebrate the era with incredible music and joy. We see that flawed man dealing with alcoholism and all that he went through. He still was a family man first while doing whatever he could to elevate the artistry around him.
That is very well said and very true. I think that it was really penetrating to see someone like Alan Freed in the show say that he didn't necessarily create rock and roll – he just gave it the name and the platform it needed As someone who wasn't a person of color, he had the ability to share their style and sound. I loved that he didn't take their credit, he just took credit for putting it out there in the world and kind of going against the grain with it.
For sure. That was something that I found interesting, you know, because I've met folks along the way that have been a huge part of what we do with entertainment, but they're not directly an actor or a singer or a writer. They're still hugely important to the beast that is entertainment – or even just Broadway. They play such a massive role and it's not hard to imagine at that time, in that era, that there were far fewer of them. We'll call them influencers of the time, with significant platforms and power, who had significant contributions to what someone made and could make. It's heavy to think about. There's such a lengthy, layered story of this era. We're still putting on a show for an audience that has to be about two hours and change, though, so we can't tell every detail. We can't tell every story. It was quite a bit of a process in just sort of honing down what it is that we want to accomplish with this. There's so much more to tell, of course.
Oh, I think that that's very true. What this play is doing is also putting this story in front of audiences who maybe didn't know it already, people maybe only reaped the musical fruits of Alan Freed's labor. It also leaves room, though, as you mentioned, to kind of go out and do your own research after the fact. I know that I went home and I thought, "I want know what happened in terms of Alan's indictment. How much money did he owe? What is that worth today? Was it really payola?" I think that is the power of a good show – it leaves you wanting more, it doesn't answer every question, it doesn't tell every story. Instead, it sets the groundwork for learning more and listening more.
Oh, that's wonderful. Thank you. It's been feeling good lately. It's a feeling, you know? We are an off-Broadway production. We don't have quite the luxury of a super lengthy rehearsal process, a super lengthy preview period, so everything is a bit more… streamlined, I guess. We're in a rehearsal room for a few weeks. We load into the theatre. We tech for a few days.  We preview for about two weeks, and then we're open. Generally, at the end of that preview period is when the press starts kind of rolling in, and you're hoping to get to that groove before that happens, just so people can really see what it is you've been working on. It's one thing to do it dry in the rehearsal room with taped out floors and such. It's like, "Oh, well that flows nice," but then you get into the theatre – although it's a great space – we're very limited with space offstage in the wings. We're trying to load actors and set pieces on, but we don't have the luxury of this massive Broadway house and wings and flies and a very experienced Broadway crew and whatnot.
I love all that, though, and Rock of Ages started at New World Stages 15 summers ago, right next door to where we are. We are in theater three with Rock & Roll Man. We were in theater two, which is on the same floor there, same size theater, essentially just the mirror opposite. We created something very special with Rock of Ages in that space. It's become an iconic brand all over the world now. If we can accomplish even a fraction of that, I would be very excited. We certainly hope there's a future for the show down the road, whether it's Broadway or on tour or licensing and whatnot. We hope to stick around for a while.
The music is timeless and there is such potential. I think it was really heartwarming, but also very telling. You mentioned earlier that Alan Freed was a family man as much as he tried to be. I thought that the scenes that you have with your onstage daughter via phone call or in person were so theatrical and believable. Your acting chops were on such display in those scenes. It brought to life the familial aspect of what it was like to be a very busy, dedicated businessman and radio promoter, but also to have someone back home that you missed.
Thank you. That's very sweet of you. It's not hard to substitute my own dynamic at home with my daughter for the stories we're telling on stage with the show. In that respect, I relate very much. You know, there are periods of time when I'm away and I miss my family, but this is what I do. This is what I want, this is my life. This is my work, this is my art. They understand that we're different than perhaps the family next door that has a bit more of a normal kind of nine-to-five life. I never wanted that, though [Laughs]. I don't think Alan did either.
Not everyone wants to be in that traditional lifestyle type of bubble, but I think that what Alan did was worthwhile. I think what you're doing is worthwhile. Did I catch on Instagram that your daughter was at the show yesterday for Father's Day?
Yeah, she was. She came for Father's Day, which was lovely. Her mom brought her through, which I was appreciative of. We co-parent out here in North Jersey and it's wonderful when we can all get together.
I love that. And I love how devoted you are as a father. Given that she did go to the show, I'm curious – what did she say about the performance and the play as a whole being that she is a generation or two removed from the actual reality that it is set in?
It's funny; she's got a great creative eye and actually is a talented girl on her own. She doesn't have the passion for this world, but she knows what she's talking about. She knows what she likes. She's finicky – quite the critic. She said, "Honestly, I don't really like many shows, but I loved this show from the beginning to the end. I could watch it a million times. That was high praise coming from Malena James. So, she dug it, and we were able to speak about it at length when we got food after. Some other friends came and they really dug it, as well. Yeah, there's been some good vibes.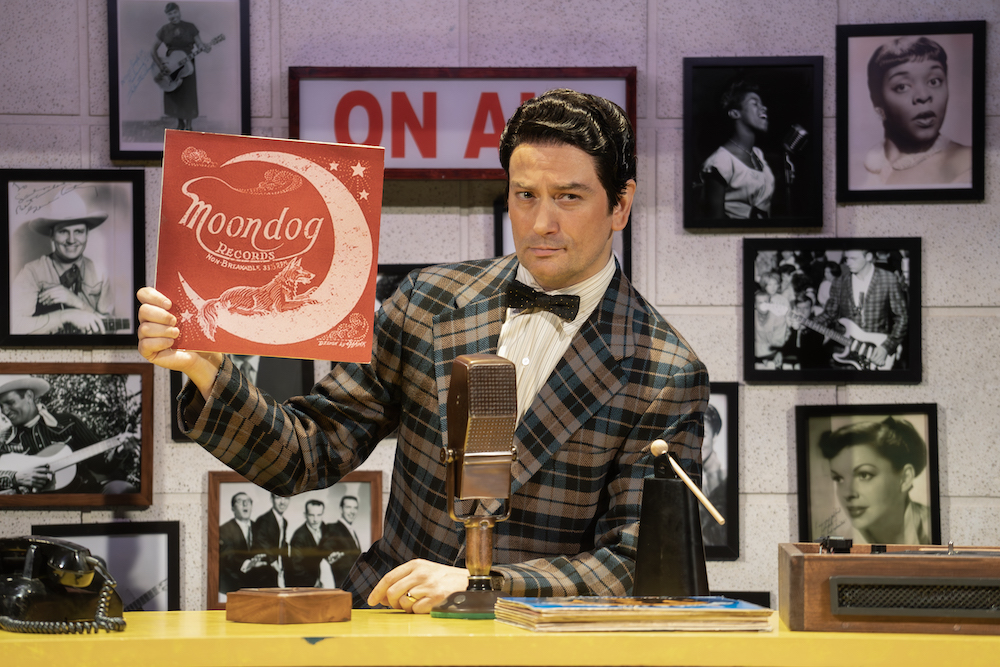 That's amazing. Now, I can't talk to you today without bringing up "Daydream," your own new song. Being on Broadway, acting things out, playing roles, but also still being a musician and an artist yourself, when you are releasing something amid everything in that world, are you taking inspiration from what you're doing? Or, rather, is it something that you've already had in the pipe and the timing worked out?
I certainly hope for these things to kind of fall into place like that, with some form of kismet. The play itself sort of has a dream concept to it and the song title being similar… it just sort of has coupled nicely. I'm happy to be able to have the opportunity to be on stage every night with a new show and really find and discover this character while getting the show really tight every night. To have my own song out there right now at the same time… I've always prided myself in having a pretty diverse palette of things that I like to do with my work. It's been great. I have a great support system and people seem to dig the song, so that's great, too.
The Aquarian talks with you often about your North Jersey roots and being a lover of New York City. We love having that common ground with you and so many other trailblazers around here. Between you and Joe and so many more in this production, there is quite the roster of Bergen County/Big Apple/Jersey talent that Rock & Roll Man showcases. Why do you think so many people from this area – like you, like Joe, like us – have such an entertaining local energy and flair? What is it about this area that breeds that kind of person?
That's a great question, and I think it's a few things. I think knowing that the backdrop of the city is just right there; you can see it, you can almost touch it, you can taste it. We can see the skyline, but we're on the outskirts. There is a fantasy that informs the young artist that I think is a huge part of that – the imagination mixed with the obviously close proximity and the ability to go and see shows and concerts, play in shows and concerts. If you're in a band, go to Bleecker Street and play in a bar. Certainly when I was a kid there were a lot more bands and a lot more of that movement, but there was such a scene for artistry. It's still there, and, in a way, it's like you're far enough here that you always stay hungry for it, and you never tire of it. In addition, I think the incredible school systems in Bergen County, upper Bergen County, have a support for the arts.
There are great teachers and support from the community, great community theaters, many outdoor town festivals that always seemed to have a local school rock band playing. The focus on that is there. The schools are always conscious about involving the youth. I grew up playing sports – sports are hugely important and significant here, but so are the academics… big time. As much as sports and academics were a huge part of my life growing up, too, the focus on the arts was still around. That's usually the first thing to go, but, at least the school systems I was always involved in, they held on as long as they could with these auxiliary programs and stuff. I believe that really informs the young artist. Sure, it is an affluent area, but my parents didn't have much. We left Brooklyn when I was very young and they worked very hard, full-time for both of them. They weren't doctors or lawyers or stock brokers or whatnot., but they created a great environment for us to thrive in. That's why I am here – that's what I've always wanted for my daughter.
FOR ALL THINGS CONSTANTINE MAROULIS, FOLLOW HIM ON INSTAGRAM! GET TICKETS TO ROCK & ROLL MAN: THE MUSICIAL BY CLICKING HERE!