Jimi Hendrix released only four albums during his too-brief lifetime, but new LPs, CDs, and box sets have continued to appear in a steady stream in the years after his 1970 death. Today, more than half a century later, they're still coming. Just in the past few years, we've seen the release of the five-disc Songs for Groovy Children: The Fillmore East Concerts, the two-disc Live in Maui, and Los Angeles Forum–April 26, 1969.
Some of Hendrix's posthumous material has arguably been rather redundant in that it consists of concert tracks that have already been released in similar live versions. But the quality level is generally sky-high.
Both comments apply to the latest release, Live at the Hollywood Bowl, August 18, 1967, which comes with a 24-page booklet that includes an essay by journalist Jeff Slate, a reproduction of a poster for the concert, and previously unseen photos. The program features Hendrix's "Foxey Lady," "Fire," "Purple Haze," and "The Wind Cries Mary," all of which appeared on Are You Experienced?, his first studio album. Also here are covers of the Beatles' "Sgt. Pepper's Lonely Hearts Club Band," Bob Dylan's "Like a Rolling Stone," Howlin' Wolf's "Killing Floor," Robert Petway's "Catfish Blues," and Chip Taylor's "Wild Thing," the Troggs hit. Live versions of all nine of these tracks appear on other Hendrix albums, but many of the performances here are head-turners.
Moreover, these tracks are notable not only because they are excellent and all previously unreleased but also because they contain some of Hendrix's earliest recorded concert performances. His Monterey Pop Festival tracks predate these by a couple of months and there are also a few earlier live recordings on an eponymous box and on Hendrix's Radio One CD (though the latter were taped in a studio without an audience). But that's about it.
The Hollywood Bowl set was recorded five days before the band's debut album became available in the U.S. and represents one of its last appearances before an audience whose members had mostly never even heard of it. Hendrix was just the opening act for the group they'd come to see: the Mamas & the Papas, a fantastic quartet but one that came from a different musical universe. To judge by this recording, the L.A. radio DJ who introduced the Jimi Hendrix Experience (saying "Are you ready for a groovy night?") received a more enthusiastic welcome than the band itself.
Perhaps anticipating that a Mamas & Papas audience wouldn't know what to make of his music, Hendrix began by telling the crowd, "We don't mind if you laugh, long as you laugh in key." It's likely, though, that no one was laughing after the performance started. On the contrary, "people were almost speechless," recalled Brian Ray, a session musician who attended as a 12-year-old. Now 56 years later, you can hear why on these intense recordings, which find Hendrix playing guitar in ways no one had ever done before, inventively blending blues and psychedelic rock in his original material, while also transforming well-known songs like "Wild Thing" into something new and spellbinding.  
Also Noteworthy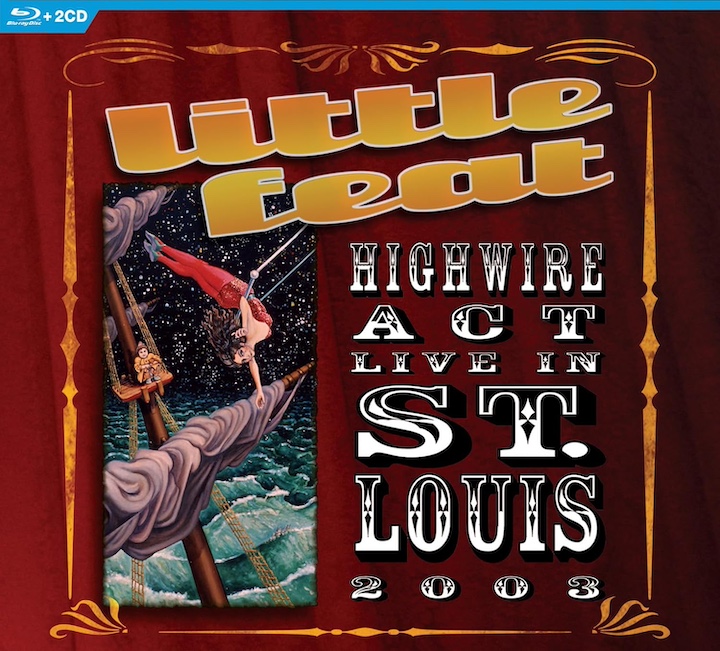 Little Feat, Highwire Act: Live in St. Louis 2003. The original Little Feat – recently celebrated with deluxe reissues of Dixie Chicken and Sailin' Shoes – ended when the group disbanded in 1979, shortly before the death of principal songwriter, singer, and guitarist Lowell George. However, the band was back in business by late in the next decade and has been sporadically performing and recording with various lineups ever since. This audio and video release captures a 2003 concert performance with some of the group's original members and a 17-song setlist that spans its entire repertoire up to that point, including "Willin'" and four other songs that George authored or co-authored and such other standouts as "Time Loves a Hero." 
The album initially appeared in 2004 and a DVD of the concert has also been previously released, but the new set represents the first time that the show has been available on Blu-ray and the first time that audio and video discs have been packaged together. The Blu-ray features DTS-HD Master audio and widescreen video and includes the same 15-minute bonus documentary film that the DVD featured. If you're looking for an introduction to the group, you'd be better off starting with the 1970s albums with George. If you're already a fan, though, this is worth checking out.
Jon Dee Graham, Only Dead for a Little While. This is the first album in seven years from rock singer and guitarist Jon Dee Graham, whose long list of credits includes membership in the 1980s band the True Believers, backup work for many other acts, and nearly a dozen solo albums. The Austin, Texas–based artist – whose rock and roll sensibility and sandpapery growl result in a sound that mixes elements of Warren Zevon, Tom Waits, and Tom Russell – seems to have spent his time away from the studio stocking up on good ideas.
Graham wrote most of the material, including the best track, the scorching "Going Back to Sweden," which includes an explosive lead guitar break. There's also an intense reading of Rev. Gary Davis's "Death Ain't Got No Mercy" that sounds like the work of a man who has in fact faced his end. That's apparently the case, as the album's title reportedly references a near-death experience that Graham endured in 2019.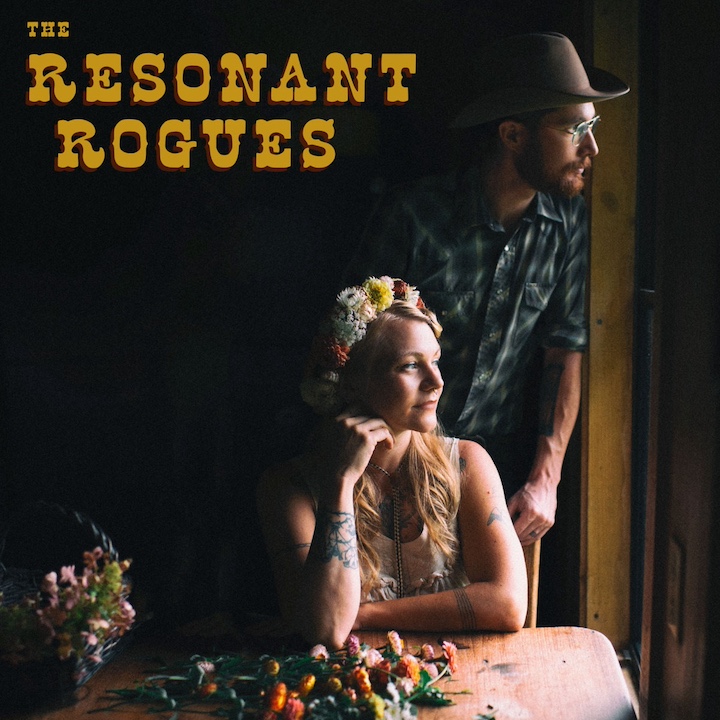 The Resonant Rogues, The Resonant Rogues. An eponymous album usually signals either a debut or achange of direction. This self-titled fourth CD from the North Carolina–based Resonant Rogues is neither, and the lack of a revamped approach is good news, because the group's last release, 2019's Autumn of the World, delivered a satisfying acoustic folk sound that drew inventively from jazz, country, pop and other genres. 
An accordion- and banjo-playing woman named Sparrow and her romantic and songwriting partner, guitarist Keith Josiah Smith, formed the band in 2013. As on their earlier albums, they take turns singing lead and are joined by instrumentalists who add pedal steel, fiddle, and more. This release has virtually no weak moments, but highlights include "Show Me," a soulful pop ballad featuring Sparrow; the bouncy "93,500 Miles," which incorporates prominent accordion and guest vocals by Sierra Ferrell; and "Ridgelines," a banjo- and fiddle-spiced number about an idyllic life in the Blue Ridge Mountains.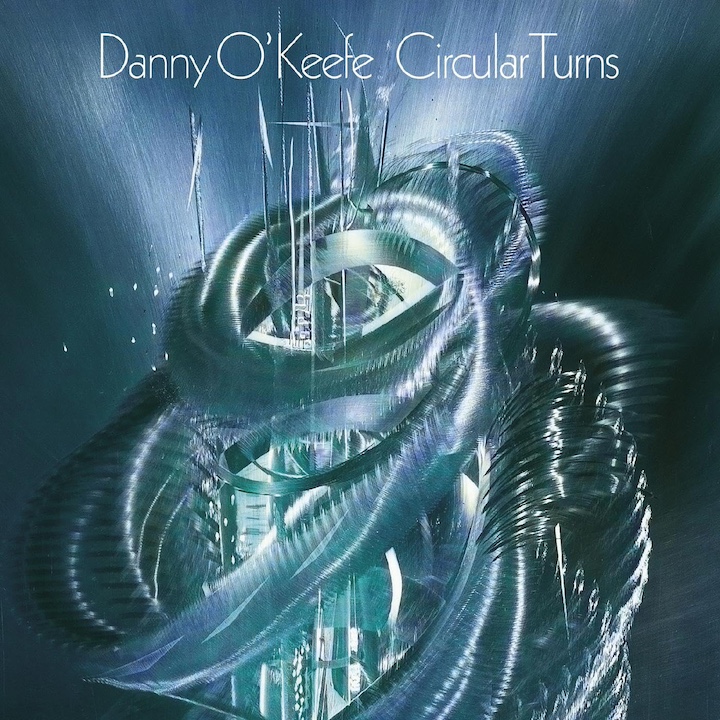 Danny O'Keefe, Circular Turns. Danny O'Keefe is known primarily as the author of songs made famous by other artists, including "Good Time Charlie's Got the Blues," which has been recorded by everyone from Elvis Presley to Jerry Lee Lewis to Willie Nelson, and "Quits," one of the best divorce songs ever – right up there with Sinead O'Connor's "The Last Day of Our Acquaintance." That he isn't as well known as a performer is surprising, given his distinctive and evocative voice, which is on full display on this two-disc collection.
The first CD collects 17 studio tracks that O'Keefe originally released over the past couple of decades. "Quits" isn't here but you will find some of his other best-known numbers, such as "Magdalena," "The Road," and "Angel Spread Your Wings," plus "Well, Well, Well," which he co-wrote with Bob Dylan. The second disc preserves a 15-song solo acoustic house concert from 2016 that includes a few of the same songs and some other career standouts, among them a fine show-closing version of "Good Time Charlie's Got the Blues."
Jeff Burger's website, byjeffburger.com, contains five decades' worth of music reviews, interviews, and commentary. His books include Dylan on Dylan: Interviews and Encounters, Lennon on Lennon: Conversations with John Lennon, Leonard Cohen on Leonard Cohen: Interviews and Encounters, and Springsteen on Springsteen: Interviews, Speeches, and Encounters.