An intimate lyricist, a Queens native, and the creator of all her own artwork… Miss Wolf might be the complete package.
---
Up-and-coming singer Julia Wolf is on the verge of something big thanks to her songwriting abilities and pop sensibilities. She began releasing short previews of her music on social media around 2019; this is where she starting gaining 'likes' from fans and critics alike. 
Her debut album is out now and titled Good Thing We Stayed. We think it's a flawless first record – a true premonition of where the young star is going. Her deep, laid-back vocals paired with the amazing stories that each song carries may remind you a little bit of Billie Eilish or Dua Lipa… if crossed with Avril Lavigne and having collaborated with blackbear. 
The Aquarian's Robert Frezza sat down to talk with the budding pop rock singer about her writing style, who she looks up to in the industry, and what her new album means to her.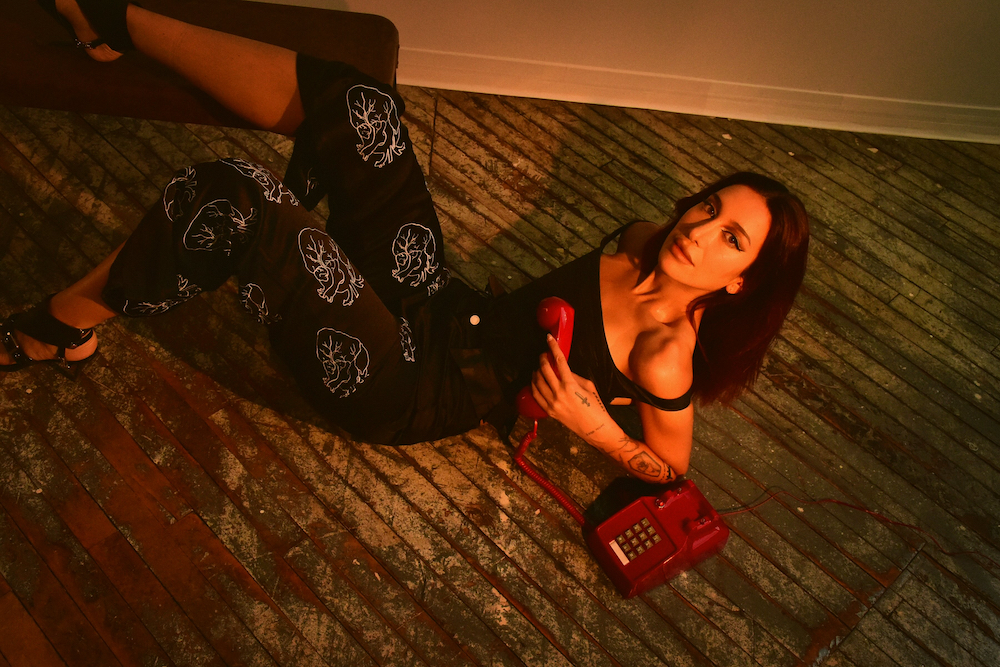 Your lyrics are very transparent. Do you enjoy this type of writing style?
I do. For me, music is a means to say what I'm thinking when my words escape me in face-to-face interactions. It's a chance to set the record straight and say my piece. I've been known to keep to myself, and communicating at times is just plain difficult. That's where the music comes in. 
Do you think your lyrics walk the line of risqué with songs like "Virginity" and "Get off My," as well?
Honestly, I think it could be more [Laughs]. I enjoy the juxtaposition of being an introverted person with writing songs that say how I'm feeling in the bluntest of ways. At times, that's what you need to get people to understand you. 
Did you have anyone in mind when writing most of these songs? Can you tell us who?
Well, I still don't have any love songs in the books, so we can cross that off the list. I reference my sister and parents throughout because we're so close in day-to-day life that they naturally they show up in my writing. Some of the other songs are certainly about specific people who actually encouraged me to give up on music or underestimated my aspirations; it was certainly enough inspiration to go off and speak my mind through the album. 
Who inspires your writing style and who do you look up to in the industry?
I look up to Phoebe Bridgers and Jack Harlow constantly. I know they're entirely opposite genres, but they sum up my love for lyricism in their own ways. I love Jack's flows and beats that you can't help but move to, and Phoebe's lyrics are just out of this world unique and bold. Those are the elements I strive for with my own songs. 
Your first concert was Avril Lavigne. What was it about her and her show that manifested into you pursuing your dream?
I was in sixth grade when I saw that concert. It was life-changing… but I was never able to admit my dreams of wanting to do what she did for many, many years to come. I did, however, wear a men's tie to school every day of fourth and fifth grade and never took it off despite the bullies. I loved her fearlessness; it seemed like she couldn't care less about anyone's opinion and laid her heart out on that stage, speaking so freely about sadness or love or heartache.  It was impossible for me to even look in someone's eyes at that time in life. I was a pretty gloomy kid, but that night she made me feel electric. 
Your vocals follow in the footsteps of that of Billie Eilish and ASMR. Would you agree?
ASMR is a first, but I really dig the comparison. It's true that I'm not one to be belting any high notes, so I can understand that. Someone once said my voice sounded like a "violin with sadness," and that was probably my favorite. 
Tell me more about your album, Good Thing We Stayed. What does this particular album mean to you?
This album was a chance to lay my story out there once and for all. Sometimes people think these things happen overnight, but I was putting in several years of constant work with absolutely zero outcomes. It wasn't until I met Jackson Foote (my producer and main collaborator) that I could even start putting music out, and [that was] only in 2019. I just wanted the story of life in one place, from that first song in high school to where we are now. When it felt like it had been told, I knew the album was done. 
What's next for you? Touring?
Yes! I leave this Thursday and I'm still pinching myself. I can't wait to meet everyone face-to-face, because without these incredible people, none of this is possible.
Every Sunday on Instagram I do 'Sunday Confessions' where people write in what they need advice on and I try to give my two cents. We'll now be doing it live on tour halfway through the set so, everyone, have your confessions ready! Also, I'm super excited to announce I'll be opening for QuinnXCII this summer!
FOR ALL THINGS JULIA WOLF, CLICK HERE! JULIA TAKES ON NYC TOMORROW AND PHILLY ONSATURDAY – GET TICKETS NOW!