If you would have told us in June that Daniel Seavey would be on a solo tour across the country, we wouldn't have believed you.
---
When Daniel Seavey's band, Why Don't We, went on a hiatus, the future of the individual band members was incredibly uncertain from an audience perspective. After all, they had been amping up to a tour across the country before the heartbreaking news. One question was on every fan's mind: What's next?
In the moments leading up to the New York City date of the Introducing Daniel Seavey Tour, you could feel the anxiety tangible in the air. Fans may have seen clips of the concert online, but there's something so different about being there in person. If they couldn't have the sweet experience of Why Don't We on tour, they would still have Daniel.
However, the moment the show began, the idea that this would be a supplement for the Why Don't We craze was immediately squashed.
Daniel Seavey shined as a star all on his own. His ability to succeed as a solo act came as no surprise to fans who knew him from his time on American Idol. While he may have been eliminated (the day before his birthday, by the way), he still had proven himself even before the band had taken over our hearts.
Racket in New York City was packed for Daniel's performance. Fans had camped out earlier than they cared to admit.
Photos by Ali Fitzgerald
Here's what's key about Daniel's show: he doesn't actually have a lot of music out… yet. Before the tour, he'd only released a handful of songs, so he ended up filling the set with unreleased music and a few covers. It made the show incredibly unique. After all, most concerts hinge on the idea that fans want to scream along to their favorite songs with their favorite artist. That simply wasn't possible this time around.
But it worked. It worked so well that it proved Daniel wasn't just musically gifted, but he was an incredible solo performer. Only someone who truly understands how to keep a crowd excited and engaged is able to get away with what he did. Plus, not only did he get away with it, he owned it and made the show unique as a result.
After performing his single "I Tried" a few times on tour before it was ueleased, fans learned the song through clips posted online. Finally, the track was dropped. In New York City on January 14, you could see the way this song specifically resonated with the fans now that it was theirs. The simple and sweet tune was absolutely a crowd favorite.
"Goodbye" was also a standout performance. However, it was for a very different reason. The currently unreleased song is a tribute to Daniel's friend Corey La Barrie, a content creator who passed away in 2020 as a result of an unfortunate car accident. "Goodbye" is an emotional, yet healing song about loss.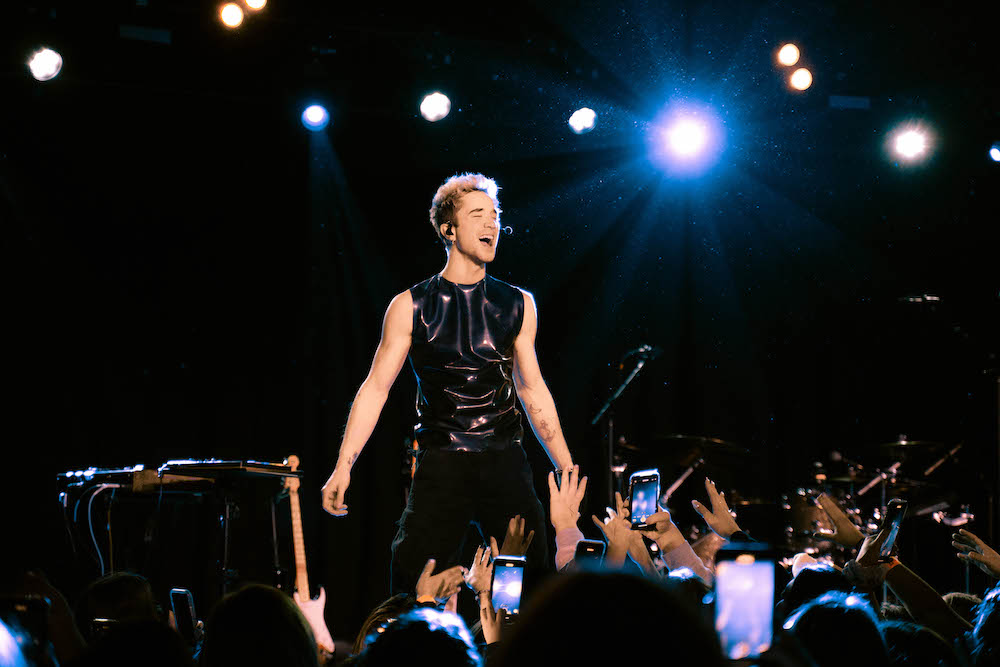 Most solo acts today are standing in front of the crowd with just a guitar, Ed Sheeran style. (Daniel even made a reference to the icon as he introduced an additional component to his performance: a looper.) However, unlike a lot of solo acts, Daniel Seavey actually knows how to play at least nine instruments, but, honestly, he probably plays even more.
At a certain point in his performance, Daniel deviated from the solo act norm and actually took over the complete sound of his music. For most of the show, Daniel had a drummer with him, but these moments – the times where it was just him – were the ones that were truly special. Between the keys, guitar, drums, and cello, it was a display of Daniel's natural musical gift.
The singer threw in a couple of Why Don't We songs into the setlist that night, too. It was bittersweet in those moments, and while we live for nostalgia, we also know that this new, promising future for Daniel is sure to grow into something beautiful.
YOU CAN KEEP UP WITH DANIEL SEAVEY ON INSTAGRAM! FOLLOW THE COVERAGE OF ALI&ALEX ON THEIR BLOG!