The John Mayer Trio, James Taylor, Sheryl Crow, Pat Benatar and Neil Giraldo, Warren Haynes, Gary Clark Jr., St. Vincent, Rufus Wainwright, Jim James, Mavis Staples, Ledisi, Allison Russell, the War and Treaty and other music artists rocked the seventh annual Love Rocks NYC benefit concert at the Beacon Theatre on March 9. 
The live event, also broadcast via livestream, benefited the New York City-based God's Love We Deliver. The nonprofit charity delivers free medically-tailored meals to New Yorkers unable to shop or cook for themselves. This year's concert raised more than $3.5 million.
Between musical performances, Bill Murray, Stephen Colbert, Chevy Chase, Phoebe Robinson, Gina Gershon, David Burtka, and Neil Patrick Harris touted God's Love We Deliver, urging continued support through monetary donations and volunteering efforts. Colbert announced that God's Love We Deliver never has a waiting list for those requesting meals. He jokingly added, "Maybe they should be in charge of Taylor Swift tickets."
Bassist Will Lee organized the house band, consisting of guitarists Larry Campbell and Eric Krasno, keyboardist Michael Bearden, drummers Steve Gadd and Shawn Pelton, and percussionist Pedrito Martinez. The ensemble also included a six-person horn section and a six-member choir. Guitarists Jimmy Vivino and Bernie Williams and keyboardists Paul Shaffer and Ivan Neville lent support periodically throughout the program.
In addition to original music, the musicians performed covers and paid tribute to recently-deceased classic rockers. Warren Haynes of Gov't Mule and Jimmy Vivino honored David Crosby, who died on January 23, by covering the Crosby, Stills, Nash & Young song, "Almost Cut My Hair." Haynes prefaced the song by saying that the last time he saw Crosby was on the Beacon Theatre stage. Allison Russell honored Christine McVie, who died on November 30, by performing Fleetwood Mac's "Don't Stop." Russell introduced the song by saying, "Every woman on this stage is walking in her footsteps." The evening's finale saw most of the evening's performers onstage for a tribute to Jeff Beck, who died on January 10. The ensemble performed "People Get Ready," initially recorded by the Impressions in 1964 and later covered by Jeff Beck on his 1985 album, Flash.
The evening showcased additional cover songs that the musicians usually do not include in their live sets. Backed by the house band, Jim James of My Morning Jacket reinterpreted Elton John's "Rocket Man." The War and Treaty sang Chris Kenner's "Land of 100 Dances," employing Wilson Pickett's arrangement of the song. Rufus Wainwright and Allison Russell performed the Beatles' "Across the Universe." Sheryl Crow covered the Rolling Stones' "Live With Me." St. Vincent sang David Bowie's "Young Americans." Pat Benatar and Neil Giraldo included a bit Johnny Cash's "Ring of Fire." The John Mayer Trio channeled the Jimi Hendrix Experience's "Wait Until Tomorrow." Chevy Chase played a Bill Evans instrumental on electric piano.
David Ludwigson, the new president and chief executive officer of God's Love We Deliver, spoke to the audience about how the annual benefit concert plays a significant role in supporting the agency's mission. The concert, executive-produced by Greg Williamson, John Varvatos, and Nicole Rechter, provides 10% of God's Love We Deliver's annual operating budget. Since launching in 2017, the Love Rocks NYC concerts have raised more than $25 million and funded more than 2.5 million meals.
.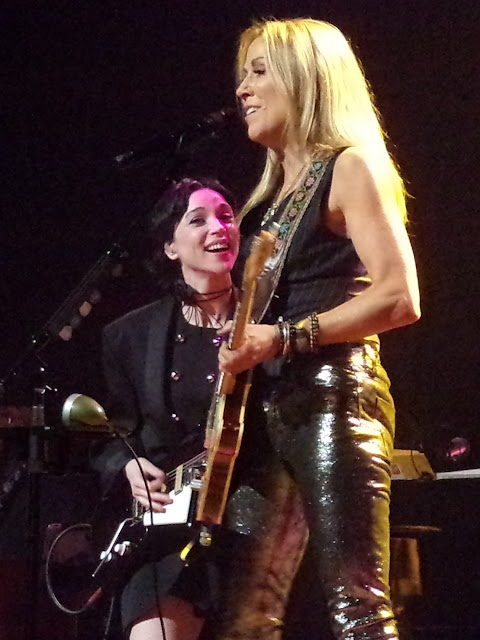 .
Setlist
Jim James
State of the Art (A.E.I.O.U.)
Rocket Man (I Think It's Going to Be a Long, Long Time) (Elton John cover)
Ivan Neville & Jimmy Vivino
Hey Pocky A-Way (The Meters cover, with Jimmy Vivino)
Chevy Chase
instrumental (Bill Evans cover, Chase on the piano with accompaniment from the house band)
The War & Treaty
Have You a Heart
Land of 1000 Dances (Chris Kenner cover)
Warren Haynes & Jimmy Vivino
Almost Cut My Hair (Crosby, Stills, Nash & Young cover)
Allison Russell
You're Not Alone
Don't Stop
Rufus Wainwright
Going to a Town
Across the Universe (The Beatles cover, with Allison Russell)
Mavis Staples
Respect Yourself (The Staple Singers song)
Friendship (with Rufus Wainwright and Bernie Williams)
Gary Clark Jr.
You Are My Baby
The Healing
Sheryl Crow
If It Makes You Happy (with Bernie Williams)
Live With Me (The Rolling Stones cover)
Real Gone (with St. Vincent)
St. Vincent
New York
Young Americans (David Bowie cover)
Ledisi
Feeling Good (Anthony Newley cover)
Knockin'
James Taylor
Up on the Roof (Carole King cover, with Bernie Williams)
Country Road (with Bernie Williams)
How Sweet It Is (To Be Loved by You) (Marvin Gaye cover, with Bernie Williams)
You've Got a Friend (Carole King cover, with Sheryl Crow and Bernie Williams)
Pat Benatar & Neil Geraldo
Love Is a Battlefield
Heartbreaker > Ring of Fire (Johnny Cash cover) > Heartbreaker
John Mayer Trio
Who Did You Think I Was (with Jimi Hendrix's Power of Soul)
Vultures
Wait Until Tomorrow (The Jimi Hendrix Experience cover)
Finale
People Get Ready (The Impressions cover, with all the performers participating)
FOR EVEN MORE ANECDOTES & PHOTOS FROM LOVE ROCKS NYC 2023, VISIT EVERYNIGHT CHARLEY'S BLOG HERE!