Today's grammar lesson:
K A M E L O T
noun: a time, place, or atmosphere of idyllic happiness
noun: an extraordinary, Floridian, symphonic metal band whose powerful music defies boundaries; progenitors of power metal at its finest
adjective: superior, thrilling, enchanting, innovative
---
The stunning music produced by Kamelot over its nearly 30-year career has wowed listeners since day one, and so those listeners anxiously await each forthcoming album. That's been the case for 2023 with fans setting their sights on The Awakening, the band's latest, splendid opus. Today, March 17, it is out in the world, so be sure to spin the record before heading out on that St. Patrick's Day pub-crawl… or skip it altogether and throw your own Kamelot record release event.
The Awakening marks Kamelot's 13th studio album and it shows the band continuing to evolve by mixing elements for a varied set of songs and moods. These come about in part from incorporating disparate genres such as Celtic, folk, and classical… well, seemingly disparate genres. Kamelot, through its vibrancy and talent, bring all styles of music into a clear statement of symphonic metal.
Album highlights include opener "The Great Divide," which incorporates familiar Kamelot elements and sets the tone for the album. Bookend closer, "My Pantheon (Forevermore)," is easily the heaviest song on the record. However, strings and background vocals boost several songs. They include cellist Tina Guo on "Opus of the Night (Ghost Requiem)" and "Midsummer's Eve," singer Melissa Bonny is featured on "New Babylon," while violinist Florian Janoske further augments "Midsummer's Eve."
Kamelot is led by guitarist Thomas Youngblood, who pairs with keyboardist Oliver Palotai to great success. The band also includes lead singer Tommy Karevik, who demands attention through his powerful vocals, and bassist Sean Tibbetts and drummer Alex Landenburg, a solid pairing who hold down the rhythmic fort and then some. We recently spoke with Youngblood himself about The Awakening.
Where does The Awakening fall within the Kamelot pantheon?
For us it's sort of a best of the Kamelot eras. We kind of looked at our back catalog and what made certain songs special – the kind of secret sauce for some of those albums – and we realized on the previous records we kind of missed a little bit of world music like Celtic, folk influences, the Arabian stuff that we had used in the past. We brought some of that back, and at the same time, we kind of wanted to modernize and continue to evolve. So we have a lot of different elements on the record. It sounds cliché but for sure it's the most diverse album so far and that's where I'd put it in the catalog.
The songs are very emotive and Kamelot is a very driven band – can you tell me about the writing process?
It usually starts with the music and melody. Our singer is really huge on conveying emotion. That's the number one goal in every song: evoke some kind of emotional response from the lyrics and the music. That's just a philosophy that we have that has worked. There are a lot of great contrasts on the record, a lot of topics that are personal, but, metaphorically, they relate to everyone. We try to touch all these different kinds of bases and I think we were successful with that. "One More Flag in the Ground," for example, is really just a metaphor for fighting some kind of illness, whether it be mental illness or physical illness. In my case, it was a big bout with COVID. The album is very personal but we want to make sure that everyone can relate to it.
The symphonic elements gives the songs the feel of an epic movie soundtrack. How and why did you first decide to take the band's sounds in this direction?
Things just kind of evolved based on the initial influences, then when I started to get my own sound I dabbled in influences that most traditional metal bands didn't – like new age music, things like that, Celtic music, classical music. I think there are a lot of fans of both heavy metal and classical music. I'm a huge classical fan so that's always been a part of Kamelot's sound. 
I think Kamelot takes in the complexity of classical but also the way that the themes are memorable. Those two combinations make it special. I also think the use of real instruments like strings also give that more organic feel to the music. When you blend that with metal or guitars, to me, it's like this perfect marriage.
The Awakening is your first album in five years. Did the pandemic have something to do with the gap? 
Not so much from my personal battle with it. Bands couldn't tour for a year-and-a-half to two years. Without touring, it doesn't make a lot of sense to put out an album, so we just decided [to] spend more time on the record and that's what we did.
What are the challenges of staying relevant, as Kamelot has, over the course of a nearly 30-year career?
Evolution is a key component for any band that wants to stay relevant if you've been around for 10 or more years. We always focus on the new album when we do touring. I think that's one of the reasons why after 20+ years the band is still relevant. A lot of artists – no offense to them – they try to make albums like the one that put them on the map and they end up being a tribute act. That's not what we want to be. We still have a lot to say with our music so we always focus on the new album with each tour. It's just been a philosophy that's always worked for us.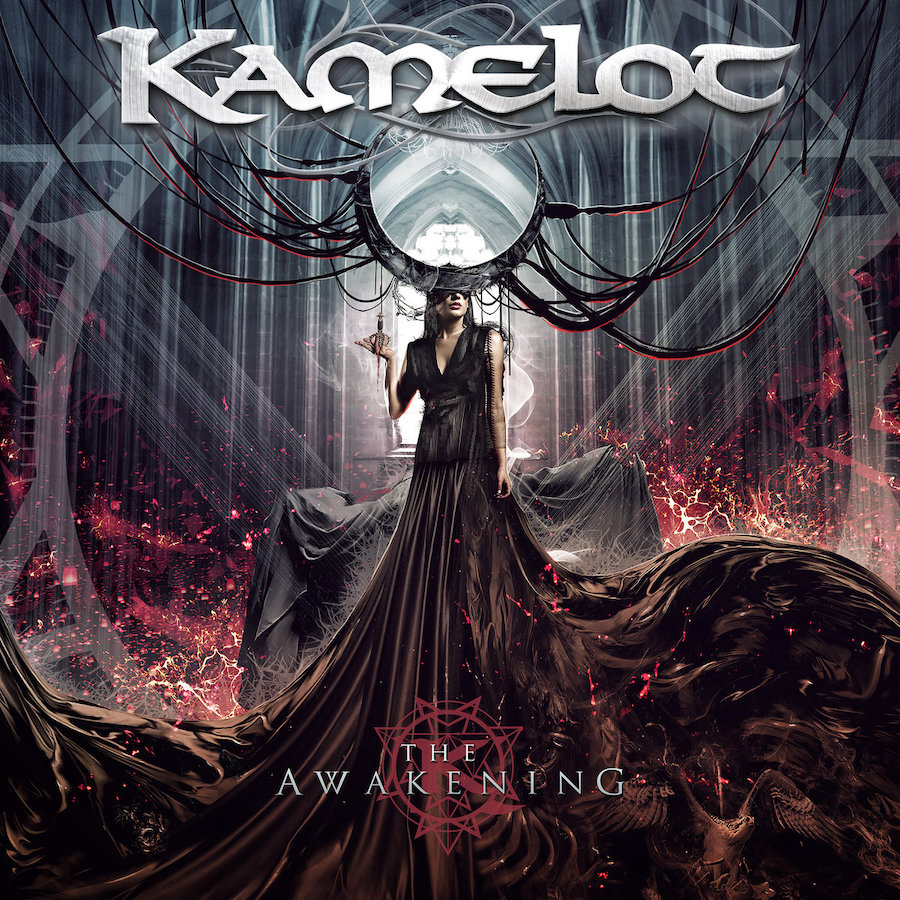 On The Awakening there are guest spots by cellist Tina Guo, Swiss metal singer Melissa Bonny, and violinist Florian Janoske. What do they bring to the album?
Tina is a cellist that is really well known in the symphonic world and the classical world. She's toured with Hans Zimmer, who is one of my favorite composers, so it was kind of a bucket list to have her on the record. She has amazing energy and talent, and we're really fortunate to have her. Then we have Melissa Bonny from Switzerland. She plays in a band called Ad Infinitum. She was also on my list. With each record, I have a list of guests and she's on the top of it. She just toured with us in South America and everybody just loved her so we're excited about her doing our European tour coming up in a few weeks. Florian was brought in by our producer, Sascha Paeth. He knows Florian from his band Versegold. He was fantastic. We're very fortunate to have these special guests on the record that add a little spice to each album.
How do you approach writing your guitar solos?
For me, the guitar and solos are 100% about expression in the song. It has nothing to do with showing off and, to me, the solos should just support the song. I always look at the guitar and all the instruments as a tool to write songs, to be creative. I also dabble in keyboards and drums myself. Saxophone was my first instrument growing up but guitar was my first love. 
There is dark subject matter on the album, but ultimately light and hope prevail over everything.
Darkness is prevalent but at the end of the day we want The Awakening to give people a sense of hope, awakening to this new world that we have post-COVID. The genesis of the title was awakening to this new sense of what's important.  Personally, it's about being forced to take time off and sit back and realize what I have been missing over these years, where you have this grind every day. A lot of people lost their jobs and when they came back they said, "No, I'm not going to do this job. It's not what I want to do," so all of those kinds of things go into the title and the feeling that we want the album to have this sense of hope and empowerment for people.
Especially over the past few years, people have been dealing with a lot of things – mental illness being just one of them. We're very cognizant of that in our fan base, so we always talk about the power of one. You can change the world on your own. Everything you need is inside you. We all need help, of course, but it's also this sense of empowerment that we all want people to feel. It's not a preachy thing but it's just stating what's obvious to us. 
Do you feel a responsibility to send these types of messages to your fans?
I think it's important as an artist to understand that you do have some responsibility… at least I feel that way. I get emails from people all the time about how the lyrics affect them, so we take that responsibility very seriously. I always kind of analyze what we're saying with the messages and make sure that it's something that I can morally stand by. I think on this record it gives people a sense of hope through all this craziness that's happened the last few years. 
The album's first track, "The Great Divide," seems to be an introduction of sorts for what comes next throughout the record.
We still write albums for people that listen to the whole thing. It's important for the record to feel balanced, to have this opening have some sort of impact. "The Great Divide" has all the Kamelot DNA that fans expect. The chorus is super catchy and it's also got this odd time signature in the verses, which is also something we're kind of known for.
Another great track, "My Pantheon (Forevermore)," bookends the record and is also the heaviest song on The Awakening.  
That's also something we've tried to do in the past: make the last song sort of diverse musically but also heavy so that it ends on a kind of epic sort of statement so to speak. It's just part of the pacing of making a record. We still write albums for the listener who's going to go through the whole record from beginning to end, whereas nowadays a lot of people are listing to one or two songs at a time. 
Do you have plans to tour The Awakening in America?
The new album comes out March 17 and I think we're going to announce the North American tour at that time. We're going to be touring here in August and September and we've got a lot of great venues. We're excited about that, and we also have a special guest planned. We're getting emails all the time about, "When are you coming to Canada? When are you coming to the U.S.?'" Those dates have been planned for over a year, and the time to tell them will be very soon.
KAMELOT'S NEW ALBUM, THE AWAKENING, IS OUT NOW WHEREVER YOU LISTEN TO MUSIC!