'All you need is love' … and a newfound, musically-inclined respect for Newark, New Jersey.
---
Nearly 60 years ago this past February, legendary television host Ed Sullivan enthusiastically expressed the words that would save and change the face of rock and pop music in America: "Ladies and Gentleman…The Beatles!" An astounding 73 million people – 34% of the population at the time – watched the three-song set, the majority families gathered around the living room TV set. Enter Beatlemania to the United States.
An estimated 30,000 fans had swamped John F. Kennedy Airport upon the Fab Four's stateside arrival, swooning over their heroes: John Lennon, Paul McCartney, George Harrison, and Ringo Starr. An audience consisting of mainly hysterically young women screamed, cried, and even fainted at the ensemble's very appearance.
The Ed Sullivan performance may be the most memorable Beatles moment on these shores – ask people where they were when they first saw the Beatles and they'll give you an answer in a split-second. Likewise, countless musicians were inspired to pick up a guitar after watching mesmerizing renditions of "All My Loving," "Till There Was You," and "She Loves You."
.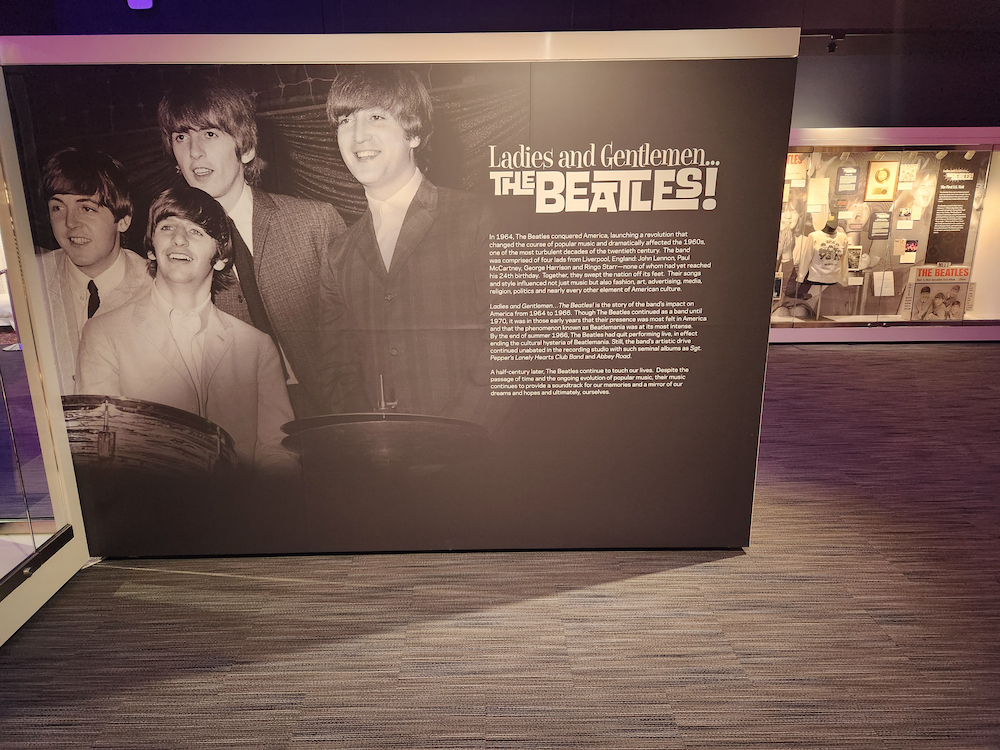 .
Now, Beatlemaniacs and casual fans alike can experience the more than remarkable impact the group had on American culture and the pop-rock zeitgeist from early 1964 through mid-1966 at "Ladies and Gentlemen…The Beatles!" a superb exhibit running at the GRAMMY Museum Experience™ Prudential Center in Newark, New Jersey, adjacent to Prudential Center.
The show, curated by the GRAMMY Museum and Fab Four Exhibits, runs through June 25. A related talk, Off the Record, a conversation between global Beatles historian Mark Lewisohn and author and Beatles historian Kenneth Womack, takes place March 30 at White Eagle Hall in Jersey City. Attendees will receive a complimentary pass valid for entry to the GRAMMY Museum Experience, and the talk coincides with The Fest for Beatles' Fans show in Jersey City, an event that will no doubt also draw visitors to this exhibit in Newark.
"Ladies and Gentlemen…The Beatles!" takes visitors through a magical, innocent, and fascinating time. The wondrous trip down memory lane includes a typical teenager's bedroom set up with authentic Beatles memorabilia. There is also an awesome recreation of the Ed Sullivan sound stage, complete with a replica Hofner bass, Gretsch and Rickenbacker guitars, and a Ludwig drum set that the Beatles played that fateful night. This section features the lighting gear and other backstage work that all needed to come together (no pun intended) to make the Sullivan appearance happen.
.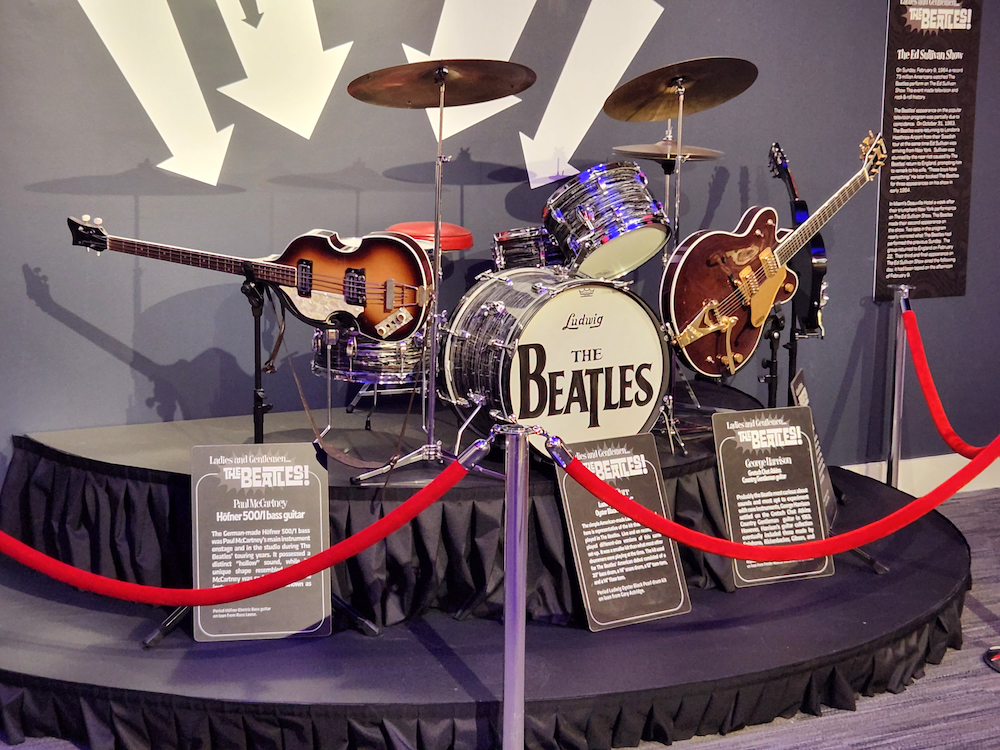 .
The plethora of Beatles history also includes original lyric sheets written by McCartney, hand-written setlists from Beatles' concerts, correspondence, instruments, outfits, posters, photographs, interviews, and interactive displays, including a chance to play along with Ringo Star on "Yellow Submarine" and 'walk past' that most famous street in Beatles history: Abbey Road.
The Beatles played one show only in New Jersey, in Atlantic City, and the exhibit features a ticket stub from that historic night. There are also aspects of the show dedicated to those that influenced the Beatles, such as Buddy Holly – including, oddly enough, his death certificate, B.B. King's guitar, and Roy Orbison's guitar.
The GRAMMY Museum Experience beyond the Beatles exhibit is awesome in its own right. It's an interactive, Jersey-centric place that sees thousands of school children visiting each year, all excited and inspired to learn more about the history of popular music. They have the opportunity to rap with Wyclef Jean, sing along with Ray Charles, and take a drum lesson with Bruce Springsteen's drummer Max Weinberg. They also can try out many sounds of guitar pedals and keyboard effects. Then there's the drum kit that that Weinberg played on The River tour. Of course, the museum would not be complete without a history and view of the physical Grammy Award themselves: the Golden Victrolas.
This large-scale, astonishing Beatles exhibit and the overall GRAMMY Museum Experience are not just well worth the visit; they are essential for any music fan, no matter your favorite group or genre.
We recently spoke with GRAMMY Museum Experience at Prudential Center Director Mark Conklin about "Ladies and Gentlemen…The Beatles!" and more.
.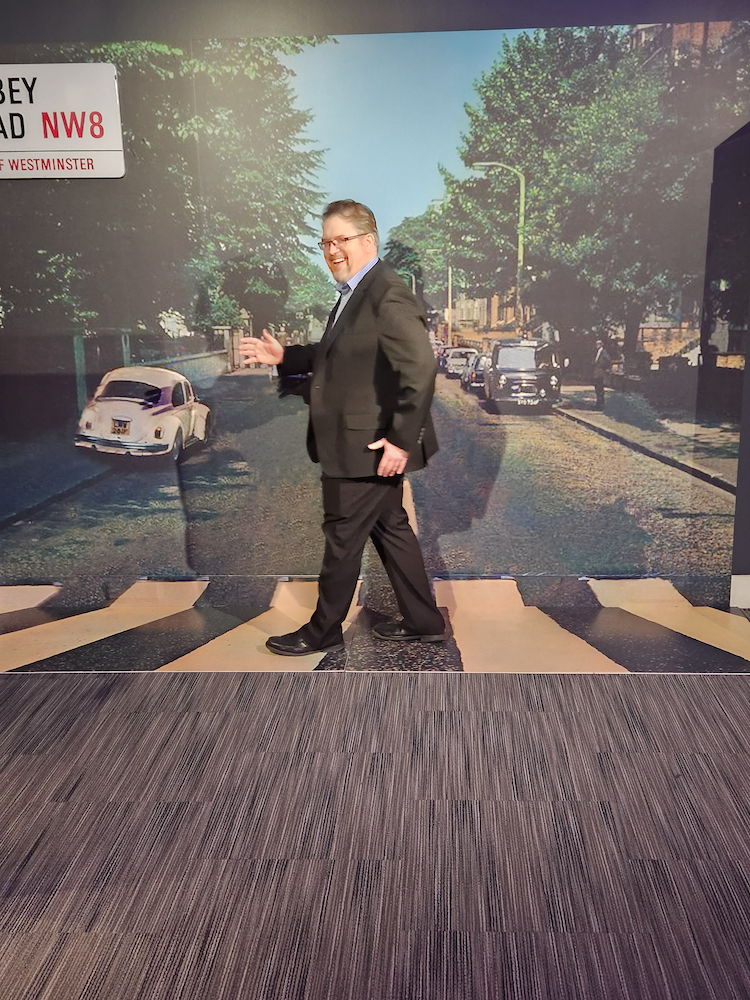 .
Tell us about "Ladies and Gentlemen… The Beatles!"– how long does it take to put together such an exhibit and why did you choose it?
We actually wanted this exhibit prior to COVID, so we got it as soon as we could after the pandemic. It's a little bit of a gut feel of what we think the audience will like. For me, it's sort of a no brainer – it's the Beatles and they have a universal appeal. Personally, I grew up a die-hard Beatles fan. I was 12 or 13 years old and my best friend turned me onto them… and my life changed. I began to play guitar, I wrote songs, and became a professional musician, and ultimately, came here.
What makes this Beatles exhibit unique?
It's focused on the early years, really when Beatlemania was at its height, when there was the most fervor and fever around it. I think that's very interesting to see how it impacted America, and because we're on the east coast and they came through New York, there's a tie-in here, as well, for those reasons. It was during a time when we were still hopeful and youthful before things got darker later in the decade, and, of course, the Beatles ultimate demise. There's a lot of hope in the timeframe of the exhibit, so I like that period.
How did the Beatles, in a way, save and reinvent rock and roll?
I think there's a couple of things. We had just come off the assassination of JFK and I think the country needed a lift, it needed a spark, and a very unlikely source would be these four young men from across the pond. That had a huge impact, and then, musically, it changes everything. Guitar bands were seen to be dead: people didn't write their own songs. They changed forever the way songs are recorded, so our culture and our music are completely impacted by them. In a way, I don't know that people really appreciate today how different it was before and after the Beatles. Hopefully we can show them that.
The show also features the Beatles' own influences.
The exhibit is aesthetically so beautifully laid out and what I really enjoy is there are artifacts that are not only the Beatles but of their influences. You see B.B. King's guitar, you see Ray Charles' suit, Roy Orbison's guitar. Those things for me, as a music fan [and] as someone who really appreciates music history, those things really draw my attention.
How long has the museum been operating in Newark?
We opened in 2017. The organization here wanted to partner with the GRAMMY Museum in Los Angeles to provide, really, something for the community, and bridge the gap so that people could be able to come into this building to educate children. That's a big part of our mission. We have a lot of school groups that come to the museum to learn about the Beatles, and 80% of the museum is interactive. There are videos playing throughout.
What are some of the non-Beatles features of the museum?
We have videos playing of great GRAMMY moments, a visual history of the Awards, and the statuettes and how they grew over the years. It's very visual. A lot of folks look through the Album of the Year interactive kiosk and find the year they were born and see what the top album was that year. 
There's also the Roland Live Stage that has all of these instruments that young people can try and adults, as well. Then, of course, the New Jersey Legends exhibit is always here. We change it each year: we take some people out, put some people in. We currently have Gloria Gaynor, Whitney Houston, Dionne Warwick, Frank Sinatra, Al DiMeola, The Smithereens, and, of course, Bruce Springsteen, amongst many more.
THE GRAMMY MUSEUM EXPERIENCE & BEATLES EXHIBIT IS LOCATED AT 165 MULBERRY STREET IN NEWARK, NJ, AND OPERATES FROM 11:00 A.M. TO 6:00 P.M. THURSDAY THROUGH SUNDAY. GET MORE INFO HERE!