Hours before Bruce Springsteen & the E Street Band performed a long-sold-out show at Madison Square Garden on April 1, a single ticket in the pit in front of the stage appeared on Ticketmaster's website. It seemed Ticketmaster was selling this ticket for a whopping $13,000. Was this an April Fool's joke? The tour, which started on February 1, was marred by controversies over dynamic pricing, which adjusts the price of tickets in real time due to demand.
Seven years after Springsteen and his band last played Madison Square Garden on March 28, 2016, six years after the close of their most recent tour in February 2017, and 18 months after the close of a three-year run of Springsteen on Broadway on September 4, 2021, Bruce Springsteen & the E Street Band were reuniting for a tour that would bring them to the World's Most Famous Arena for one night only. The Madison Square Garden show represented the first of five shows that Bruce Springsteen & the E Street Band will perform in the New York City area this spring. The two-week run continues at Barclays Center in Brooklyn on April 3, followed by two shows at the new UBS Arena on April 9 and 11, and one night at the Prudential Center on Friday, April 14, which will conclude the U.S. arena leg. The band then tours Europe before returning to North America in the late summer for stadium and arena shows, which will include August 30, September 1, and September 3 at MetLife Stadium in East Rutherford. (Yet another leg of North American arenas will begin in November.)
On April 1, Paul McCartney and his wife, Nancy, were rocking and singing in the stands at Madison Square Garden. Various sources report that NFL commissioner Roger Goodell was there, former New York Rangers goalie Henrik Lundqvist posted a photo from the show on Instagram, Rock and Roll Hall of Fame chief John Sykes was in attendance, and rumors that actors Michael J. Fox, Ben Stiller, Daniel Craig, Edward Norton, Michael Gandolfini, Adam Scott, Keegan Michael Key, and Richard Kind, as well Broadway stars Andy Karl and wife Orfeh, were in the audience. A Bruce Springsteen concert in New York City draws the A-list of the rich and famous along with the blue-collar working class; the two classes just might not be sitting in the same section.
At The Garden, Springsteen and the E Street Band performed 27 songs in just under three hours with no intermission. At age 73, Springsteen remains remarkably fit for the demands of such a lengthy, high-energy show. Towards the end of the performance, during "Dancing in the Dark," he tore open the buttons of his shirt to reveal his bare chest – six-pack and all. He proclaimed, "I am the Lion King!" 
Springsteen was accompanied by 17 musicians and vocalists. The core E Street Band – pianist Roy Bittan, guitarists Nils Lofgren and Steven Van Zandt, bassist Garry Talent, drummer Max Weinberg, keyboardist Charlie Giordano, saxophonist Jake Clemons (who replaced his uncle, the late Clarence Clemons), guitarist/violinist Soozie Tyrell, and percussionist Anthony Almonte – was expanded for the tour. A four-part horn section consisted of Barry Danielian, Eddie Manion, Ozzie Melendez, and Curt Ramm. Curtis King Jr., Lisa Lowell, Michelle Moore, and Ada Dyer provided backing vocals. Springsteen's wife, guitarist/pianist Patti Scialfa, was not present.
Photos by Everynight Charley
Big-budget tours with elaborate staging are the norm these days. Springsteen, however, has very simple staging, with no laser lights, props, fire, smoke, or other spectacles. The show is grounded entirely on the performance of Springsteen and his musicians.
"We got something special for New York City," Springsteen told his audience as the eight-song encore began. He pointed at violinist Soozie Tyrell, who began playing the opening strains of "Jungleland," a song which the band had not yet been performed on the current tour. She eased the band into an 11-minute version of the 48-year-old mini-rock-opera from the 1975 album Born to Run.
Springsteen's concert drew from five decades of recordings, but the bulk of the show came from his peak period, from 1973 to 1984. The newest addition to his live repertoire was from Only The Strong Survive, Springsteen's 2022 album of cover versions of soul songs. From that collection, he and the E Street Band covered "Night Shift," a hit for the Commodores in 1985.
Running from song into song, Springsteen seldom spoke between songs. An exception was when he introduced "Last Man Standing," where he spoke of joining his first band, the Castilles, at age 15, when he received an invitation by a high school friend, George Theiss.
"The greatest adventure of my young life," Springsteen recalled. "This was in 1965, '66, and '67. We lasted for three years! Teenagers! It was the all-time School of Rock! An explosive time in American history – and an amazing time to be in a rock group, but if you cut forward 50 years from that summer afternoon, to another summer day, I found myself standing at the side of George's deathbed." He segued, "He fought lung cancer for the last years of his life and he only had a few days left to live. And I realized that his passing would leave me as the last surviving member of that first small group of guys that put that little band together. The dead's great and final gift to the living is expanded vision," Springsteen concluded. "At 15, everything is tomorrow and tomorrow and tomorrow and hello and hello. And later on, through so many more goodbyes… now, it just makes you realize how important living every moment is. So be good to yourselves and be good to those you love and be good to this world around you."
"Rock of ages, lift me somehow," he sang. "Somewhere high and hard and loud, somewhere deep into the heart of the crowd – I'm the last man standing now."
As the show began drawing to a close, Springsteen gave the audience yet another memorable moment. He strolled off the stage and onto the floor to a ramp in the center of the arena to sing "Tenth Avenue Freeze-Out." Towards the end of the song, he told the audience, "This is the important part!" then pointed to the video screens flanking the main stage. Vintage video clips showed the departed members of the E Street Band, Clarence Clemons and Danny Federici, along with a young Springsteen, as he continued singing his way back to the main stage.
The band took bows for the second time and left the stage. Springsteen appeared back on the main stage, alone, carrying his acoustic guitar. He drew the crowd's attention to the volunteers collecting donations from a local food pantry, in his words "our friends from the Saint Francis Food Pantries and Shelters," which is based a half block from Madison Square Garden. "They provide food, clothing and shelter for New York City neighborhoods in need," he said. Springsteen sang, "We'll meet and live and love again/ I'll see you in my dreams/ Yeah, up around the river bend/ For death is not the end/ And I'll see you in my dreams."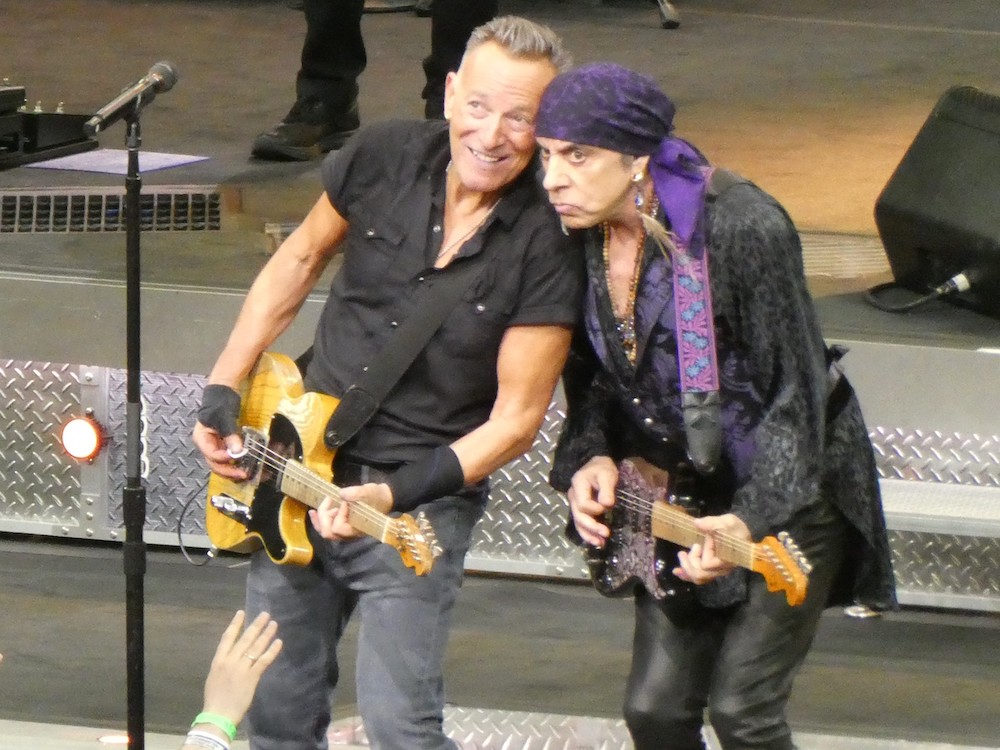 Setlist
"No Surrender"
"Ghosts"
"Prove It All Night"
."Letter to You"
"Promised Land"
"Out in the Streets"
"Candy's Room"
"Kitty's Back"
"Night Shift" (the Commodores cover)
"Trapped" (Jimmy Cliff cover)
"E Street Shuffle"
"Johnny 99"
"Last Man Standing"
"Backstreets
"Because The Night"
"She's The One"
"Wrecking Ball"
"The Rising"
"Badlands"
Encore
"Jungleland"
"Thunder Road"
"Born To Run"
"Rosalita"
"Glory Days"
"Dancing In The Dark"
"Tenth Avenue Freeze-Out"
"I'll See You In My Dreams" (solo acoustic)