Comedy that is inspired, informed, and intuitive? A comedian who is fiery, feminist, fashion-forward, and wholeheartedly unfiltered? Since the early 1990s, you haven't needed to look further than Margaret Cho, our revolutionary 'American Girl.'
---
Is there anything about Margaret Cho that hasn't been said? She's been called a trailblazer, which she is. She's been called brash, which she can be. She's been dubbed a national treasure, which is true and then some. She has been called politically-charged as both a media personality and an activist, which she surely is as she advocates for racial and gender equality, the LGBTQ+ community, Asian-Americans, and addiction awareness. She has been honored by GLAAD and the American Civil Liberties Union and she has been praised through an array of entertainment accolades, ranging from the Television Academy to the Recording Academy. She is also simply and truly adored by everyone from Debbie Harry and Rosie O'Donnell to Zac Efron and people like us.
Cho, at the end of the day, is a beloved multi-hyphenate talent with three decades of a career under her belt. However, all of that success is not miraculous, not by chance, and not without worry. The superstar worked for her place as a funny-woman in Hollywood. She earned the acceptance she now graciously gives out. She built the fanbase that sells out the venues she performs in. She outlined her boundaries and set the standard. Her predominantly instinctual, often brazen, and always brave approach to the arts not only put her on the map, but keeps her there.
Coming to Atlantic City and Montclair this Friday and Saturday, respectively, is this superstar of a human and a true icon. The Aquarian had the privilege to catch up with the one-and-only Margaret Cho, share stories and laughs, and set the heartfelt, socially-conscious groundwork for this tour, aptly titled "Live and Livid."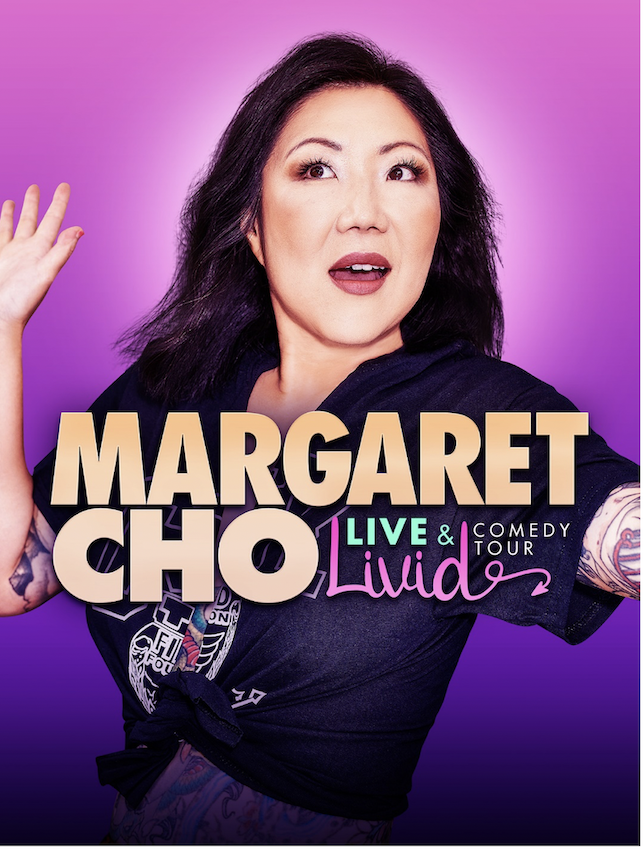 I love the name of this tour: "Live and Livid." I think it underlines the rage that we all feel and that you feel, but it also highlights the survival of it all. We're alive, you're performing live, and we're here today. How did you get to that tour name?
Oh, thank you. Well, it's also about celebrating being able to go out and do live performances, because I think that's such a big deal since we've been living with this pandemic. It's been hard to feel like we could really go out and do things normally. This is the first year that it's happened again, truly, and performing live is a big part of my life – it's just been so weird to not have had it for so long. So, it's that, but it's also 'livid' because every day there's an outrage and it's not letting up; it continues and it's more certainly more infuriating because it's compounded. You have all of these anti-trans, anti-gay, anti-drag bills being passed. You have, of course, the issue of gun violence, which is a constant . Then you have these politicians who are using these tragedies to further this agenda to be anti-trans, which is like…. You can't help but be livid. How you find hope through that? I think that hope through anger is kind of a funny thing to think about, but I do think there is something important that [exists] there.
You make a great point about that, especially when it comes to anger, because many people do bond over the commonalities they have, whether it be values, interests, or dislikes. Having a common enemy, I believe, brings energy to the interpersonal, social, and political tension that we are all immersed in. Giving a voice to that, being a voice to that, adds to the sense of community that we need at the end of the day.
Yes, it is a kind of bonding, which I think was really part of what we were missing, too, outside of being able to meet and do things together and be in a live performance setting. That is what this is about: just sharing the feelings and sharing the moment in a really special way. That's why I picked that name.
I love it. Something else I love is All-American Girl – your TV show that was my mom's favorite show for a long time. That one season was on VHS and in our house forever.
[Laughs]. That's so cool. I love it.
It's still such a special sitcom – one that deserved longer than a single season. For you, the star of it, to be able to sort of take similar concepts and issues and personalities and further them almost 30 years later… it just shows how much we have changed, but also how much we haven't.
It's weird because we have changed in terms of the scope of what we have – in terms of entertainment, diversity exists, which is great, but we still have really alarming conservative forces out there that are still running on the same platforms that Ronald Reagan did or the anti-AIDS legislation, because they were ignoring that pandemic when it was happening. Anita Bryant and Families First and all those kinds of voices? They existed. They're sort of similar to the voices now talking on assault rifles. It's this very terrifying version of what we were dealing with before; you had almost overall conservative society, yet these very dynamic, very diverse voices [as seen on All-American Girl] were still allowed to exist within that. They are almost upping the ante over time, though, and it's a very terrifying mess.
Terrifying is the only word that can be used. The only glimmer of hope and change that we have right now, I would say, is that we have voices that need to be heard and people who have access to getting it out there through social media, going viral, and becoming these sort of moments and figures in this world that we maybe never would have known back in the eighties and nineties.
Yes, there is hope in the way that different communities are banded together to fight against all of this ignorance and bigotry, homophobia, racism, sexism, and everything else. There is a lot of unity in finding and [joining] those people.
Absolutely. I know these themes are explored on stage and have been a large part of your career and I'm curious how you are able to be so fierce and unapologetic and biting and personable and confident. These are traits that you've always exuded, but how do you carry yourself like that in this day and age? It's admirable. Many of us – me, included – would love to go about surviving this society in the same way.
Well, thank you, but I'm afraid, too. I'm afraid all the time. I'm scared all the time. There are certain things that are more important than being scared and that in itself is freeing. The most important thing is to make sure that I can be safe, I can be free, and I feel like I can say what I want. What I have to say has more value than any fear.
I actually have a lot of anxiety, deep in my own personality and in my life. Anxiety is something I've always had and it's something that I cope with though I have a lot of different things that I have to do to manage it. I have to have a certain kind of a lifestyle that is about maintaining a stasis where I can do my art and still feel safe and sound, but it's hard 'cause I'm scared every time I go out. I'm scared to get shot. I've already experienced really terrifying situations of being out and coming up against MAGA, anti-masker rallies where I was the only person that they were trying to attack. I've had the experience of coming up against that real anger and fear of my race.
Yes, I manage my anxiety the ways that I do, but some of it is just personally-created anxiety, which is actually worse. This is something that I've always had. I just do what I need to to get through it.
I can never imagine you being scared, but I'm so humbled and honored to that you were able to share that because it adds the relatability of all that you talk about, because, like you said, fear is something that we're all going to experience. What we need to do is remember that there are bigger, bolder, more positive things worth spending time on.
It's really important! The management of fear takes different forms. I am very deep into meditation and I have a very strong practice that I do on my own and with other people. There's a healing quality [to] connecting with other people and coming together to face that one thing, you know? Whether it be of war or global warming or a health crisis or assault rifles or just guns in general, it's all compounding onto itself, so as a group, as a nation, even globally, we're all experiencing anxiety.
As big as something as gun control is and global warming is, there's the day-to-day microaggressions and the day-to-day safety that we have to live through.
Right, and it's hard, How do we find a place to feel safe? I don't really know, but I have to just work on it one day at a time.
I think you offer a safe space in your art, in your comedy, in your work for people. I commend you for that.
Thank you. That's so nice. Thank you, I'm glad.
You're welcome. Speaking about finding community and finding people to live safely alongside and to love alongside, many people adore you. Even if they don't know it, I'm pretty sure they all love you. Have you ever been surprised by someone, famous or otherwise, who has said they were a fan of yours?
Well, it's great. It's exciting every time different people share that with me. I always appreciate everybody, but, yeah, it's really funny when there are people that you know are excited to come to shows. Christina Ricci would always come and be in the audience. Timbaland, too, which I think is so funny and cool. Zac Efron said he used to get dressed up in disguise and come see me alone, which is so incredible, like… wow. I wish I had known! Sometimes I'll do big shows and there is always great group of people that will be sitting on the side of the stage; whether it's Debbie Harry or Cindy Lauper or Joan Jett, those amazing people in rock and roll are there. I'm really lucky because I have the best people on my side and around me. To me, that is a real blessing.
Those fellow trailblazers and those friends of yours? So special. Zac Efron going in disguise because he was that committed to seeing you? Just as special!
Yeah, it's really cool. Thanks. [Laughs] I love that, too – to be so famous that he can't really do anything anyway, so he's just like, "Oh, I'm just going to go in disguise," which, to me, is so cute.
Precious! Since The Aquarian is out of New Jersey and our history is in Jersey and the New York area, I'd love to ask about this place, these fans, this community. You have been all over the world, so where does New Jersey, New York, the tri-state, fall in terms of the audience and the experience? Do you love us as much as we love you?
I love it. I love all of it. I spent a lot of time doing shows in New York that were, to me, really important. New York, New Jersey, all over the East Coast and this sort of Northeast area, is still a really important place for me to tour. Plus, just being planted in New York for long periods of time when doing things like off-Broadway or stand-up, became a very important part of my work. Now it's just a place that I'll always love to work in.
FOR TICKETS TO SEE MARGARET ON HER LIVE & LIVID TOUR, STOPPING IN NEW JERSEY ON 4/14 AND 4/15, CLICK HERE!