John Henry has many friends, as demonstrated by all the musicians that have played benefit concerts for his school over the past eight years. John Henry Earle, the son of Steve Earle and his ex-wife, Allison Moorer, was born in April 2010 and was diagnosed with autism before age two. Since age three, he has attended the Keswell School, founded in New York City in 2003 to educate students with autism from preschool through age 21. Eight years ago, the school was in financial straits, and since then Steve Earle has hosted annual benefit concerts that have raised awareness and more than $100,000 by attracting performers including Bruce Springsteen, Graham Nash, Emmylou Harris, Rosanne Cash, Lucinda Williams, Jason Isbell, Amanda Shires, and many more country and Americana musicians.
Rather than have the performers play separate sets, as in past benefits, the newly-revamped concert format this year featured Steve Earle, David Byrne, Kurt Vile, and Terry Allen playing in-the-round, taking turns singing songs of their choice. Ensemble rehearsals were sparse, disclaimed Earle, so the musicians performed solo on many of the songs. Bukka Allen (Terry Allen's son) on accordion and Anna Wilson on pedal steel supplemented with accompaniment on some of the songs.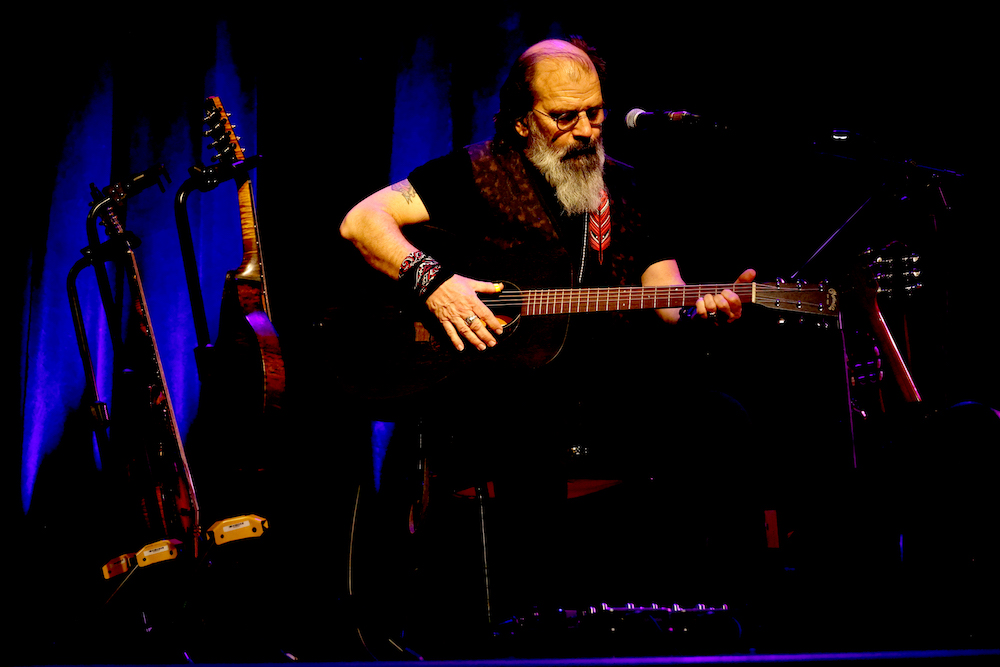 The evening's main set featured Earle, Byrne, Vile and Allen leading four songs apiece. Earle started the program with his "Copperhead Road," dedicating it to Bo Mitchell. Earle noted that Mitchell was in attendance and was "fighting the good fight in Tennessee." Allen followed with the piano-led "Amarillo Highway." Vile stated he was onstage with "some heavies," and began his contributions with a John Prine cover, "How Lucky."
Highlights from the program included Earle's "Billy Austin"; Earle previewed the song by saying that he normally does not perform requests but would not refuse Allen's request. Other memorable performances included Vile's "Bassackwards" and "Pretty Pimpin," Talking Heads' "Heaven" and "(Nothing But) Flowers," Justin Townes Earle's "Harlem River Blues," and Townes Van Zandts' "Loretta." Byrne introduced two songs that he said he recently composed for the soundtrack of an upcoming film based on writings by the late children's book author Roald Dahl; Byrne played a small banjo on one of these songs, "We Are Not." The main set closed with Earle leading the ensemble in Crosby, Stills, Nash & Young's "Teach Your Children Well," an appropriate song for the benefit and a song that has closed all but the inaugural benefit concert. 
Called back for an encore, the musicians improvised on Bo Diddley's "Who Do You Love?" This song segued without break into Allen's "Buck Naked," a song which Byrne covered on a solo album. The evening ended with Earle's amusing anecdote about his son John Henry, leading to a song promoting gun control, "The Devil's Right Hand."
In past years' benefits, Earle concluded the night with a rocking set backed by his band, the Dukes. Earle suggested that, at least for a while, future benefit concerts will follow a similar in-the-round format. No date or bill was offered for the next John Henry's Friends benefit.
The eighth annual John Henry's Friends benefit concert was originally booked for December 2022. Earle later postponed the concert to 2023, reportedly due to Byrne requiring medical treatment. All the musicians appeared to be in top physical and musical form for the new date.
Setlists
Steve Earle
Copperhead Road
Harlem River Blues (Justin Townes Earle cover)
Billy Austin (Steve Earle & the Dukes song)
Teach Your Children (Crosby, Stills, Nash & Young cover, with David Byrne, Terry Allen, and Kurt Vile)
The Devil's Right Hand (with David Byrne, Terry Allen, and Kurt Vile)
David Byrne
We Are Not
Heaven (Talking Heads song)
Lullaby
(Nothing but) Flowers (Talking Heads song)
Buck Naked (with Terry Allen)
Kurt Vile
How Lucky (John Prine cover, with David Byrne)
Bassackwards
Pretty Pimpin'
Loretta (Townes van Zandt cover, with Terry Allen)
Flyin (Like a Fast Train)
Terry Allen
Amarillo Highway (with David Byrne)
Buck Naked (with David Byrne)