All 11 songs that make up Dutch Motel are available this Friday.
---
Grounded in reality – a modern one at that – is the new record from Little Falls Trophy. Sound familiar? The alternative act adopted the name of a family-owned Route 46 business that, if you live in Northern New Jersey, you've probably driven past. WIth it's old school neon signs and expansive awning (a retro carpark, if you will), the business is tucked behind an IHOP-turned-AT&T and comes right before the five years of on-going highway construction (if you know, you know). Quaint and vintage, humble and spirited, singer-songwriter Doug Albregts loved the simple name for the award-engraving storefront, and, after going from placeholder to official band title, it has become an embodiment of what tried-and-true local music should be.
This self-produced album is an homage to nostalgia from the angle of a locked-down-21st-century-Internet-user. It blends the rough-around-the-edges sounds of the grunge movement with the polished, emotive storytelling of the indie rock world… and it's soon to be in your lives and in your ears. Before that, though, is our conversation with Albregts himself…
The name of the act, the band, the artist behind all this is Little Falls Trophy. It's a really cool, quaint little place, but how does it encapsulate the music to you?
Well, it was something we always drove by and they had the coolest sign. I know you think that's probably pretty crazy, but they had this old rusted-out sign and it was so cool. I thought about it and I used it as a placeholder for the name of the band until I could find a name that I thought was great. Over the course of a year, it kind of grew on me and I'm like, "I think this is it."
I had some ideas for songs and some things going through my head as I was watching people get participation trophies and things like that, so I was like, "This is a really cool band name." We were always driving past it when going down to New York City on Route 46 and Route 3 there. Then, of course, I thought of the band Fountains of Wayne and being from New Jersey, so it had some special meaning there, too, because I like them a lot. That's how I stumbled upon it. It's really not much more than that, to be honest. I hope as a local business and I think as a family business, I hope, if anything, it helps bring awareness to them in some way, shape, or form for what they do.
Absolutely. That's actually a great story telling just how organic it is to create a band and finding inspiration all around you – even from mundane drives around town. Going off of that, we have the record Dutch Motel coming out. How did the name for that one come to be? Also, the artwork is amazing – so eye-catching and layered.
There's a lot of meaning behind that. Again, another drive-by from going out into Pennsylvania, there's a cool hotel that has beautiful colors like what you'd find in Holland. It is called the Dutch Motel. I'm Dutch. […] I've always traveled a lot, too, so I kind of got this idea about being transient and the whole idea around the Dutch Motel. Then, my wife was working with a friend looking for some kind of artwork and doing some cool things that became the cover. If you look – I think it's on the cover of the album – there is actually my grandfather who came through Ellis Island and the actual paperwork is on the front. There are a lot of things going on there with the vacuum cleaner and some other things that we were just kind of trying to bring into the fold, but it was super creative. She does a great job with a collage and now has a bustling business doing that herself.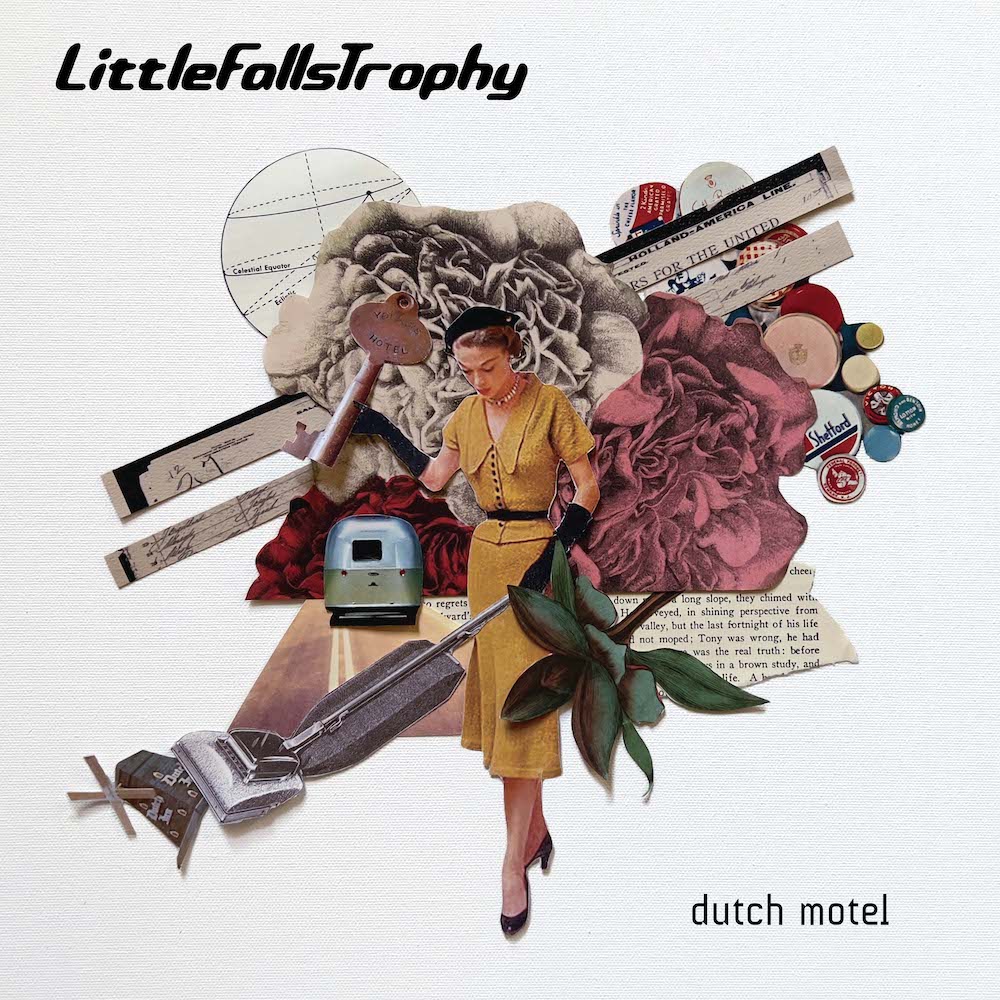 I think that's really special, also seemingly a very full circle and kind of kismet artistic moment.
Yeah, I like it. I think it just kind of gives extra special meaning and does come full circle [Laughs].
There are quite a few songs on this record that do touch upon feeling special and telling intimate stories. You know, my favorite song on the record is "Heart Spark," which tells a real rollercoaster of a story about looking for love, finding it, and trying to keep hold of it. I'm curious, when you were writing and recording this album, what were you listening to as a fan of music and songwriting yourself?
I'm a fan of the music [from] the nineties and early 2000s – all of the indie rock I grew up liking. The Replacements, for example. Paul Westerberg was writing songs like "Dyslexic Heart" and just really cool songs about falling in love, kind of falling out of love. Another one of my favorite songwriters is Dan Wilson who wrote the song "Closing Time." Everybody thought it was about a bar closing, but it ended up actually being more about his wife giving birth to one of his children. A lot of my songs are kind of like that: you think it might be about a human being's relationship from one standpoint, but sometimes it's something very different than that. Still, it's not far off, and I think "Heart Spark" is like that. It's about that feeling when you first kind of connect with somebody and meet them – whether that's someone who just is a good friend or someone that becomes more than a friend or even a new pet. It's that feeling, which I wrote a line about, an electric feeling that goes through you when those things are happening. That was the inspiration for that song on many levels – for family, friends, pets, and everything. Some people will listen to it and say, "Hey, that's a song about one individual." Rarely is that the case. I don't think I've written any song like that… except the third song, "My Little Sunshine," which is really a back-and-forth about my relationship with my wife, but I think that's really the only direct correlation to an individual that the album holds. I think it does run the gamut of feelings around love and despair and the feelings in between.
I took a lot away from this record and I think as I continue to listen to it I will gain even more. The album also brings up something interesting that I didn't think about at the front of my mind, but was there in the back: the consciousness and mindfulness of being present. I think that's what the album has the undertone of the album. "Thursdays Friday" kind of pokes fun at doom-scrolling online and how we get caught up in that and every day bleeds into the next while we're all worried about what everybody else is doing. For people who understand, or don't want to understand the whole social media thing, unfortunately, listening to Dutch Motel is a must. You feel sort of seen on it, with it, through it.
That's really the only way you can get your message out, but I really was kind of poking at that and I think you hit it on the head about just being mindful and being present, being conscious in a day and age where it's hard to do. There's so much impending mental illness as a result and people are struggling with a lot of things because of what they're faced with. That's why the album resonates with a lot of people because of that. […]
Right, and doom-scrolling can relate back to not being able to break out of something, break away from a person, or break out of routine to put your own goals and wants and needs at the top of your priority list. I think "Thursday's Friday" was a really special and smart choice to set the stage for Dutch Motel and Little Falls Trophy. Why did you choose that track to lay the groundwork first and foremost ahead of the full-length and this era?
I didn't understand it. Really, as I was writing this collections of songs, they [didn't] all come at the same time. It was over eight months. But I think as that song developed, I spent a lot of time crafting the hook and that guitar part in the beginning that gets the song up and going. I felt like that set the stage for what was gonna become. For me, the music comes first, then there's an idea that starts the storyline with what the song's about. Once I got to that, I did feel like it was the opening chapter of what was to come and it just seemed right to kick off with.
It's got a nice little build to it. It's just got a nice feel to it. It's kind of a throwback. Josh Terrell, the guy who mixed the album, he converted some of the digital pieces of it to analog, so it has that really nice, warm feel to it. Aaron Shaffer is the drummer that drummed on this. He was a session drummer in Nashville. Those two people really made that song really warm, inviting, and (I think) a good start to the album.
Warm is such a perfect word to use, as the record does have a sort of warmth, looking fondly back on the sights and sounds of your youth or the past or whatever it might be. I was happy to hear that this record will be having a limited vinyl pressing release for fans, because I think that it parallels the soundscapes here.
Yeah, it was my idea. They're hard to sell, but… look, it's good to have it and I've already had a lot of people interested in it, so it's a good move.
YOU WILL BE ABLLE TO PRE-ORDER YOUR OWN VINYL EDITION OF DUTCH MOTEL BY VISITING THE LFT WEBSITE! IT DROPS FRIDAY, 7/21, WHEREVER YOU LISTEN TO MUSIC!