After more than a decade as a child actress, a 23-year-old Jenny Lewis embarked on a music career as an indie rocker in the band Rilo Kiley. Some 23 years later, she is still making music, now as a 47-year-old solo artist. She has followed six albums in Rilo Kiley with five solo albums, the most recent of which, Joy'All, was released on June 9.
On stage at the Rooftop at Pier 17, Lewis' four musicians came on stage wearing cowboy-styled tops. Lewis followed wearing a leather jumpsuit accessorized with western-styled conchos and pendants. Indeed, from the first song, "Just One of the Guys," Lewis' songs took on a country lilt. While she is not a stranger to this sound, it was now far more prevalent and consistent throughout the performance than earlier in her career. Lewis no longer harbored an indie edge; the performance was straight-out soft rock, some of it grounded in a slow dance groove. While singing soft songs was not necessarily a radical turn for Lewis, the total absence of rock from her set was in effect a departure from her history.
Lewis was in fine voice, always riding crisply above the accompaniment. Her lyrics about love and heartbreak rang with realism. The melodies floated pleasantly and cheerily. The arrangements were smooth and sometimes even lush. The band, consisting of guitar and pedal steel player Nicole Lawrence, keyboardist Jess Nolan, bassist Ryan Madora, and drummer Meg Coleman, was well-rehearsed and gave the songs a punchy delivery.
Lewis engaged her audience with between-song talk. At one point, with an old telephone placed on her keyboard, she jokingly received a telephone call from her dog and chatted briefly with him before singing "Puppy and a Truck." Moving away from her instruments and microphone stand for much of the set, she entertained while singing and dancing on a smaller, circular stage slightly elevated above the main stage that she shared with her musicians.
Lewis has embraced her maturity. She has done it with flair and class. With her current concentration on country pop, Lewis has gravitated gracefully from indie rock to mom-rock.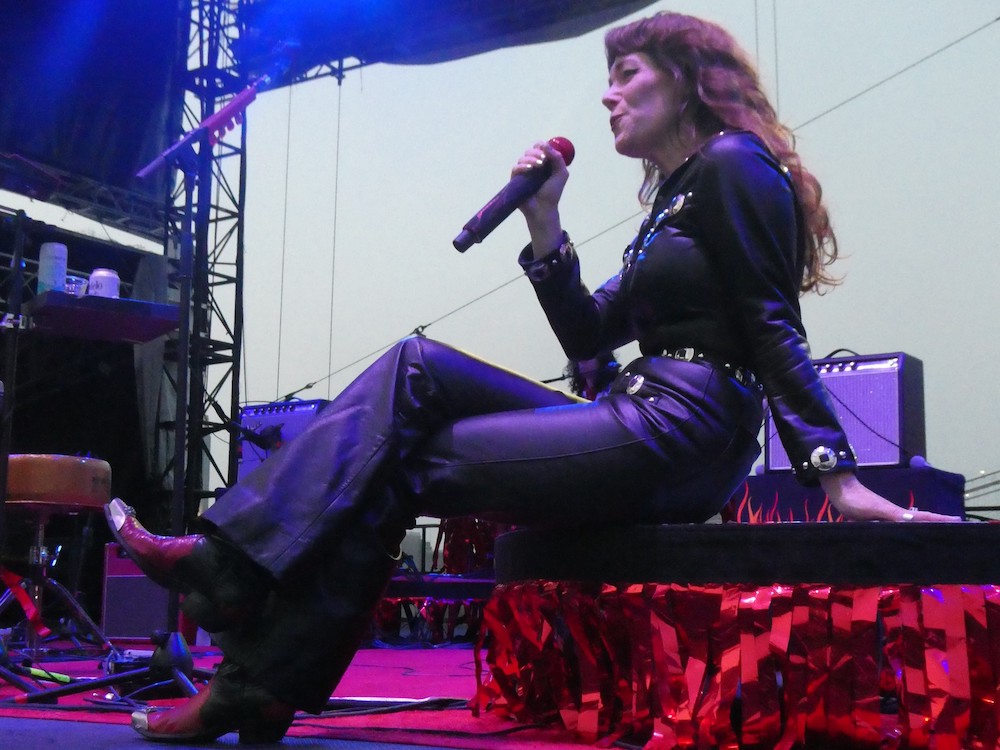 Setlist
Just One of the Guys
Do Si Do
She's Not Me
Late Bloomer
Joy'all
Red Bull & Hennessy
Heads Gonna Roll
Head Underwater
Apples and Oranges
Cherry Baby
Little White Dove
Psychos
Puppy and a Truck
Lust for Life (Girls cover)
Acid Tongue
Encore
With Arms Outstretched (Rilo Kiley song)
The Next Messiah