You are just two days away from The Fantasy Life of Poetry & Crime. To prepare you, we listened to it extensively and wrote a few words on each of the songs soon to be in your possession.
---
In reality, it's hard to summarize a song. How can you take someone else's emotions, stories, and overall musicality and simplify it? Difficult is an understatement, especially when the songs being discussed are just around the corner from shaking up your life and filling your soul. Still, having an idea of what sort of instrumentation and evocative messages you are getting yourself into can be beneficial – even rewarding and perspective enhancing. Therefore, we broke down the new record from Peter Doherty and Frédéric Lo in a way that is based off imagery and emotion, leaving the rest of the art's interpretation in the heads, and ears, of very individual who takes a listen.
"The Fantasy Life of Poetry & Crime," the title track, is a film score. A whimsical, romantic, yet angst-ridden tale that you never want to end, making it the epitome of an album opener, as it sets the stage of the intersection between realism and surrealism before a set of 11 tracks follow. This is, at its core, a musical escapist fantasy worthy of being the namesake of the full-length.
"The Epidemiologist" is just as elegant when it comes to the melodies being played out, but it is a bit more fine-tuned. This number carries a familial warmth with it as you are not just in the story, but in the mind of those who created the story. In this case it's Doherty and Lo, of which the expert production let's shine.
"The Ballad Of" is rich in imagery like its predecessors, but falls less in line with a movie soundtrack; instead it emulates the theatrics and rise-and-fall of a Broadway orchestra. It is soulful and grand on the surface, so can you imagine what more than a handful of listens would evoke in you? There is this balance of that simple, but effective Laurel Canyon-style songwriting with a more modern, epic musicianship that is a flamboyant take on the vintage. A stand out track, for certain, "The Ballad Of" is.
"You Can't Keep It From Me Forever" is notably absent of fervor you feel deep in your soul – if you're listening to the record in order, of course. With less frills, an indie rock foundation, and practically light-hearted melodies throughout, the song comes off as tender and delicate,
"Yes I Wear A Mask" is the shortest song on The Fantasy Life of Poetry & Crime, but will leave you thinking long and hard about it. What does a mask mean to you? What did it mean and how has it changed? When do you put on said mask? Why do you feel about masks the way you do? A quick folk rock song can impart a multitude of feelings and ask even more questions – just ask Bob Dylan, of whom this song almost emulates.
"Rock & Roll Alchemy" comes across as, solely, a love letter to art. Whether you're making it, immersed in it, understanding it, or even misunderstanding it, art is an experience that is spiritual and visceral, which can be felt from the get-go of this drum heavy release.
"The Monster" could not be a more appropriate title for a song that moans, groans, and drones in a poetic sense, yes, but is too melancholy, as well as too short, for such magical instrumentation. The French orchestra on this track is on another planet, lightyears ahead of the frivolous music of today, but somehow engrained in the intricacy of the classics. An 'almost ballad,' the downtrodden tune gets close to being serene in its darkness, but doesn't quite make it. However, the beauty in the background orchestration will pique your attention.
"Invictus" may be the prettiest song on the album, feeling as light as air for the entire three minutes. There is not one overpowering element on here. Every note hit on the piano, every lick of the guitar, and every nuanced lyric is harmony personified, in a way, and effortlessly inspiring.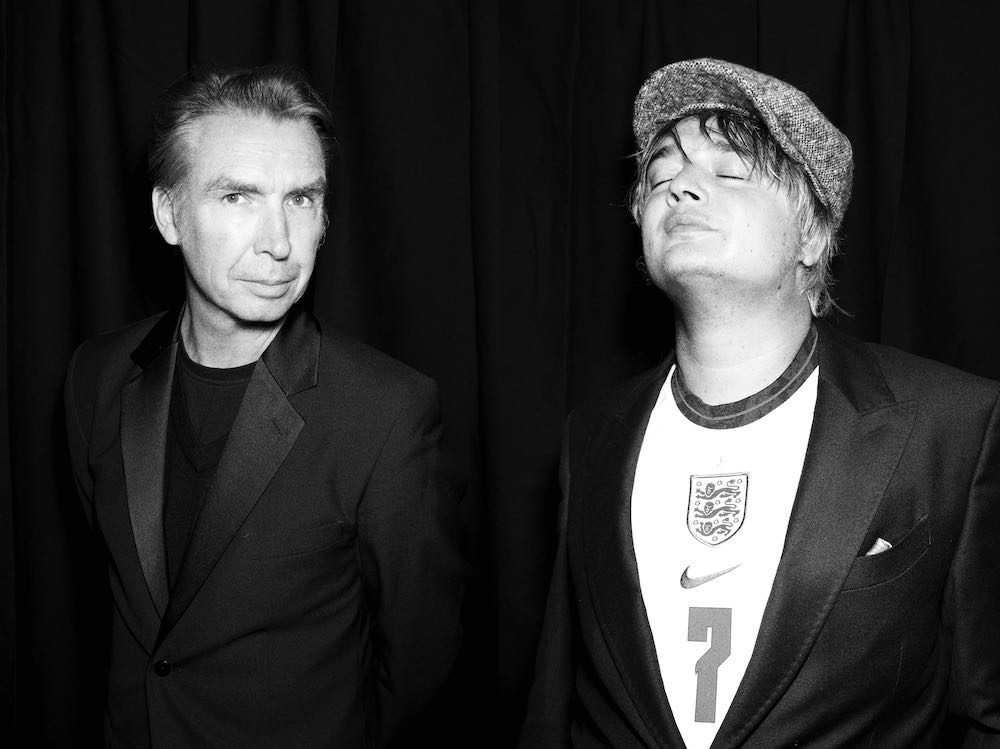 "The Glassblower" reminds listeners that this album – these artists – have anything but a one track mind. Genres are being bent as soundscapes are being built, and it is all for the sake of cinematic art. This number puts you in the shoes of a hard-working, 19th century European; although that is not everyone's idea escape, the song acts as a reminder of these people and this time. Art had yet to be truly commercialized, but was on the brink of such. Diligence was key, but no amount of dedication to a craft could stop the world from rolling onward, whether it was personally, professionally, artistically, or technologically. Musicians like Doherty and Lo are those craftsmen of today. These two show that being able to blend, create, and build from the ground up can pay off with beautiful sounds and comprehensive pieces of music.
"Keeping Me On File" is a folk song with pop melodies and rock sensibilities, but a storyteller core. Unlike other songs on The Fantasy Of Poetry & Crime, it isn't just folksy – it is folk music to a tee, which listeners will be praying for more of once they get knee deep into this fun, jaunty, sunshine-y, and almost bouncy track.
"Abe Wassenstein" is best described by what Frédérick explained about the song in a track-centric press release. "What I love is the different way of writing songs together, this one came about one day on the drive back from Le Havre. The music comes from the past and we are just there to take it into the future. It's like an old American folk song, but with Peter's vision and sadness for his friend [Alan Wass]."
"Far From The Madding Crowd" is a cohesive conclusion, wrapping up the album in a piano-driven bow. You can feel the urgency for normalcy and the tension to be among other artists and appreciators is palpable. A crooner with a subtle country rock vibe, you grasp onto the personality and pain of lockdown-era musicians like the two here – artists whose creativity oozes out of them, and, for a minute, had nowhere to put it. A draining song, but by the end, it lifts you up in a 'ight-at-the-end-of-the-tunnel sense. Think of an original Monkees ballad if it had a nineties radio twist, because that is "Far From The Madding Crowd." This song twinkles as it aptly fades out as both a single track, but as the closing to a stunning, spirited new album.
THE FANTASY LIFE OF POETRY & CRIME RELEASES ON FRIDAY, MARCH 18!