For Phish fans, the planet has returned to normalcy. Sidelined for three years by the COVID pandemic safety protocols, Phish resumed its annual New Year's Eve series of concerts at Madison Square Garden for the first time since 2019. The first of the band's last four concerts of 2022, the band's 69th show at the arena, was a four-hour celebration featuring nuggets from the band's catalog packed with improvised jams.
Vocalist/guitarist Trey Anastasio, bassist Mike Gordon, drummer Jon Fishman, and keyboardist Page McConnell came prepared to build upon fan-favorite songs and infuse unrehearsed innovations to make each performance distinct and unique. Often, songs seemed to be winding to a conclusion when instead, one of the musicians, usually Anastasio or McConnell, decided to give the song an extended life. Songs were culled from many of the band's 16 studio albums, although the band ironically did not on this night perform any songs from its most recent compilation, Get More Down, which was released on October 31, 2022.
The four musicians came on stage, with Anastasio jumping in place a few times in response to the deafening cheers from the audience. Beyond that, aside from Anastasio's brilliant smile, the band gave the audience little to look at; the musicians remained in place for the entire show. Lighting director Chris Kuroda injected visual dynamics by introducing a lighting rig that rose and descended in waves, and add flashing colored lights all around the mid-level arena. He coordinated these lights with what he was doing with the stage lights.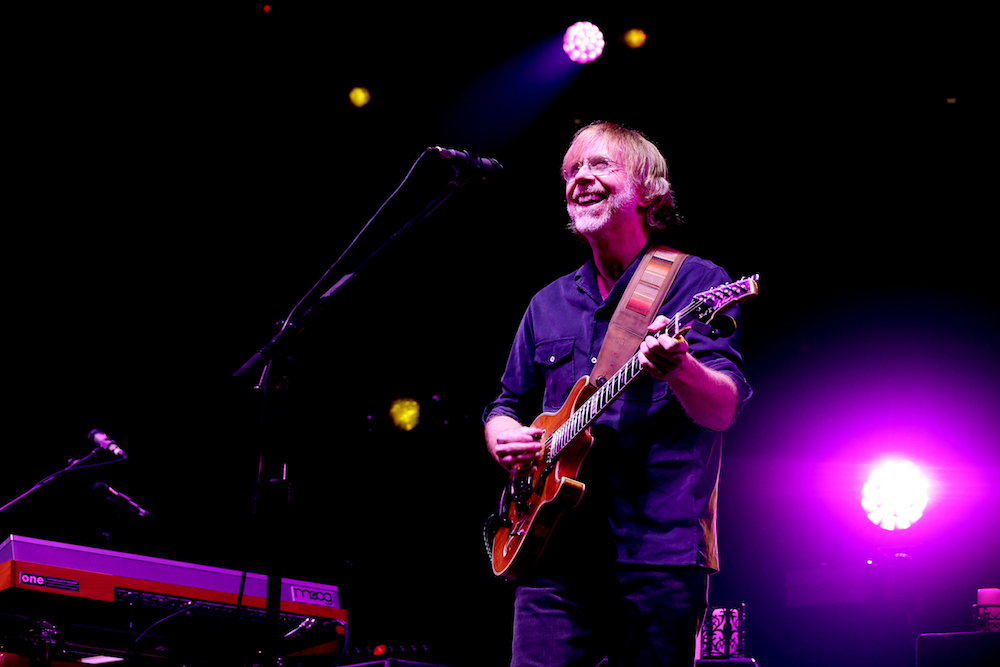 Phish began the first of two sets with a comparatively brief "Buried Alive." The jams were soon to follow, beginning with "Wolfman's Brother." Anastasio played fluid riffs and leads, impressing not with speed but with tasty blasts that frequently floated skyward. The other musicians added funky and jazzy accompaniment while Anastasio noodled. When Anastasio signaled to McConnell, the keyboardist flavored the jams with classical and avant garde leads. Gordon and Fishman similarly stretched and pushed the band to higher levels. Where songs ended or started was a mystery, as songs folded as medleys, one into another, until midnight.
After almost 40 years, Phish continues to lead the still-flourishing jam band culture because of concerts like this. Although largely based on older songs, Phish proved its creative potential by refreshing vintage compositions with new, spirited expansions. Few rock bands are capable of this successfully accomplishing this effort.
Setlist
Set 1
Buried Alive
Wolfman's Brother
Maze
Sigma Oasis
NICU
Steam
Tela
Stash
Split Open and Melt
Set 2
Free
A Wave of Hope (Trey Anastasio song) (>)
It's Ice (>)
Leaves (>)
Simple (>)
Plasma (Trey Anastasio song) (>)
Twist
Harry Hood
Encore
Esther
46 Days