The year came to a bittersweet conclusion with the finale of Jersey's finest punk bands, Night Birds. Their final show happened on December 30, 2022 at House of Independents sold out and it was one that could not be skipped for Jersey punks.
Night Birds formed in 2009 and released their Demo 2009 that year. Taking their name from a 1970 cult movie by Andy Milligan, the lineup of bassist Joe Keller, guitarists Mike Catalano and PJ Russo, vocalist Brian Gorsegner, and a string of drummers saw success in the punk underground throughout their discography. Eventually, NOFX's Fat Mike signed them to his Fat Wreck Chords label. Their influences include the Adolescents, Bad Religion, Agent Orange, and more surf and skate-oriented acts. They have toured with the likes of Descendants, The Damned, NOFX, and performed on festivals around the world.
Opening the show was Chemical-X, a teenage punk band from Lodi, New Jersey. After being recommended to Gorsegner by Dillinger Four's Patrick Costello, Chemical-X was instantly added to a very stacked bill. The quartet of drummer Scott Mangino, bassist JC Baltodano, guitarist Jaden Mangino, and vocalist Adam Avila started their rapidfire set with a punk rendition of Link Wray's "Rumble." Their third song "Blindside" was particularly engaging, with its strong bass and punchy vocals by Avila. The crowd was receptive and cheered thoroughly after each song. Their final song, "Raid," included a chorus that is textbook punk: "Breaking shit is fun/ I don't care about anything but myself." The crowd moshed. Though Chemical-X is young, their future is bright. They are a sharp, fun, charismatic band with the stage presence of a tenured act. Keep them on your radar!
.
.
Following them was Washington D.C.'s Bacchae, comprising of guitarist Andrew Breiner, bassist Rena Hagins, drummer Eileen O'Grady, and vocalist/keyboardist Katie McD. Katie's keyboard was adorned with googly eyes, mirroring the crowd's staring eyes. Their sound is post-punk meets contemporary alternative. Many of the songs performed were from their 2020 album Pleasure Vision, making their NJ debut following a certain pandemic.
.
.
Restraining Order from Western Massachusetts was up next and I was stoked to see them. Their 2019 album This World is Too Much is a ferocious record and a proper introduction to Restraining Order. The band consists of guitarists Kyle Beaudreault and Jake Miller, bassist Keith Freeman, drummer Will Hirst, and vocalist Pat Cozens. They delivered a high-energy, concise set with staples including "Might as Well," "Something for the Youth," "No Control," and their newest single "Fight Back." Moshing, slam dancing, crowd surfing – ya know, usual stuff for a rowdy hardcore band. Freeman spoke in between songs, "Night Birds was one of three bands I always wanted to play with when I started. Glad dreams can come true." Despite a minor setback (guitar string needing to be restrung), the band persisted through and finished on a high note.
.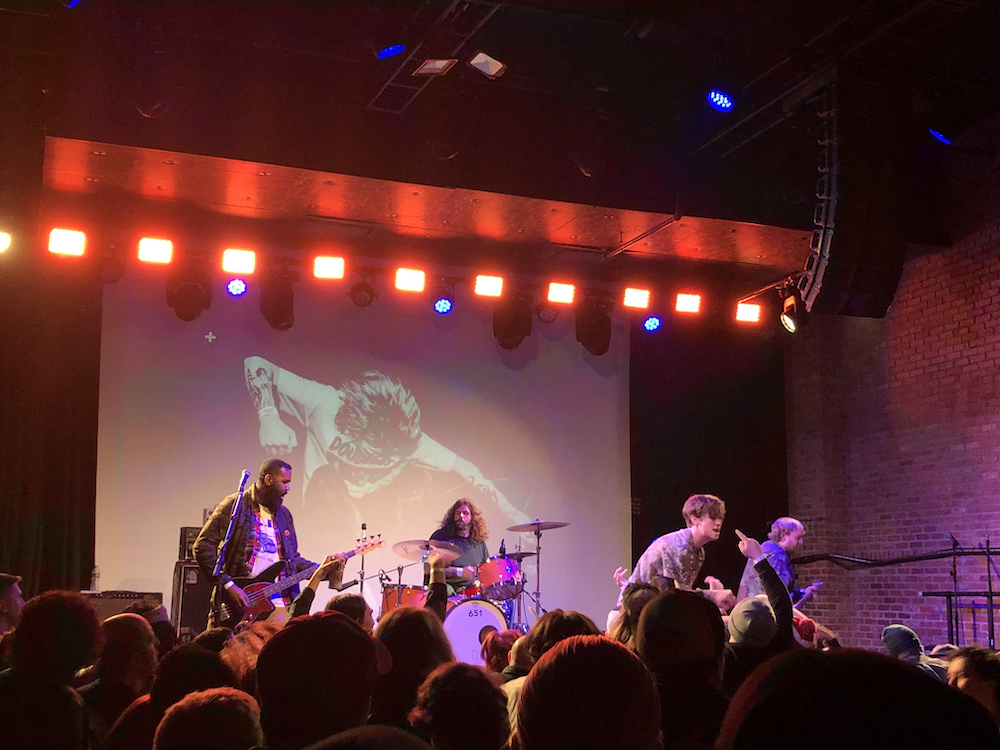 .
Night Birds hit the stage at 10:00 p.m. with the theme of Escape from New York marking their entrance and reaffirming their passion for midnight movies. Two bass notes into "Born to Die in Suburbia" and chaos erupted; an instant pit, stage divers. Brian emerged and shouted his lyrics to a cyclone of moving bodies. "Thank you very much for being here," he said before launching into "Modern Morons." Brian was wearing a red and black flannel with the sleeves cut off, and shortly in their set, that flannel was tattered in several places. During the set, their first and second drummers made a cameo appearance and performed a song or two each.
.
.
Night Birds' setlist was stocked with hits such as "Prognosis: Negative" from their debut album, "Midnight Movies," "Born of Man and Woman," and "My Dad is the BTK." The crowd was a constant pool of moshers, crowd surfers, stage divers, and a young girl two-stepping on her own corner of the stage. 
Right before "Can't Get Clean," Brian addressed the crowd again: "I didn't prepare a sappy, sad speech for this. This band… it was never like that. We had a great time. We wanted to go out on our terms, on our turf, surrounded by all our friends with one last party. We have a few songs left, no encore or anything like that."
Their final three songs were "Left in the Middle," "Maimed for the Masses" in homage to WWF legend Mick Foley, and lastly "Killer Wave." At the end of "Killer Wave," their guitarist stage dived wearing his guitar and a dog pile formed over him and Gorsegner.
Twenty songs in 45 minutes, an explosive and passionate Swan Song from a vetted Jersey band, and yet we all craved more. As the feedback rang out and the crowd cleared, I felt I had seen one of those legendary shows that will make punk history books. I dropped quite a bit on all four bands' merch, to show that I… was… there.
Fare Thee Well, Night Birds. Fly off into the night.