Hundreds of young musicians and music industry hopefuls from around the world performed, networked and partied with local musicians at several venues within a 10-block radius in Manhattan's Lower East Side last week. From noon until past midnight on March 8 to 12, these sidewalks were packed with excited musicians enjoying a taste of their dream lives as they unloaded vans, prepared to perform for new audiences, and listened to innovative bands as they waited their turn on stage. Many of the aspiring musicians were in New York City and even in the United States for the first time.
The New Colossus Festival generally attracts musicians that have worked their local circuits and are seeking a pathway to greater success in the international music industry. They embrace a do-it-yourself ethic, often recording original songs and playing gigs with no support from record companies, management, public relations, or tour managers. They may generate a little revenue from merchandise sales, but not enough to cover their expenses. Their drive is nested in a love of playing original music to enthusiastic and like-minded audiences. For five days in New York City, these aspiring artists build the larger community they crave.
This invasion happens every March, as more than 100 emerging indie-rock acts looking to break into the larger music industry meet, learn from experts about the most recent trends in the music industry, and showcase their music. The New Colossus Festival, launched in New York City in 2019, is an annual five-day festival hosting showcase performances, industry talks, discussion panels and networking events. For five days and nights, participants choose to attend numerous events, many happening simultaneously – all within walking distance of each other.
This year's participants attended programs including "Publishing and Sync: Unlocking New Revenue Streams," "Music Video Masterclass with Vevo," "Gig Economy: Navigating New Challenges in Live Music," "Spotify for Artists Masterclass," and "Future Music Trends: Staying Ahead of the Genre." Networking events and parties included Kanine Records' 20th anniversary party, the DedStrange label showcase, a Canadian block party presented by M for Montreal, a 12-hour shoegaze party, and even a "Bloody Caesar" mixer. The centerpieces of the days, however, were the multi-act showcases at Arlene's Grocery, Berlin, the Bowery Ballroom, the Bowery Electric, Heaven Can Wait, Mercury Lounge, Pianos Showroom, and Pianos Upstairs Lounge.
.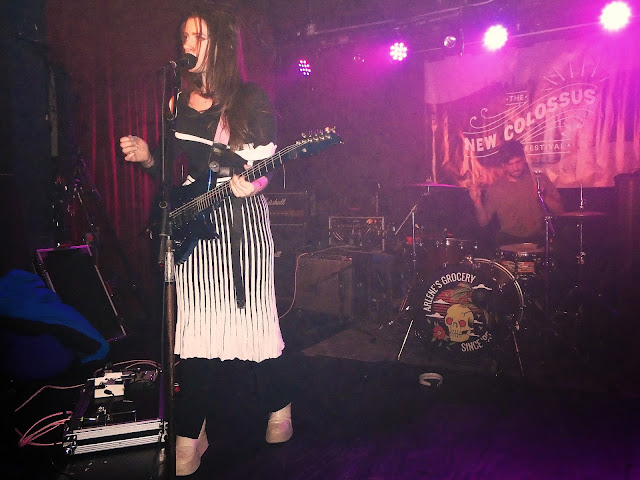 .
While many of the performances were by New York area bands that normally play the same downtown club circuit throughout the year, dozens of bands made the New Colossus Festival a destination adventure. Canada was well represented with 27 music acts. Musicians traveled from Australia, Denmark, France, Germany, Ireland, Italy, the Netherlands, Nicaragua, Norway, Portugal, Singapore, Spain, Sweden, Taiwan, and Wales. Several of the bands had performed at the festival in previous years and returned for another round.
Several music acts performed at multiple showcases across the five days. Many acts came with a stronger word of mouth that drew larger crowds, while numerous more-unknown artists played to audiences eager to discover new music. Absolutely Free (Toronto), Blushing (Austin), Gäy (Denmark), Heaven for Real (Toronto), Jeanines (Brooklyn), Kamikaze Nurse (Vancouver), Marci (with members of Tops; Montreal), Mary Shelley (Brooklyn), Naya Ali (Montreal), Noah & the Loners (London), Plattenbau (Denmark), Teenage Halloween (New Jersey), THUS LOVE (Vermont), Poster Paints (with members of Frightened Rabbit; Glasgow, UK), and Spirits of Leo (Brooklyn) were among the buzz bands generating advance attention.
This year, 135 bands performed on the various stages of the New Colossus Festival. At the last minute, the festival organizers were forced to extend the festival an extra day when an issue at the Bowery Ballroom caused the closing concert scheduled for Sunday night to be rescheduled for Monday night. Two of the four bands originally scheduled for the closing concert, Sorry Mob (New York City) and Demob Happy (Brighton, England), were unable to perform on the delayed date.
The timing of the New Colossus Festival each year coincides with the South by Southwest festival in Texas a few days later. Many of the musicians and music industry personnel participating in the New Colossus Festival also then travel to SXSW.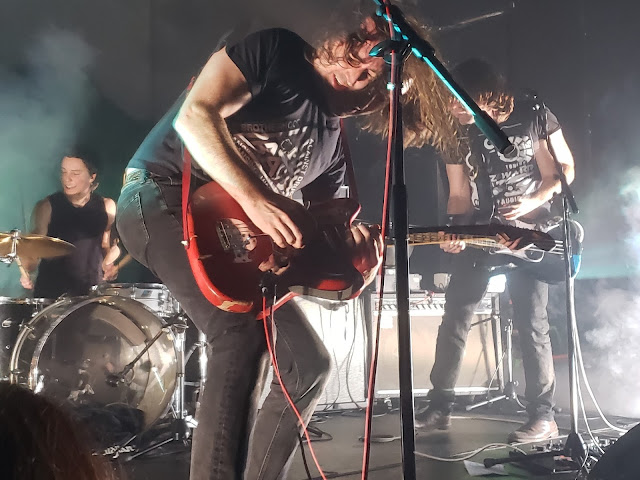 FOR MORE ON THIS LIVE SHOWCASE, READ THE MANHATTAN BEAT'S RECAP, WHICH INCLUDES PHOTOS OF 35 OF THE ACTS!