Hailing from New York City are Robinson & Rohe, a duo with an elegance to their storytelling that would put their hipster Brooklyn neighbors' art to shame.
Later this month Into the Night will be out for all of the world to hear, but until then there are the lead singles. "Off Track," out now, is the third shared ahead of the LP, and with a quaint video to accompany it, it is the perfect chance to become immersed in the duo's artistry. This video, also out now, is one we are honored to premiere today in The Aquarian. It flits and floats in reality, the simplicity of making to-do lists, sitting at your kitchen table, staring at the sky, and wondering how to get up and go somehow sizzles in a folk rock way. What this song, video, and musical partnership does is offer a message that something you need to get up, get together with the one(s) you love, and get your ideas off the page – or, in this case, whiteboard.
Jean Rohe herself explains the video as so: "Because the song's narrator is an über-productive checklist maker, we had the idea to make a music video for 'Off Track' that riffs on the corporate whiteboard animated explainer video form. The result is a completely DIY affair, a lyric video that tells the story of a hard-working, scribbling hand who gets swept into a playful love affair with another hand. Their romance eventually takes them past the confines of the whiteboard, where adventures await and pleasures abound."
The press release via Righteous Babe Records and the band expands on this sentiment. "Do you ever find yourself working too hard but you don't know how to get off the treadmill? The narrator in Robinson & Rohe's cheeky, sexy bop 'Off Track' is a busy, productive person who is pleading with her lover to please stop her hamster wheel, throw a wrench in her gears, derail her train…and ride her caboose," it explains. "Over a cyclical guitar/banjo melody and a simmering groove with nods to samba, she sings about her checklists, her internet rabbit-holes, and the existential dread from which she needs deliverance. 'I want you to get me off….track.'"
Human connection is a common theme on the forthcoming record from Robinson & Rohe. It is found within the masterful harmonies, and the pair's own narrative and emotive creativity seeps into the lyrical content and overarching energy that sets the stage for this release. Having Big Apple roots only emphasizes the swirling stress of society and social cues, expectation and experience, and the understanding that this one life to live is most likely much more than our typical day-to-day. Maybe that is why the band want to bring listeners 'Into the Night' with them? That record, available on May 26, is worth the listen, and this latest single "Off Track," with its new music video and positive message, proves it.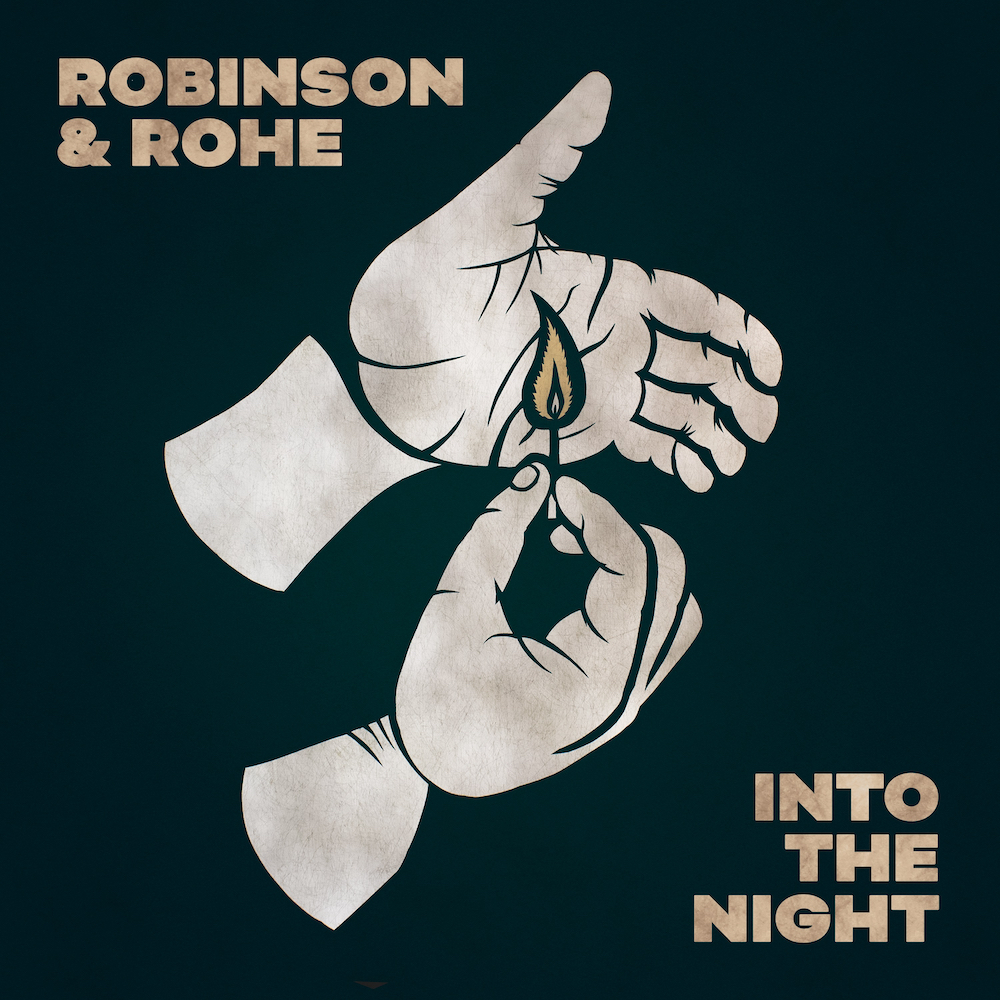 GET TICKETS TO ROBINSON & ROHE'S ALBUM RELEASE SHOW AT ROCKWOOD MUSIC HALL ON JUNE 4 HERE!