Would it be too cheesy to say that we are 'Mad About' her? Or that she's 'got the beat'? Because, in all honesty, it is all true.
---
Belinda Carlisle makes a good point. If Diane Warren, who has more Best Original Song nominations from major award organizations than one could count, is handing you a stunning new track on a silver platter, you don't turn it down…. Even if you were thinking about retiring from music.
Now, we would say that the songwriter is to thank for keeping the Go-Gos alum from taking a step back, but it's not solely her doing. James Duke Mason, Carlisle's son, had quite the hand in the stars aligning. (He, Warren, and some coffee, that is.) Carlisle was toying with the idea of putting down the mic sooner than later prior to Warren's handing over of a soon-to-be hit. As fate would have it, though, the collaboration came to be. She tells us that the music, at its core, is simply made up of "good quality, well-crafted pop songs," and, "of course, Diane Warren is a master at that."
Between the two, the musical stories and powerhouse pop culture moments are endless. Warren wrote Cher's "If I Could Turn Back Time" and Aerosmith's "I Don't Want to Miss A Thing," what seems like hundreds of other chart-toppers in/around the pop genre, and owns the rights to all of her work. Carlisle is a personable and humble superstar who has a New York Times Best Seller to her name, is a Rock & Roll Hall of Fame Inductee (Class of 2021) with The Go-Gos, and has championed the LGBTQ+ community, animal rights, and sobriety. The EP, Kismet, is full of life and genuine passion, making this soul-stirring comeback even more impressive. With these songs and Warren in her corner, as well as her son and much of the free world, fresh air has been breathed into a career that was already masterful and beloved.
It was a joy for us to catch up with Belinda Carlisle amid the Kismet excitement and ahead of her concert in New York City next week.
Starting off with the EP and its title, Kismet, how did that come about? It very much feels like the sound and style and overall feeling of this new era.
Well, actually, it was an easy title to come up with because it sort of sums up how this whole project came about. My son went into a coffee shop that he never normally goes to and saw Diane Warren in there. This coffee shop is where she always goes to, but usually at a different time. My son recognized her, went up to her, and introduced himself to her. She was like, "Oh my God, what's your mom doing? Get her on the phone right now!" So they FaceTimed me out of the blue while I was in LA. I didn't even have time to really get ready – it was really out of the blue when they called me and then we went to the studio! She had said, "I have some hits for you." To which I said, "Uh, ok…" I hung up and I thought, "Well, I don't know if I wanna do this, because it's a big commitment and I'm kind of winding down. I'm not in that mindset." Usually great pop songs would go to an artist that is much younger than me or someone that is on the chart. so I thought, "How good can this material be? Do I want to commit?" You never say never with Diane Warren, though, so I went down to the studio and she played me "Big, Big Love" and I freaked out. I just had to say, "Let's go for this!" That's how it happened. It was like she had just happened to write "Big, Big Love" a couple days before she ran into my son. She didn't know who the song was gonna be for. Then when she met my son, it was like, bingo, this is for her. Weird things, chance meetings, coincidences, happenstances that came to be – all of that is what made this whole project happen. It was behind the whole thing. That's why when my manager said, "You have got to name the album," I said, "Kismet." It's a word that I love and that I've used for quite a while, and it just sums everything up.
My heart is bursting that this all came to be, because like you said, you just don't know. These songs are stunning. I think they really suit you and your voice. I love that "Big, Big Love" was the first one that you heard and then it became a single and then the EP opener. It does seem very much like stars aligning.
It definitely is. It is like the universe saying, "You're not meant to retire just yet," you know? So I just went with it. It was like a gift, and, for me, it's not like I sing anything that comes along like that. I only do what I want to do and I will only sing things that I absolutely love. The other weird thing was that it's usually really hard. In my experience of doing this for so long, when people submit songs to you… usually they're not very good or they're not suitable for me. Maybe one in 20 are good and good for me, but the songs that Diane showed me, that she wrote? Oh, it is perfect. My taste is pretty complicated. I'm really picky. I like complicated melodies. I like lyrics that aren't really literal. There's a certain criteria for me in order to be able to sing the song, so the whole thing was just meant to be.
It's so wonderfully full circle for you as a person, but also an EP and a tracklist; starting with "Big, Big Love" and closing with "Sanity," which I think is my favorite on the record.
I think it might be mine, too.
Really? Do you find yourself going back to that one a lot?
Yeah. It's a weird song.
It is. The intro and body and the way it closes makes it a mesmerizing tune and I'm glad to hear that you love it, as well.
Thank you. Yeah, I do, I think it's my favorite. It's the hardest song I've ever sung in my entire life [Laughs], but it was one of the most fun songs to sing for that very reason.
A good challenge that proved to be worthwhile; I love that. I'm curious, do you know if you are going to be singing it live? How many of these songs from the new EP are going to be heading on tour with you? There truly is just so much to choose from now!
I know. It's kind of hard. I would say like two or three off the EP because when people come to see my shows, not all of them have heard the EP. They've heard all the hits and probably a lot of the older albums, so they want to hear that stuff. That being said, an awful lot of people want to hear the new stuff, too. It's just a matter of fitting it in and what those two or three songs are.
You want to strike that balance of people who have been there from day one, the people who want to hear a Go-Go's song, people who want to hear "Mad About You," and people who want to hear "Sanity" – like myself.
[Laughs] Exactly, exactly. I'd love to sing it all and I'd love to sing that song, because I love that song. I do love it.
On that same note about striking that balance and appeasing everyone, I was lucky enough to be at the Rock & Roll Hall of Fame induction when the Go-Gos got in. I turned to the person next to me before Drew Barrymore took the stage to highlight your career and I said, "Do you think they're gonna sing 'Beneath the Blue Sky?'" She was like, "No, they're not gonna do that, because that's kind of a deep cut." It would've pleased a couple people like myself, though! And you ladies sounded amazing, too. What a milestone.
Thank you! Yes, "Beneath the Blue Sky" is definitely a deep cut. I'm not sure if we've ever done it live. I can't remember if I've ever done it live before because the background vocals are so intricate. Maybe we had tried it, but it is a difficult song to get the background right.
Oh, absolutely intricate. That's probably why I love it, because I, like you, enjoy a complex song.
[Laughs] Oh, yes – thank you.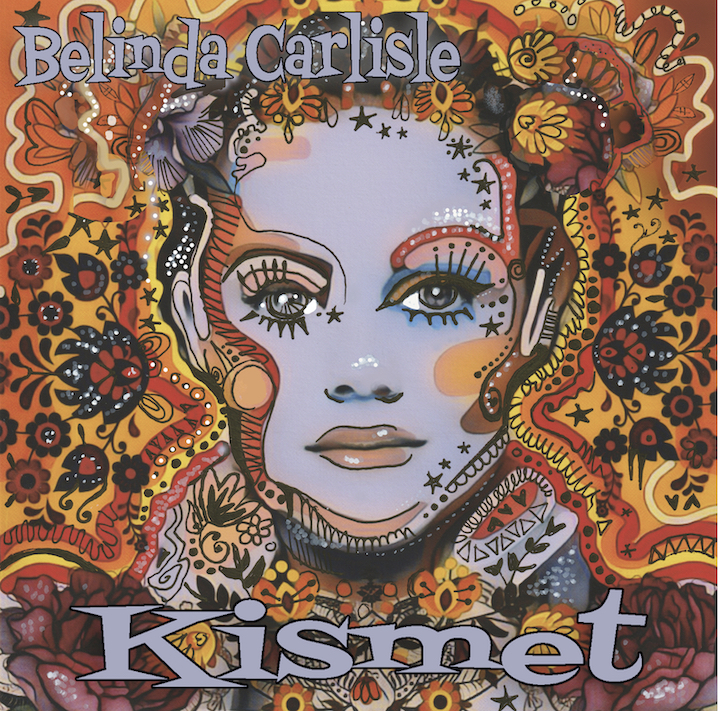 Of course! The cover of Kismet is so ethereal; the artwork is so stunning. How much input do you have with such? Over the years you've had some notable visual components, but this one stands out. It's really cool.
It is cool! A friend of mine, actually, did it. He's a makeup artist named John Stapleton and he has done my makeup and the Go-go's makeup for years. He approached me about doing some cover art for me, and I agreed. He had some made, mocked up some drawings, and I immediately was like, "Oh my God, this is perfect!" It's perfect for Kismet because it's very whimsical. I didn't do all the hard work for the cover, but I got to sort of 'yay and nay' what I liked for the placement and the font. He did an amazing job, though, and I think it works really well with the material and the name of the EP, for sure.
The stars, the colors, the happenstance of it coming together – it is whimsical! There's wonderful character to it. I think your vocal tone and the message and the art is so cohesive, which is why I had to ask about it. A makeup artist being the creator makes perfect sense, too.
[Laughs] Yeah, it does. He's great. I wasn't expecting it to be that good. I was like, "Oh my God, this is amazing. It's a perfect cover." This is the first time he has ever done any art direction for an album, too.
Oh my gosh! His first album cover, your first collaboration with Diane Warren… how special! Speaking of Diane and how genuinely kismet this all was, you and I both know that she has extensive credits. I'm wondering if you have any favorite songs of hers, either that you would love to sing or are just a fan of, because there really are so many to pick from,
Oh, God. Off the top of my head, I think "Unbreak My Heart" is beautiful and an amazing song. I mean, honestly, she's had so many hits, but I think "Unbreak My Heart" is one that comes right to mind. I love the melody and I love Toni Braxton – she did a great job singing it. Yeah, I think that one might be it.
FOR TICKETS TO BELINDA CARLISLE'S TOUR, WHICH COMES TO NYC'S SONY HALL ON JULY 17 & FEATURES SPECIAL GUEST CHRIS TRAPPER, CLICK HERE!