World of Hassle brought Philly to its feet with Glove and Josh Ascalon on November 8 at Underground Arts, and Underground Arts is an underground (as in very cool and literally down two flights of stairs) club in the basement of a brick building in the Callowhill neighboorhood of Philadelphia. An orange-red lightbox sign and an abstract piece by the late artist and local educator Todd Marrone adorn the archway, and UV-trimmed steps take you down to the 650-capacity space. The venue is accessible; an elevator and lift system is available to patrons if you request at doors.
On Wednesday, November 8, there were quite a few people there at 7:30 p.m. around the cherry red wall bench, high tops, cool mismatch-y light fixtures, and funky art (they might have still been decorated for Halloween, from the mock electric chair and the most neatly strung faux cobwebs I've ever seen), folks were already buzzing, chatting, snacking on bar fare, and posted up – ready and raring for the headliner, but right on time for the openers as the headliner being such a draw.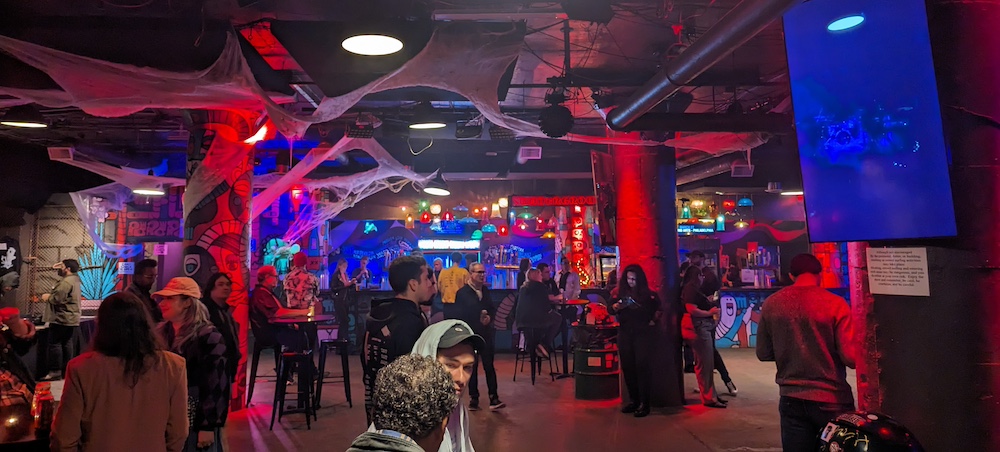 Alan Palomo (aka the founder of Neon Indian, list-topper of early-Aughts chillwave) pulled an expectedly healthy (and increasingly convivial) turn-out for this particularly anticipated tour date for World of Hassle, their first studio album release in eight years and the first record under their birth name. In addition, as Palomo would highlight during the set, by their account, it is the most collaborative. This was the first East Coast stop of the entire tour, ahead of stops in D.C. and Rhode Island and the final date at Elsewhere in Brooklyn.
But when Josh Ascalon, the Brooklyn-based electronic composer who was the first opening act, took the stage – or, the front of it, setting up his gnarly kit on a hip-height table that was visually accessible to the standing room, versus an elevated DJ booth or stand – for a solid half hour, the room belonged to them.
.
Photos by Veronica Rajadnya
Resembling an archaeologist with a headlamp and some ancient looking brass bells mic'd up on one end of the Buchla modular synth setup (to lay-people, an intelligent squid with its dials, knobs, wires, and sentient lights), in the dark Ascalon built it up to the rapt anticipation of the half-circle of attendees. There was striking of bells then some adjustments that would create a discordant, ambient looping effect and edge itself into a welcome bloom of melodic beats (and likened light design) that got everyone on the same page, moving and entranced through the tactile, full-circle clincher of twinkling bells that bookended the set.
In a pre-show chat, Ascalon, a sound designer for film by trade, shared that while they'd played in many bands (and collaborated with even more, including Caroline Polachek's band Chairlift and as sound engineer on Palomo's last Neon Indian record Vega Intl. Night School, which was recorded on a cruise ship #iykyk), this Philadelphia gig would be their first-ever performance with this set up.
For another milestone, they just put out A Day in the Life of a Mind (their first studio record and the first non-Twin Shadow release off the indie imprint Cheree Cheree), but they didn't want to do "computer songs" or reproduce the album at these shows, and so they spent the previous two weeks at Aelfie Oudghiri's artist residency building new synth modules and developing a workflow for a set that'd be more organic and on the fly. It paid off.
As the artist and house staff carried the kit, a whole table of equipment and sound, quieted, off in preparation for the next act, I turned attention to the room. More funky art and mural work, that cherry red wall bench, high top tables, and a bar with beautiful multi-colored hanging light fixtures (and a nice selection of local beers and signature cocktails) outfitted the space. They might have been still decorated for Halloween from the mock electric chair by the bathrooms (Photo-op!) and the most aesthetically, evenly, neatly strung faux cobwebs I've ever seen in my life (Hey, if folks can leave Christmas decorations up…). 
Up next was the band Glove, the Tampa-based new wave trio whose modern sound felt well-matched by the romantically rock 'n' roll cerulean blue and red gel lighting that washed over their set. Reminiscent at times of The Kills, Depeche Mode, Crystal Castles, and The Faint with an artful eighties touch, one first-time listener in attendance cited as 'The Sisters Of Mercy, goth-head vibes.' Upon the first pitch, the crowd in that basement was at once transformed to a place that existed IRL and compelled by feeling that we were witnessing a new 'big thing.'
Photos by Veronica Rajadnya
Comprised of Rod Wendt, Brie Deux, and Justin Burns, one thing I noticed is that they (on keys, guitar, and vocals, not respectively) switched positions with every song, taking turns up at the mic – sometimes together, one vocalist on synth the next – which I found fascinating and honestly quite additive to the mystique. This is described aptly by their boilerplate (by reps Big Hassle): "Glove [is] a fluid unit wherein there is not a singular front person."
One of the early standouts was a track aptly called "Cherry Red," a delicious punk rock romp that concluded with a red-clad Deux's riot-person lilt pulling us in on the mic with, "Do you like cherries? These are all new songs," which piqued the crowd with exclusive material. This included "Chewing on a Wire," the year's first single from what might be a follow-up to 2022's Boom Nights.
A mini-mosh pit of sorts formed not halfway through as the mood turned consistently ecstatic towards the talent, which Deux managed by joining the dance circle for the end of a song, much to the patrons' great delight. Positively keyed up and joyfully rageful was a punk rock atmosphere until the end, proving the live show truly is essential to anything you'll hear on Spotify. After the show, the guys were super nice (as most "scary" goth and punk rockers are).
We got a generous bit to breathe while staying on schedule as the man, Alan Palomo and his band –six people in total including longtime bandmate Max Townsley, bassist and brother Jorge Palomo, the absolute menace on the saxophone flute Ian Young, and new vocalist Abby Blaine (who I learned sung on stage for the first time this night) – took the helm of the eighties fantasy cruise ship. The stylish lead wore a black and white brick-print shirt, matching their likeness on the pulpy album cover (designed like a serial with too-real satirical headlines), under a blazer shed not less than halfway through the set from w o r k i n g, and the supporting artists had an understatedly confident stage show presence that recalled the best of nineties Nick at Nite variety shows and big band, Copa-esque flavor ("schmaltz," as Palmono told Under the Radar) that allowed their respective instruments to shred and shine.
"Latinos in Philly! Mexicanos!" Palmono summoned, as they noted their last musical visit in 2019 and sung into "Nudista Mundial '89," the first single off the new album released early this summer. Featuring Canadian artist Mac DeMarco on the record, most of the song is in Spanish and revels in characters enjoying a juicy time at the nude beach. You could just imagine the flirty sunglass tilt and finger point at, "so it's dos cervezas por favor" – silly in the best way with irresistibly bouncy synths. A lot of the crowd knew the words to that one.
They pleasured us early on with a couple Neon Indian singles like 2015's "Annie," which besides being a near-classic by definition offered a live hip choreo and drum double-tap combo at "Talking, a lot of talk" (BA-dum!) that it's now part of the song for me. "Deadbeat Summer," off the 2009 debut Psychic Chasms, went interactive: "Philly has some beautiful falsettos; am I correct in this assumption?" Gleeful cheers. Philly is very susceptible to flattery.
Palomo noted that most of the songs on the new album and many of the records as far back as "Deadbeat Summer" were recorded "on this Casio [synthesizer keyboard] that Max [Townsley]" was playing, which was a sweet moment. I appreciated that they intentionally worked some Neon Indian songs into the Alan Palomo setlist so as to not ignore their existence, but to please fans there for the new project, provide context, and show the throughline.
.
Photos by Veronica Rajadnya
One of the grooviest World of Hassle songs of the night was "La Madrileña," sparse in its wistful Spanish lyrics about a woman in very smooth, handsome vocals; a contributor on Genius called it "the spiritual successor to "Polish Girl," which is a canon I can get behind. "Big Night of Heartache" was introduced as "a song about getting broken up with over branzino," which offered a sense of place and caricature of a poor man scorned with its weepy sax and pleading lyrics ("Is it my height? My curly cues? I'll lose the mustache if it pleases you!") yielding to a swirling, delusional denouement: "But the bill's been split, and so will we" and "I'm not crying, you're crying." It's much, much more fun to listen to, I promise.
Extreme crowd control and charm at play song-to-song as Palomo at mere suggestion got us to mimic the wide claps, the side-to-side arm ways, and pay attention to the band members' super shredding at any given time. Palomo themselves, ever the composer, broke from the leading man act often to turn to their own synth/keys setup to do the thing.
It was just so fun so behold. Palomo has a cool, effortless stage presence and voice in both high and lower registers backed by the impossibly dreamy, rich, global production from World of Hassle that one might fear some loss on the way to real life performance. This was far from the case. The material was improved by an audience reacting to the nostalgic references and hearing the sort of self-aware humor of the songs' jokes in person, polished and supported by intelligent, accomplished design.
"Stay At Home DJ" was a sure delight poking fun at music snobs and club culture, but "Is There Nightlife After Death?" is Palomo's favorite song on the record, they said. A ballad of sorts, it earnestly asked the question with straightforward, almost traditional song lyrics and yearning instrumentals that evoked "Careless Whisper." Then we had the French song, "Meurtrière" (English: Murderer – the single art is a literal bloody screwdriver), which Palomo called out as a song in French and employed the talent of Abby Blaine on the Flore Benguigui vocal. On the record, this song is followed by "La Madrileña," which is interesting.
We were then instructed to take five ahead of a few more songs, rather than approaching the point in the night where the band pretends to leave and calls upon the audience to request an encore – this was all explained by Palomo, by the way, which was a cheeky signpost of a career musician with great respect for the audience. "Just like Elvis/Oh, with a nice lifelong alibi," Palomo pulled us in for their daydream on "The Island Years," a love song to a marooned mamacita and sense of freedom and peace, which is what it's all about.
Then, in the tour's tradition that started in Lakewood, Ohio, when the band realized they all knew the parts to "Under the Bridge" by the Red Hot Chili Peppers, the band called out to the audience in a request for a vocalist who knew the words to "Under the Bridge," who valiantly volunteered.. And lo, the entire room, led by a fan with backup dancers in Palmono and Blaine and a whole supporting band, covered the Red Hot Chili Peppers. "But wait, mysterious stranger, you never gave us your name!" Yosef, you're the man!
And then, they closed it out with "Polish Girl" – a song that sounds like the jackpot at the casino. We sang it with them without needing to be asked.