With his heart on his leather sleeve, priorities in check, and friends in his corner (everyone from Henry Rollins and Foo Fighters to his own bandmates), Billy Idol is sharper than he has ever been.
---
During our East Coast Rocker days, Billy Idol was at the peak of his career. Or, should we say, was the peak of his career thus far. When he graced our cover in 1990, he was fresh off the release of the appropriately titled album Charmed Life.
The English-born star is still excited about what's to come. He is raw and spirited, respectful of his ever-growing catalog, and honored to say that being a globe-trotting punk rock musician has been his day job for 40 years. (In conjunction with being a doting punk rock grandfather, as of recently.) Although he has taken some breaks along the way, he has never truly slowed down. His wild journey has taken him from our pages to The Wedding Singer to the Walk of Fame. Concert after concert sells out. Fans near and far come out in droves – including us, of course, most recently in 2021 where we described him as "colorful and radiant on stage" and "a human tornado." The ferocious rocker deserves to know his impact, which is precisely why we hopped on a call with him for the following interview.
With a performance in Brooklyn next week, as well, Billy Idol is returning to our cover and to the city that never sleeps.
I'm good. We are quite busy these days! It's good, and it's good to be enjoying what we're doing. That's partly it, but it's also my age, too [Laughs]. As you get older, time flies and life passes really quickly.
That's what I hear!
We're enjoying it, though, so we're getting a lot done and, for us, it's been fun. We're sort of ready for another album. We won't be doing any new songs these few weeks that we're out playing, but we will be next year! We're glad to say we're gonna have an album out next year. It's all we've been doing and it's really good, as well, if I can say that! [Laughs]
Absolutely! How thrilling is that going to be? I am already on the edge of my seat.
It's great to know that you're still excited about that. We can still come up with stuff that's fresh, so it's exciting for us, too. We feel like we're going somewhere and all of that adds into these shows that, even though we're not playing any new numbers, have this feeling of going somewhere special. We're not just going around in circles playing the same old stuff all the time or something. We know we've got these great EPs that we've done in the last few years and now we've got this album coming out in the next year. We're excited and very 'up' about everything.
Yes! Like you mentioned, these two EPs that came out in 2021 and 2022, Roadside and The Cage, and were four songs each. They have a great sense of punk rock charisma about them. I've also heard that they have been doing really well within the sets of these shows with the old songs and the new music. It must feel so special to be doing what you're doing and have the reception be just as positive and exciting as it was in 1980 or 1990.
Yes, exactly. It just feels really great and it's great to know that we are sort of giving the audience what they want, as well, at the same time. We're them stuff that's old and new during a show and it's all kind of working out together. It's been a whole lot of fun.
Since you said you do have a full LP in the works, I am curious about something. We've had these two EPS most recently. What do you like about putting together an EP as opposed to a full-length LP? Obviously it's less songs, so probably less work, but these were your first new EP releases since Don't Stop in 1981.
Well, we were looking for people to work with – producers and stuff. Doing the EPs just gave us a way to try out different people, and what we found by doing the Roadside EP was that hooking up with Tommy English worked out fantastic. When we decided to do this EP with Tommy English producing… it has just really gone well. Doing those EPs has really worked for us. Also, I found out by doing the EPs that I have to do the same amount of promotion for an EP as an album. We might as well do an album then. I have to do the same amount of promotion, so I said, "That's it with the EPs! We've got who we wanna work with – let's do an album now." That's what we've done, it's coming out next year, and it's really good. We just knocked it out with what we're doing.
It sounds so good and makes so much sense – even on our end!
These days you really do a ton of promotion. There are so many outlets today. In the old days there were just a few magazines and a few newspapers. Now there are a million different outlets one way or another, which means there is a lot you can do when you're doing promotion. If you're gonna do all that gigantic amount of it, an album gets more of a response than EPs, anyway. That's the other thing I found out: an EP doesn't get the same response as an album. Most people don't take them quite as seriously. The fans, of course, take it seriously, but the critics and such people? They take an album much more seriously, so that's what we are working towards.
With what we have done outside of the EPs, we have a really solid nine song album. That's probbaly what we're looking at. At this age or at this time in my life to be doing this, I'm thinking, "Wow, I couldn't have ever imagined that we'd be this positive and enjoying it at this stage." [Laughs] Normally I'd do this when I was younger and I couldn't imagine that this would happen at this stage! I just couldn't imagine it, but that is what's happening. We're touring, writing a new album, and Steve Stevens is the best he has ever been on guitar. Steve is on this album, just like on the EPs and all the Billy Idol albums. We've got our drummer Erik Eldenius, too, who is on the tour and playing on the record. It's really a band record; that's what the EPs were about – being a band.
That's true. The EPs are very full sounding, robust. It does feel kind of like a dream team come together.
That's what we want.
I'm glad that you echo that because we can hear such great camaraderie. You and the band play off one another with a cool edge, but you also show your own talents as a whole. You and Steve are truly partners in crime, though, and your band Generation Sex is just as tight knit. What's the secret to finding bandmates, touring teams, mixers, and engineers, and people that you work well with year-after-year? Is there a secret or do you just have to test it out and see what happens like you did on the recent EPs?
I think there is an element of having to search and try things out. We were lucky that by doing those EPs, we were able to sort of stumble upon where we wanted to go with in terms of a producer and crew. I think it's just a question of how to find people who, musically, wherever they've come from, are somehow on the same page with you. At the same time, though, you want them to bring something that you're not expecting, too, if you know what I mean. They bring a lot of what you're expecting, but they also bring an element that you're not expecting and that helps to keep things really fresh and moving. We're getting more than we expected and I think that's the thing. You're always looking for that from people, too – people that fire you up. There's something about the way theses guys play that just fires us up and makes us want to carry on. We're getting to this point where you can say that we've really gone there and we've discovered what we're looking for and now that we've got the goods, we can do it again.
There was a little bit of that back in the eighties. I had this a full-time producer, Keith Forsey, for a long time. You're always looking for that again. How do you find someone like that again? Find someone you can make a few solid records with? I think we're getting there and that's what's really exciting right now. We've got a killer band, and the group on the record – that's what you're hearing live even on this tour coming up. It's the band on the EPs, the band on the road. We've sort of been playing together quite a long time now [Laughs]. I think we have been playing together for maybe 10 years. We've all been playing together awhile and that lends itself to this. Although Billy Idol is a solo artist, we've got a band element behind it, and I think in terms of rock and roll, that's a really good element to have: band feeling. It's not just me, you know – there's me, Steve Stevens, Erik, and the other lads, Billy Morrison, and everybody who has all been playing together now for 10 or more years. And, of course Steve Stevens and I have been playing together for 40 years or something [Laughs].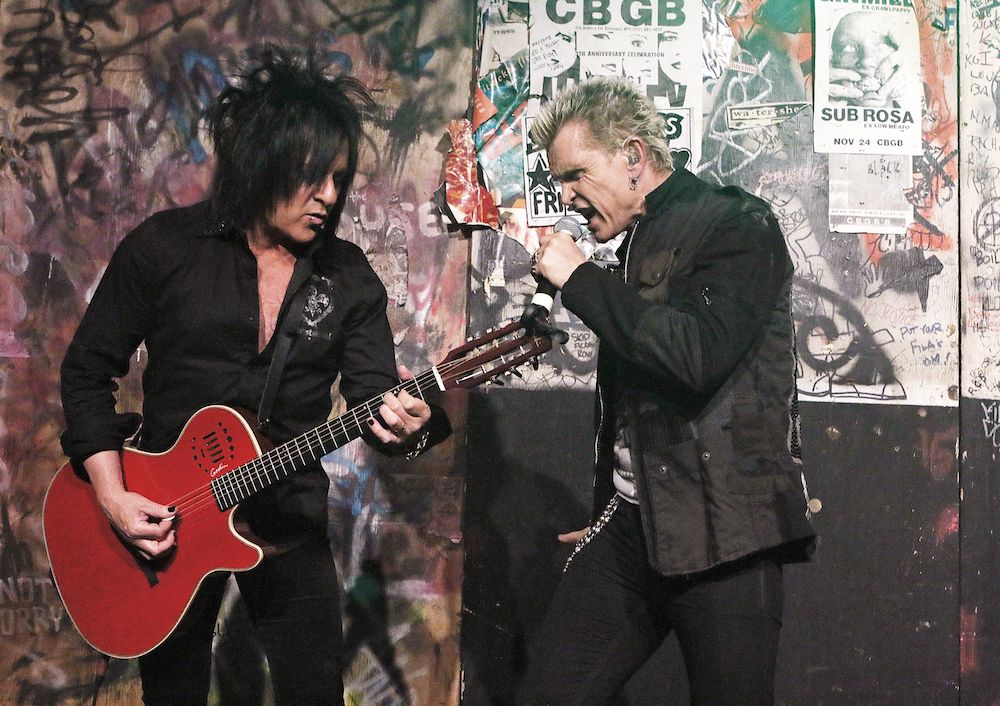 I know! It really is amazing to see and to hear, not to mention to be able to show up to work – as a rockstar, nonetheless – and know you're gonna enjoy what the other people are doing on top of how they're helping elevate what you are doing.
That's it! They're all helping push everything forward by keeping everything fresh. They're playing like they care. They're fully engaged when they're playing. Nobody is sort of dreading this or doesn't give a shit. There's not one guy in the band who doesn't care. Everybody cares, and that's what you're looking for. You're looking for that. That's what you're looking for in a band, really; everybody is giving you and the audience everything they've got every night. They really want to deliver. Some people they get into situations like this and they're just out for a wage, just playing for that, but they're deep down thinking about what they do with their own records or something. With what we are doing, we are really lucky. The the guys I am playing with really, really, really care about what we are, what being in my band and Steve's band and just playing great for all of us is like. The audience looking for that excitement – that feeling that we don't have to try for, it's just there.
We've been doing this a long time, so feeling that joy as you're playing live is like driving in an incredible sports car or something, you know? A really tuned up sports car is sort of what I get from singing on top of an incredible machine that's just kind of churning the music out in a most sexy way. It just helps me to sing, helps me to put everything I've got into the music. Especially now that been doing this for quite a long time, it's an amazing feeling that this is going on so smoothly, because if we were just treading water up there… it would all be dead. It would be horrible.
Unfortunate truths of rock bands.
You have to feel this working for it to work, you know? And it does and it's exciting.
You can't really fake that sort of passion, whether it be from the people in the band or the fans coming out to these shows. Everyone can tell when somebody is not 100% passionate about being there. It warms my heart to from you that that the music is coming out of people who are passionate and happy to be doing this.
That's what's really great about me and the band; it's exciting to go and play these dates we're just about to do. after doing the Generation Sex tour earlier this year, it is nice to get back with these lads and carry on pushing the Billy Idol music, which is what I primarily do. It's me and it's what I'm really into – my own music.
Oh, of course Billy Idol should be into Billy Idol [Laughs].
Yeah! I am!
Now, speaking of things that are exciting, earlier this year you got a star on the Hollywood Walk of Fame. Back in the spring you were a question on Jeopardy – and not just any question, a Daily Double! Do things like that, being mentioned in and around pop culture, ever stop being really freaking cool? Because it's really cool to watch as a fan.
It is amazing. I mean, it's incredible that people knew the answer to that question! Then you sort of realize, "Wow, that I have had quite an effect on people's lives that I could be in question on Jeopardy and everyone knows the answer." It's really nuts. This also just shows to me that people really do care about the music and they really care about where we've come from. It's so super exciting to see I have had an effect on the world the last 40/50 years, or however long I've been doing this… 47 years I think I've been doing this. Sometimes it's "White Wedding," sometimes it's "Rebel Yell," sometimes it's "Eyes Without a Face."
Actually, "Eyes Without a Face" seems to be having a bit of a new life on TikTok? Yeah, it seems to have this kind of viral thing on TikTok where people sort of use filters with the song [Laughs], so even though I'm old, I'm watching an old song have an extended life these days on new social media. Tthat's another thing that's pretty amazing. We just couldn't have imagined that 40 years ago when we were writing "Eyes" or "Rebel Yell." At the time, you were only thinking about that moment. You were just thinking of it right then. You weren't thinking about whether it 's going to be relevant or whether people will care in 40 years time! The fact they do? That's pretty stunning.
THE 40TH ANNIVERSARY EXPANDED EDITION OF BILLY IDOL'S SELF-TITLED DEBUT IS AVAILABLE NOW WHEREVER YOU LISTEN TO MUSIC!
FOR TICKETS TO SEE BILLY IDOL IN CONCERT AT KINGS THEATRE ON TUESDAY, 9/12, CLICK HERE! YOU CAN KEEP UP WITH ALL THINGS BILLY IDOL BY CHECKING OUT HIS WEBSITE!