Nick Cave is best known for his work with his band, Nick Cave & the Bad Seeds, but that ensemble has not performed in the United States since it closed its 2018 tour at Barclays Center. He returned to New York City in 2019 for "Conversations with Nick Cave," in which he fielded questions from the audience and played songs solo on piano. In 2022, he performed duo shows with Bad Seed violinist Warren Ellis at the Beacon Theatre.
This year, Cave announced in March that he would perform a solo concert tour, Live in North America, in the fall, that would visit New York City at the Kings Theatre and the Beacon Theatre. In July, he released a song with the Miraculous Love Kids of Afghanistan, "Breathless/Beautiful," which was based on a poem Cave wrote about his wife. He also announced that he had been in the studio finishing a new album with the Bad Seeds. In August, he announced that along with his fall solo performances, he would also weave in a book tour that promoted the 2022 paperback publication of Faith, Hope, and Carnage. That memoir, assembled from a series of phone conversations that he and journalist Sean O'Hagan had during the COVID-19 pandemic, focused on Cave's life following the accidental death of his 15-year-old son, Arthur, in 2015.
The New York appearances began on October 5, when Cave and O'Hagan spoke before live audiences at both the Strand book store and 92Y. The next evening, Cave began a series of three concerts at the Kings Theatre and the Beacon Theatre. These were billed as solo performances, although he was accompanied on bass at all shows by Johnny Greenwood of Radiohead and the Smile.
On opening night at the Kings Theatre, the stage was dark and stark with only Cave's grand piano, stool, and microphone on one side and a rig for Greenwood's bass on the other side. Cave and Greenwood came on stage to a standing ovation of grand cheers and applause. In an unusual manner, the stage was lit mostly from side lights.
Cave looked much the same as always – tall, lanky, with jet-black, slicked-back hair reaching almost to the collar of his finely-fitted suit. Even before he spoke or sang, he looked distinctly ominous and serious, quite compelling, magnetic, and even spooky. Indeed, the music would match his façade.
Greenwood played subtle bass lines on about half the songs; for the other half the set, he was as much of a fanboy as those in the audience, simply watching Cave in awe. Cave is not a flashy pianist, so the instrument simply served the songs. Stripped of all other sounds to basically a piano-and-voice interpretation, Cave's catalog of songs in this acoustic format added weight and gravitas to lyrics that already had built-in depth, despair and darkness. Cave's haunting, sonorous baritone resonated through the venue.
The repertoire was drawn largely from Bad Seeds albums from the 1990s through 2019's Ghosteen. The song selection also drew briefly from his earlier project, Grinderman, and his duo work with Warren Ellis. He introduced a new, as-yet-unreleased song entitled "To Be Found." Several songs were played solo for the first time on this tour.
Cave said that the sparse arrangements would help get to the heart of the lyrics "and get lost in them." The format accentuated the raw and vulnerable turbulence of the human condition. Cave has tried to lighten his lyrics in recent years, yet his emotive delivery still projected anguish almost continuously. Happier lyrics sounded sad, and sad lyrics seemed sadder.
Like a mystical shaman, Cave enthralled the audience. Except for fans calling out song requests or professing love between songs, the audience remained absolutely silent throughout Cave's performance. The intensity of his performance was broken with Cave's witticisms when he spoke with the audience between songs.
The bottom line is that no one else sounds like Nick Cave.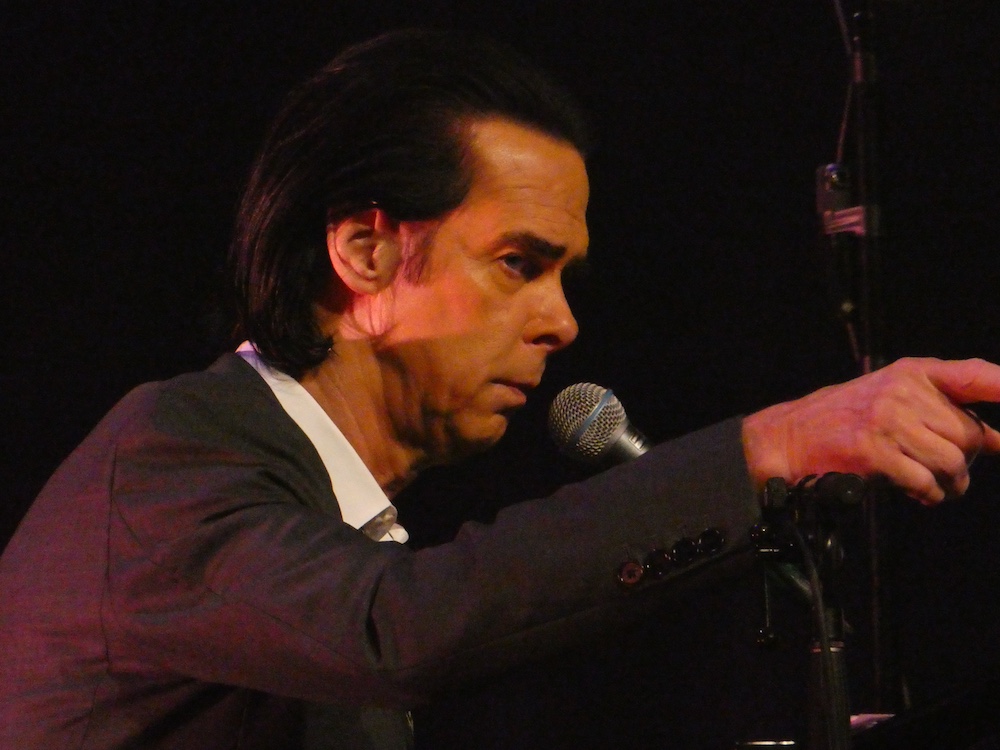 Setlist
Girl in Amber (Nick Cave & the Bad Seeds song)
Higgs Boson Blues (Nick Cave & the Bad Seeds song)
Jesus of the Moon (Nick Cave & the Bad Seeds song)
Galleon Ship (Nick Cave & the Bad Seeds song)
To Be Found
O Children (Nick Cave & the Bad Seeds song)
I Need You (Nick Cave & the Bad Seeds song)
Papa Won't Leave You, Henry (Nick Cave & the Bad Seeds song)
Balcony Man (Nick Cave & Warren Ellis cover)
Waiting for You (Nick Cave & the Bad Seeds song)
Black Hair (Nick Cave & the Bad Seeds song)
Carnage (Nick Cave & Warren Ellis cover)
(Are You) The One That I've Been Waiting For? (Nick Cave & the Bad Seeds song)
The Mercy Seat (Nick Cave & the Bad Seeds song)
The Weeping Song (Nick Cave & the Bad Seeds song)
Into My Arms (Nick Cave & the Bad Seeds song)
Jubilee Street (Nick Cave & the Bad Seeds song)
Push the Sky Away (Nick Cave & the Bad Seeds song)
Encore
Palaces of Montezuma (Grinderman song)
He Wants You (Nick Cave & the Bad Seeds song)
Man in the Moon (Grinderman song)
The Ship Song (Nick Cave & the Bad Seeds song)
And No More Shall We Part (Nick Cave & the Bad Seeds song)
Stranger Than Kindness (Nick Cave & the Bad Seeds song)
God Is in the House (Nick Cave & the Bad Seeds song)