Candice Night played court jester to Deep Purple/Rainbow axe man Ritchie Blackmore and his Band of Minstrels turning BergenPAC into a celebration of the pre-holiday season. No blistering leads this time from the gods of thunder; they played beautifully, weaving singer Night's wistful lyrics and Blackmore's delicate fingerstyle into an unplugged tapestry of ethereal music from a bygone era where castles and local pubs were the concert halls of the day.
A rocksteady rhythm section provided the backbeats and bottom end to Blackmore's noodling that Night pierced through with angelic vocals. She bridged the worlds of folk rock from Stevie Nicks to Fairport Convention's Sandy Dennis. Theirs was a medieval styled mix of folksy ballads, beer hall anthems, and majestic bedtime lullabies of lords, kings and minstrels in the galley.
Bassist Earl Grey of Chimay provided the steady rumbling undertones from middle earth to drummer Troubadour of Aberdeen's low-end rattle. Bard David of Larchmont added comic flair to the court on some drinking tunes and played to the spirit of Deep Purple keyboardist Jon Lord as he bombed out low end curdles of symphonic rock.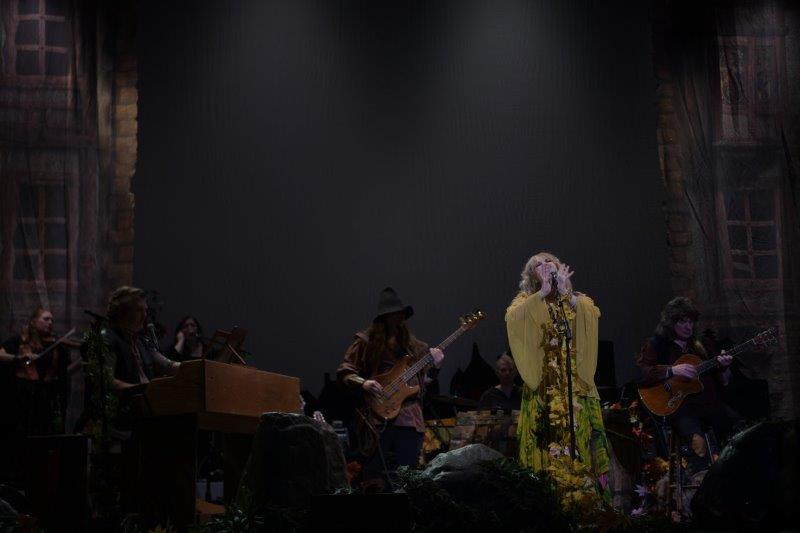 Opening with "Dancer on the Moon," things got lively up front as Night's woodwinds laid down the catchy melodies to Blackmore's minimalist playing that the band rendered into a delightful cocktail of new age World beat. Most of the crowd up front were dressed up in renaissance styled clothing, matching the band members and adding to this celebration of song.
"Under a Violet Moon" was a foot-stomping invitation to party on and dance the whole night through. During "Renaissance Fair," bodies swayed up front to the waltz-y rhythms that Blackmore jumpstarted, and the band ran with in three-quarter time as the crowd held hands in unison.
Night took on shoutouts for requests that Blackmore pretended to listen to, but she ultimately conceded – "He'll play the song requested, as long as its next on the set list!" They were a dynamic duo up there playing off each other like beauty and the beast. Night playfully poked at riff master Blackmore's cranky moodiness the entire evening keeping things light and breezy.
Introduced by Night from the BC (before Candice) era, Deep Purples "Soldier of Fortune" followed and segued into Fleetwood Mac's "Rhiannon." "Home Again" was the closer as the crowd sang along to the earthy delight of ancient melodies laid down by the legendary Deep Purple guitarist and his Band of Minstrels ending a festive night of camaraderie and good cheer.