In the 1980s, Billy Idol was a punk rock heartthrob. Now, at age 67, he is a grandfather with two grandchildren living in Long Island. He told the audience at the Kings Theatre that one of those grandchildren was in the audience.
Grandpa Idol has retained his sex appeal. Every once in a while during his performance, he showed his signature bad-boy sneer. He still has a full head of blonde spiky hair. When he took off his shirt at the end of the show, he demonstrated an enviable torso. What was missing, however, was Idol's deep, sexy growl. Idol sang at a higher register throughout the performance. His singing was fine but it no longer sent shivers through the spines of his audience.
Was anyone listening to Idol's singing? For much of the concert, it seemed that the audience was singing along and grooving to the collective voices; having a hefty string of classic rock hits with dynamic verses will do that to an audience.
Idol opened the concert with "Dancing with Myself" and, within minutes, guitarist Steve Stevens proved to be an integral part of the magic. He tore through stinging leads on every song. About 20 minutes into the high-octane repertoire, Stevens lowered the temperature of the venue by playing an acoustic guitar with no accompaniment, providing a lush and haunting introduction to "Eyes without a Face." The once-rowdy audience swooned to Stevens' sultry rhythm and melodic flourishes.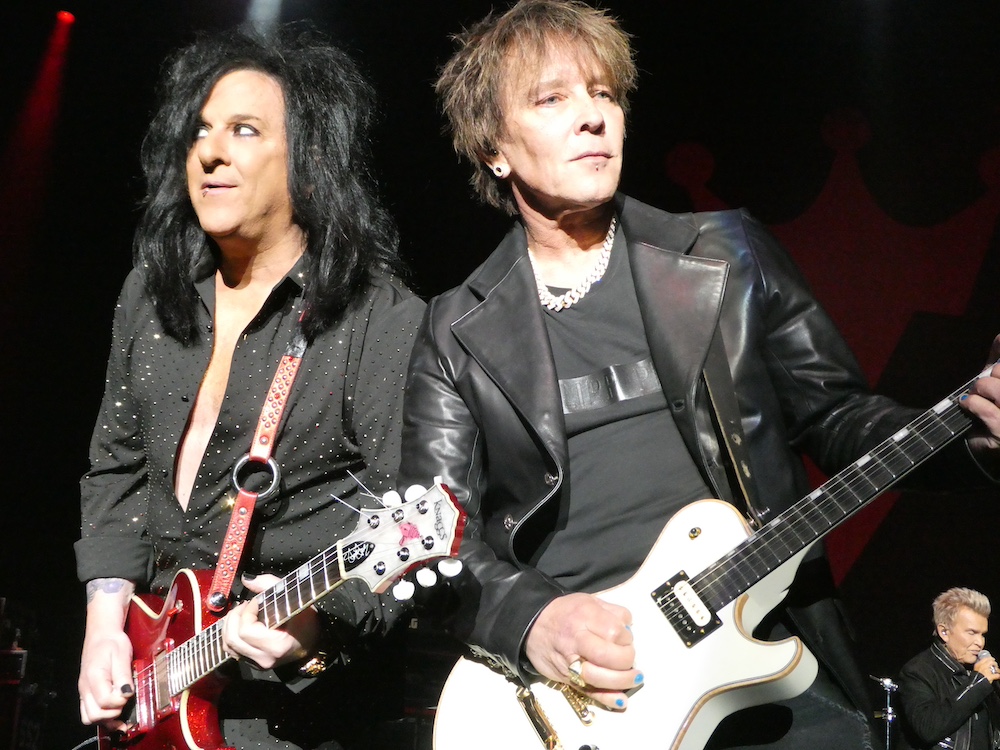 After "Eyes without a Face," Stevens stood alone on the stage for a lengthy, blistering solo in the midst of a dense, rolling fog. Starting with classic guitar leads, he bridged his way slowly to a more raucous sound. Rather than include his "Top Gun Theme," as he had on previous tours, his solo led into instrumental snippets of two Led Zeppelin songs, "Over the Hills and Far Away" and "Stairway to Heaven."
Aside from the two stars of the night, Idol and Stevens, the rest of the band gave more than adequate support. These musicians were rhythm guitarist Billy Morrison, keyboardist Paul Trudeau, bassist Stephen McGrath, and drummer Erik Eldenius. Kitten Kuroi and Maiya Sykes provided background vocals.
The setlist featured mostly familiar songs, most of which were at least 35 years old. Idol has not released an album of new songs since 2014, so the only newer songs he performed were from his two more recent EPs, 2021's The Roadside and 2022's The Cage. From these EPs, he sang "Cage," "Bitter Taste," and "Running from the Ghost." He explained that he wrote "Cage" about wanting to bust out of the coronavirus lockdown, "Bitter Taste" was about his 1990 motorcycle accident, and "Running from the Ghost" was about a friend who succumbed to addiction.
Throughout the concert, Billy Idol was magnetic, blazing an on-stage rockstar charisma that few performers can match. His new material, while not getting the buzz he used to get in the 1980s, shows that he is still writing viable songs. If he could summon back his rich Jim Morrison-styled voice, he would be tops.
Setlist
Dancing With Myself (Generation X song)
Cradle of Love
Flesh for Fantasy
Cage
To Be a Lover (William Bell cover)
Bitter Taste
Eyes Without a Face
Steve Stevens guitar solo / Over the Hills and Far Away / Stairway to Heaven (Led Zeppelin cover)
Mony Mony (Tommy James & the Shondells cover)
Running from the Ghost
One Hundred Punks (Generation X song)
Blue Highway (with "Top Gun Anthem" Snippet)
Rebel Yell
Encore
Hot in the City
White Wedding