Halloween came early this year as the Freaks on Parade 2023 Tour brought four cutting-edge bands to the Northwell Health at Jones Beach Theater on September 9, 2023. Although co-headliners and veteran rockers Rob Zombie and Alice Cooper have frequently collaborated on music since 1996 (when they wrote and recorded a Grammy-nominated song for The X-Files), this is their first tour together in 13 years. Cooper staged the shock rock theatrics that influenced Zombie's visual antics while support acts Ministry and Filter played the kind of industrial rock that inspired much of Zombie's music.
Filter
Early arrivals enjoyed Filter's 30-minute set, which began at 6:10 p.m. Vocalist Richard Patrick formed Filter in 1993 after leaving his gig as touring guitarist for Nine Inch Nails. Over the course of 30 years, 20 different musicians have played in Filter. The present lineup consists of Patrick, guitarist Jonathan
Radtke, bassist Bobby Miller, and drummer Elias Mallin.
The band enjoyed its greatest success with its first two albums in the 1990s, so half of the performance was from those albums and half was from the band's eighth and most recent album, The Algorithm, released on August 25. Patrick's voice was strong and his band rocked the brief set well. The alt rock hooks dated the music back to the 1990s and the industrial-leaning jams gave the
band a more contemporary edge.
Filter Setlist
The Drowning
For the Beaten
Obliteration
Take a Picture
Welcome to the Fold
Hey Man Nice Shot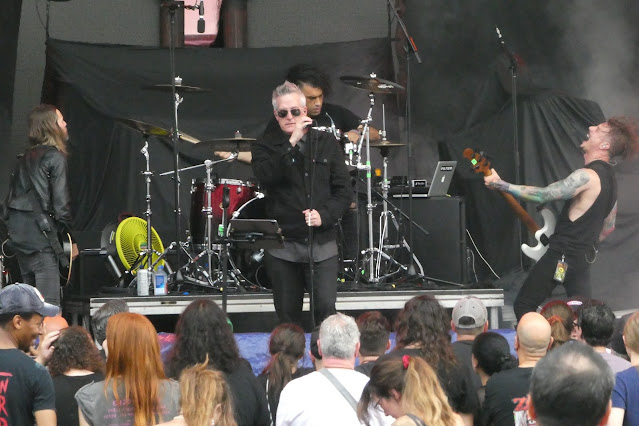 Photo by Everynight Charley
Ministry
Formed in 1981 as a synth pop band, Ministry's music rapidly grew heavier and soon came to lead the industrial metal movement, influencing bands like Rammstein, Nine Inch Nails, Marilyn Manson and White Zombie. For more than 40 years, vocalist Al Jourgensen has kept Ministry alive by collaborating with at least 39 musicians. Jourgensen's current bandmates are guitarists Monte Pittman and Cesar Soto, keyboardist John Bechdel, bassist Paul D'Amour, and drummer Roy Mayorga.
Ministry's most successful years were between 1988 and 1992, and so the band's 40-minute set spun
nearly entirely on those years. The two exceptions were a cover of Black Sabbath's "Supernaut" and
the set closer, "Goddamn White Trash," which was a taste of Ministry's forthcoming 16th studio album, Hopiumforthemasses. Jourgensen's lyrics articulated his ongoing bitterness with current world matters, and the band matched him with angry music. It was heavy, it was primal, and it was a
suitable welcome mat for the headlining sets to come.
Ministry Setlist
Thieves
The Missing
Deity
Stigmata
Supernaut (Black Sabbath cover)
Burning Inside
N.W.O.
Just One Fix
Goddamn White Trash
.
Photos by Everynight Charley
Alice Cooper
Historically, Alice Cooper predated all of the other bands on the bill, recording new music consistently since 1969. For more than 50 years, he has accompanied his live music with a stage show that has included a six-foot boa constrictor, giant monsters, a straitjacket, an electrocution scene, a beheading by guillotine, and more spectacles. To his credit, he has never stagnated or depended only on his hit songs from the 1970s; his set list always includes songs from throughout his catalog. He released his 29th studio album, Road, on August 25.
Cooper's 65-minute performance was an abbreviated version of his Too Close for Comfort headlining concerts. The set began with the band playing "Lock Me Up" behind a tall curtain resembling the front page of a giant newspaper reading "Banned in New York! Alice Cooper – Trial Set: for Deeds against Humanity" and featuring a photograph of Alice Cooper's glaring eyes and signature eye makeup. Through the image of the newspaper, a spotlight showed a silhouette of Cooper, singing and posing while wearing a top hat. The rocker then appeared through the curtain, swinging a sword. He removed his top hat, traded his sword for a cane, and led his band through "No More Mr. Nice Guy." This was only the beginning of a set featuring 16 fine rock and roll songs embellished with larger-than-life props. Throughout the set, he unwrapped his dark tales in songs with imaginative and dramatic portrayals.
Cooper was in fine voice, but his band was even finer; he frequently shared the spotlight with
guitarists Nita Strauss, Ryan Roxie and Tommy Henriksen's triple-guitar attack, partnering also with
bassist Chuck Garric and drummer Glen Sobel on raucous and thunderous arrangements. Most songs featured extended guitar licks that massively energized the songs. Before leaving the stage, Alice said to the audience, "Happy Halloween, and may all your nightmares be horrendous!" Cooper then announced that his "little brother" Rob Zombie would perform next. With that, the legendary 75-year-old Cooper concluded a breathtaking performance.
Alice Cooper Setlist
Lock Me Up
No More Mr. Nice Guy
I'm Eighteen
Under My Wheels
Billion Dollar Babies
Hey Stoopid
Lost in America
Snakebite
Feed My Frankenstein
Poison
Guitar Solo (Nita Strauss)
Black Widow Jam
Ballad of Dwight Fry
Killer
I Love the Dead
Elected
School's Out (with a snippet of Pink Floyd's "Another Brick In The Wall Pt. 2")
.
Photos by Everynight Charley
Rob Zombie
This tour celebrated 25 years since the release of Zombie's debut solo album, Hellbilly Deluxe: 13
Tales of Cadaverous Cavorting Inside the Spookshow International. During Zombie's performance, the audience discovered that the concert also celebrated the anniversaries of two of Zombie's horror
films, House of 1000 Lords of Salem (10 years) and House of 1000 Corpses (20 years).
His film career is perhaps as successful as his music career, so he designed his concert to be a
multi-media feast for both the eyes and the ears. LED screens covered almost the entire stage,
including the band's risers. The show began with Zombie behind a podium on a center stage riser,
flanked by the recently-returned guitarist Mike Riggs and bassist Piggy D. on risers on either side of
Zombie and drummer Ginger Fish on the highest riser behind Zombie. Throughout the concert,
dizzying colors as well as clips from his horror films played on the various screens. Colossal monsters, smoke, towering flames and other over-the-top props added to the spectacle.
Zombie appeared on stage but could hardly be seen at first due to dim spotlights and kinetic activity
on all the screens. Singing "The Triumph of King Freak (A Crypt of Preservation and Superstition)"
from his most recent album, 2021's The Lunar Injection Kool Aid Eclipse Conspiracy, Zombie wore a
fringed and patched jacket, superflaired-bottom leggings, and a floppy-brimmed hat over his long
dreadlocks. Shortly into the set, he removed the hat, and later, removed the jacket. He paced the
stage throughout the show, occasionally teasing the audience with irreverent monologues between
songs. Zombie's industrial-tinged music was as busy as the flashing images on the screen. The set was loaded with songs from his debut solo album, and also included songs from his six other solo albums, movie soundtracks, and two songs from his original band, White Zombie. Much of the music was dark and even eerie, as the power trio of Riggs, D. and Fish created sonic landscapes that sporadically sounded like a raging thunderstorm or a car crash. There was nothing subtle about this high-revving metal assault.
The second annual Freaks on Parade tour proved to be more than a showcase for Zombie's wildly
imaginative hybrid of hard rocking music and visual arts. It was an opportunity, through the three other acts on the bill, to see the roots of Zombie's inspirations. One can only hope that next year's
edition will be equally outrageous.
Rob Zombie Setlist
The Triumph of King Freak (A Crypt of Preservation and Superstition)
Dead City Radio and the New Gods of Supertown
Feel So Numb
Well, Everybody's Fucking in a U.F.O.
What Lurks on Channel X?
Superbeast
Demonoid Phenomenon
The Lords of Salem
House of 1000 Corpses
drum solo
Living Dead Girl
More Human Than Human (White Zombie song)
Thunder Kiss '65 (White Zombie song)

House of 1000 Corpses re-release trailer

Dragula
.
Photos by Everynight Charley