Singer-songwriter Reagan Richards of the Asbury Park country duo Williams Honor is honoring her recently departed mother, Harriet, a big band singer from Pittsburgh who performed many times with Les Paul throughout her career. Reagan's sentimental journey through the Great American Songbook, with love, reagan, features material by songwriting legends, such George Gershwin, Cole Porter, Irving Berlin, Johnny Mercer, and Rodgers & Hammerstein. 
The performance on November 12 in The Underground@Carteret PAC is the final U.S. date of with love, reagan before Reagan heads out with with Gordon Brown, the other half of Williams Honor, on a European tour to benefit the Light of Day Foundation's battle against Parkinson's disease. Tickets are $39.50-$49.50 for the 7:00 p.m. show on November 12 and an additional $29.50 for a pre-show dinner at 5:30 p.m. For more info about and tickets to the show, click here.
Having opened for LeAnn Rimes, Trace Adkins, and Bon Jovi (which was at Madison Square Garden), Willliams Honor will be touring in support of their sophomore LP, eX. The LP follows the Billboard Top 40 country hit "No Umbrella," as well as the Pollstar Top 40 livestream "The WILLI Ho Show." 
Reagan also performs as Grace Slick and Robert Plant in Glen Burtnik's Summer of Love, and as Patsy Cline in Always … Patsy Cline, a biographical stage show of the country icon. As an actress, Reagan also soon will be featured in the upcoming television series Dinner Talk, which was filmed here in New Jersey.
I'm very sorry for the recent loss of your mother, Harriet, and I'm glad you found a way to heal through music by honoring her. How and why is 'with love, reagan' dedicated to your Mom?
Thank you, Bob. I feel as if there won't even be enough space for me to say everything I want about my mom because that's how much there is to say about this force of a woman. She was everything to me. She captured the attention of everyone when she walked into a room, and at the same time was the sweetest, kindest, and most caring human I've ever known. She always has been my inspiration. 
She was from Pittsburgh and was a big band singer back in her younger years. My whole life I got to hear stories of her days singing. There was a club on the outskirts of Pittsburgh in Monroeville called the Holiday House. It was a 900-seat club and featured so many A-list performers, like Frank Sinatra, Dean Martin, Liberace, Nat King Cole, Andy Williams, and even Tina Turner who played there in 1978. My mom got a chance to see and meet Tony Bennett when he came and played the Holiday House. It was demolished in 1989, but just on what my mom told me about this place, it really packed a lot of greatness in there. Johnny Carson even spoke of the Holiday House on his show!
A big band was playing there weekly and my Mom would sing with them. It was there she met and became friends with Les Paul and would get up and sing with him when he would come to town. This was after his divorce from Mary Ford. Fast forward to a few years ago, I decided I wanted to a do a show for my mother – a show of music she loved and songs she sang. And so, with love, reagan was born. I hand-picked songs that meant so much to me – and to us – along with dialogue from movie and Broadway show scenes. I told stories of growing up: the good, the bad, and the WTF [Laughs]. The best part was that my mom was seated in the front row in a big pink velvet chair – her favorite color – just glowing. It was a sold-out intimate show with a beautiful, attentive audience full of love that also included all of her daughters and her four grandchildren.
For the finale, I asked my mom to come onstage while I sang an old WWII song made famous by Vera Lynn called "We'll Meet Again.'"She stood there looking like a movie star, singing along with me word for word. It was the very first time we ever sang onstage publicly together. Sadly, it was the last. My sister Shannon asked my mom the next morning after the debut of with love, reagan how she liked the show and she answered, "It was one of the greatest nights of my life."
What songs in the show resonate with you most in relation to your Mom?
Mostly every song performed in this show was a favorite of my mom's or one that she taught me, with the exception of a few. The Judy Garland songs are the ones that directly hit me right in the gut because from as early as I can remember, she'd sing them to me.
There's so much to this show beyond what it seems on the surface. It's not just a, "Hmm… I like this kind of music, let me throw this show together." This is deep-rooted, sentimental and sacred ground for me.
How did your mom influence you musically and introduce you to musicians who also influenced you?
It's funny because when people talk about my voice, all I think about is my Mom. I got it from her. She had this unique sound, which was very rich, and her voice had so such emotion in it.
My first records that I dug deep into were her Judy Garland records. Dear Lord – at seven years old, I remember wearing out the album, Judy at Carnegie Hall. I'd sing "Stormy Weather," "After You've Gone," and "The Trolley Song" like I was getting paid for it. Then I found songs like, "You Made Me Love You." That one holds the most precious space in my heart. That's one we'd sing together for fun throughout my entire life.
I filmed a TV pilot, Dinner Talk, which is filmed in New Jersey, and in one of the scenes, my character is sitting at a table talking to my film husband. The director wanted this scene to be really loose and casual and gave us free rein to experiment with ideas. My co-star and I decided I'd casually go into song. I didn't tell him what song I was going to do and when the director yelled, "Action," it was "You Made Me Love You" that I sang. I wish my mom could've gotten to see that scene.
One of the big highlights of my career was my days singing with Les Paul, and it was because of my mom that I got that opportunity. I had already been living in Nashville, but at one point when I came home to visit, my mom decided after many, many, many years, that she'd like to go visit Les Paul in New York where he'd play on Monday nights at the Iridium. We went one night in 2005 and she got to see him, and they sat and reminisced about the Holiday House and their mutual friends. She then told him, as I'm standing there, "This is my daughter, and she sings."
He looked at me and said, "10 o'clock show tonight! I want you to come up and sing with me." I joked with my mom and said something like, "That's pretty risky of him. He's never heard me. How does he know I don't sound like my ass is all twisted? It's a big show, not an open mic!" She said, "I think he assumes that because I'm the one telling him that you're pretty good." That night I sang with Les. He and I planned one song, I guess just in case [Laughs]. The song was my go-to, old school, childhood memory favorite: "You Made Me Love You," and then, after the first song, he looked at me and said, "Sing another one!" I then sang, "Crazy" – Willie Nelson written, Patsy Cline put it on the map. After that show, Les' son, Rusty, said to me, "You are officially part of the Les Paul family." I then went on to sing with him at different times through four years at the Iridium, but I also did shows with him at Roseland Ballroom in NYC (RIP) and a big show in Los Angeles at the Gibson Amphitheater. I've always said that no matter what great things I get to do musically and professionally, singing with Les will always be one of the greatest highlights for me.
In January of 2023, I was asked to perform in the Les Paul Experience at the Pollak Theatre at Monmouth University. I said yes immediately. The show was scheduled for May 12. On the evening of May 8, my mother passed away. Bobby Bandiera, who was the musical director of the show, called me and was so kind and said, "You don't have to do this show." I said, "Bobby, if there was ever a show I have to do, it's this one. I'll be there." I mean, it was because of my Mom that I got to meet Les and sing with him.    
And so, I scheduled my Mom's wake around this performance. The person who taught me from as early as I can remember and the person who was my biggest fan – front row at all the shows that she could go to of mine – was gone.
I do a lot of shows – mostly Williams Honor, obviously – but how almost synchronistic, or whatever word you wanna use, that my official first performance a few days after her passing was this show – the Les Paul tribute, a show that, for me, was always going to be about my Mom anyway when I booked it in January. 
My sisters, who were in town for the services, came to the show that night.
From the get go, the show was going to feature photos of Les and me performing, but then we ended the performance with a big picture of my mom and Les on the big screen behind us. Hands down, it was the hardest show I've ever done, but a beyond beautiful one that I'll never, ever forget.
Also in this show (with love, reagan), I'll be doing a couple songs from Broadway. As a really young kid, my parents took me to Broadway shows. My dad worked in the NYC in the Time & Life Building, so he was so close to where all the shows were on Broadway. My very first show – there I am, a seven-year-old kid seeing a Gershwin musical in the front row, totally mesmerized. I'd buy the soundtrack cassette tape in the lobby of the theater and ask my parents if I could wait outside the stage door for them to sign my program. I'd go home and immediately learn all the songs from the show.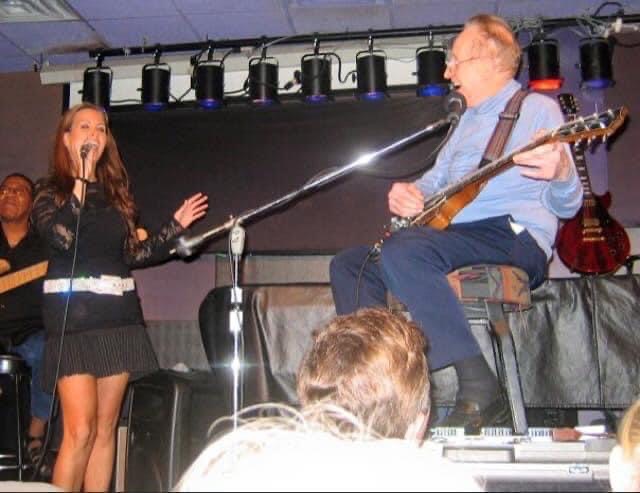 Was your Mom still performing when you were a child? When and why did she retire from the stage?
Sadly, my mom had stopped performing by the time I came along. Her life just took a different turn. She had remarried and moved from Pittsburgh to New Jersey because my Dad was in the fashion industry and was transferred to New York City. Since I was the baby of the family, I didn't get to witness her doing her musical thing. You know, back then it wasn't as easy for women to do all the things. 
For example, in 1954 my mom was asked to be the vocalist on The George Gobel Show. It was a variety show on NBC that featured Gobel, his comedy skits, and highlighted George's female singer. The producers loved my Mom and her voice. In addition to her having the voice they wanted, they liked the fact my Mom was also very little. The reason they wanted someone little was because George himself was only five feet, five inches tall, and they didn't want anyone taller than him. However, my mom turned down the offer. She was married, living in Pittsburgh with her husband, who was one of Pittsburgh's biggest photographers at that time at the Pittsburgh Press, and the show was filmed in Los Angeles. The show ended up getting big band singer Peggy King, who was only five feet tall.
How did your dad, William, influence you and help to inspire the name of your band, Williams Honor, with Gordon Brown?
Ah… my Dad – quite the gentlemen, quite a character. Like my mom, my dad was also a Pittsburgh native. Well, Beaver, Pennsylvania to be exact, but he worked in downtown Pittsburgh every day. 
My dad was the country music lover. In his high school talent show, he sang Hank Williams' "Hey, Good Lookin.'" He'd tell me how much he loved listening to country music and would drive his car to the border of West Virginia because that's where he could get the Grand Ole Opry the clearest on his AM car radio.
As a kid, my Dad and I would go on road trips and he'd put the cassette tapes in, and one of our big artists we'd blast and sing was Marty Robbins. He and I would be singing "Big Iron" and "Saddle Tramp" and "El Paso." There isn't a time I hear a Marty Robbins song that I don't immediately revert back to a kid in the station wagon. We'd delve into Glen Campbell, Eddy Arnold, and, of course, Hank, [Johnny] Cash, Waylon [Jennings], and Willie. He was always so proud that I pursued music, but particularly because I loved and wrote and sang country songs. When I moved to Nashville in the late nineties, I'd joke all the time that most dads are very sad when their kid moves away, especially somewhere 900 miles away. Nope, not mine. "See ya!" [Laughs] No, I joke, but it's just that he was so excited that I wasn't just "talking" music, but I was "doing' it" – ad not down the street. I think deep down he knew if I was moving 900 miles away, I meant business. And keep in mind, the Nashville I moved to was not the Nashville of today. It wasn't a trendy thing by any means.
My first trip in 1994, I knew I was going to move there one day. Then I went back in 1998 and had a meeting with a manager who said, "You gotta move here." I went home for a month, packed up my stuff, put it all in a 1987 Cadillac Fleetwood hearse, and went to Nashville and moved into a room until I could find an apartment… so when we talk music, my mom started me off, but my dad also has a big hand in shaping me musically, as well.
When it came time to name the band, Gordon and I sat down one day and, interestingly enough, we never threw around other names. We're not that, "Oh, we were almost The Streaks!" kind of band. My dad's name was William. Gordon's Dad was Bernard. We went with William because it had a better flow, but it's really in honor of both of our dads who were deceased. Neither one lived to see Williams Honor, but they are with us every night we perform as we stab beneath that banner. And, for me, I dig even deeper because of that real sense of connection to the old country music [between] my dad and me. I think of Williams Honor taking on another meaning, and that's Hank Williams, and not necessarily specifically Hank, but Hank just represents that time and those artists in music that my Dad loved so much.
What musicians are backing with love, Reagan? When and how have you worked with any of them before?
The great Ron Haney is on bass. Ron has played in Williams Honor from the get go – he went to Madison Square Garden with us and performed my debut performance of with love, reagan in December 2021.
Mr. Michael Mancini is on keys. I've had the distinct pleasure of working with Michael through the years; what a phenomenal player and amazing human. I think I can best describe singing with Michael on piano like what I'd imagine sitting on a pillowy cloud would feel like.
Tom Cottone is on drums; what an absolute badass player who commands every audience and who I have gotten to play with quite a bit. He's been the heartbeat in Williams Honor and played the debut performance of with love, reagan.
Neal DeSimone is also on keys and what a talent and such a sweetheart of a person. I met Neal when he stepped in at the 11th hour to do the first with love, reagan show. This music is not exactly simple music to just step in and 'wing.' I was astounded by Neal's professionalism and talent; being able to do all he did to make the first show run so smoothly and beautifully, so he's back with us again.
Mr. Jimmy Leahy is on guitar! I am so, so excited to have Jimmy on board. I've played with him on a bunch of shows and this one will really be special because he has a deep connection to this old music, as his dad (Harry Leahey) played it back in the day. 
And a special guest is Freedom Bremner. Wow! Freedom. He is just the consummate performer, the consummate vocalist, consummate artist that I have had the absolute honor of performing and touring with for the past nine years. His voice is truly like velvet and he will transport you to a time and place that you will want you stay forever. I'm thrilled that he will be guesting on this very special show.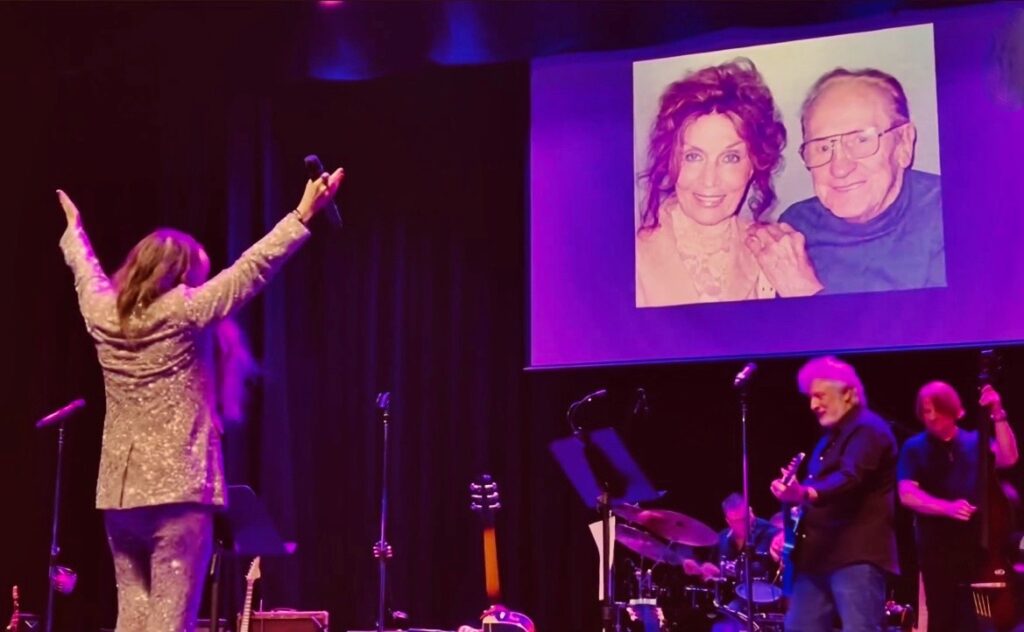 Will you perform with love, reagan, elsewhere?
Yes, we have plans for a NYC show in 2024.
What's Williams Honor up to for the rest of the year and into the new one?
Williams Honor has had a hell of a year. Despite having very sad personal circumstances, we still did what we do. It's been good for my head to just keep going.
After a crazy summer of shows, travel, radio, TV, and fashion week, Williams Honor's biggest end-of-2023 news is that we're heading to Europe for three weeks of shows. We are leaving on Thanksgiving Day along with James Maddock, our fearless leader, and Mr. Joe D'Urso, Rob Dye and Jean Mikle as part of Light of Day. We'll be hitting Norway, Sweden, Denmark, Italy, Germany, Wales, England, Ireland, and Belgium, bringing our Jersey-country across the pond for back-to-back shows. We are so very eXcited.
And Gordon and I have big plans for 2024! We'll definitely have to do another 'Makin Waves' for all of that! 
You recently played URSB Carteret Performing Arts & Events Center with Glen Burtnik's Summer of Love. What do you think of that venue, and why are you looking forward to returning there with your own show? 
I'm so excited to be bringing this show to the Carteret Performing Arts Center! It is absolutely gorgeous and new and spotless! I said the other night that it even smells new! And the staff are just amazing people – that's important. 
Gordon walked into the venue right when they first opened and said to me, "We will definitely do something here. It's perfect." Ever since we did the first with love, reagan, we knew we would do it again somewhere. Gordon said, "This is the place to do it."
What's beautiful at this special night is that there is a dinner option, so you can choose to just see the show or purchase a ticket with the delicious dinner included.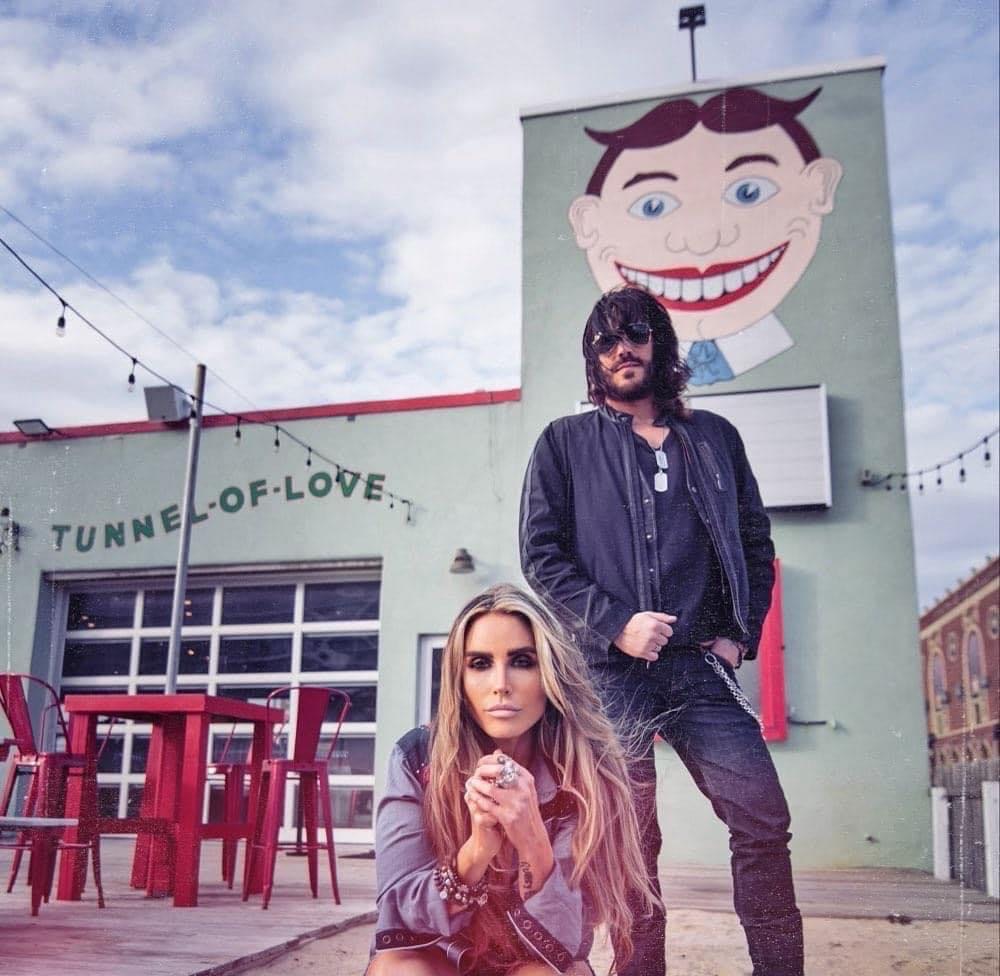 You recently started your own accessory line called honorX. What was the inspiration for that?
So. Much. Inspiration.
My mom was a model back in the day and, to the day she died, was always impeccably dressed. I'd go into grocery stores with her and people would stop me and say, "Is this your mom? Wow!" Meanwhile, I'm in sweats and can't swear that my eyeliner wasn't smeared up into my skull.
I was a child model, even though I actually disliked it very much back then. I wrote a song at six years old called "Count Me Out, I Don't Wanna Be in Pictures," so that should tell you something about how I felt. Regardless of that feeling at the time, it still was something that was very much part of me, and through the years I revisited modeling and don't have the dislike I had for it at four [Laughs]. 
Also, as I said, my dad was in the fashion industry. Growing up, I got to see the ins-and-outs of that world to an extent. My locker was covered in not only my band crushes, but also the nineties supermodels: Cindy [Crawford], Linda [Evangelista], Christy [Turlington], Naomi [Campbell], Claudia [Schiffer]. My dad got to work with so many of them in New York. I have such happy memories of that.
Being a fashion freak and accessory collector, I decided to create my own line. I started designing jackets that I have not publicly shown yet, but then I heavily started getting into making jewelry. Last year I had a soft opening of my line, honorX, and people loved it. They told me their favorite pieces, and so I went full speed with it and had the 2023 official debut of the line at Asbury Lanes this past August. I've since done pop-up shops in New York City and Nashville. There will be another pop-up shop at the with love, reagan show on November 12!
If you could say only a few things about your upcoming show, how would you describe with love, reagan on November 12 at URSB Carteret Performing Arts & Events Center?
It's a sentimental journey. There will be laughs, there will be tears, but most of all, there will be timeless, classic songs that I guarantee will strike a chord with the audience. It's for you, for mothers, fathers, aunts, uncles, friends, and anyone who loves to sing along to this heartfelt music from songwriting legends like Gershwin, Porter, Berlin, Mercer, Rodgers & Hammerstein and others. Persons of all ages will feel something and take something with them when they see this.
FORE MORE ABOUT REAGAN RICHARDS, WILLIAMS HONOR, & ALL THINGS HAPPENING MUSICALLY, VISIT THEIR WEBSITE!